 Johanna Konta was in good spirits at her press conference today after she reached tomorrow's Women's Tennis Association's (WTA) final in two sets with a 6-2, 7-5 victory over Slovakia's Magdaléna Rybáriková on Centre Court at the AEGON Open in Nottingham earlier today.
Constantly looking to 'improve and evolve'
The Brit No.1 believes she has improved in all aspects of her game over the past year and not just on grass. She said: "I think already last year I was significantly better movement wise on the surface. I had a great run in Eastbourne and I thought I played some great tennis already last year on the surface.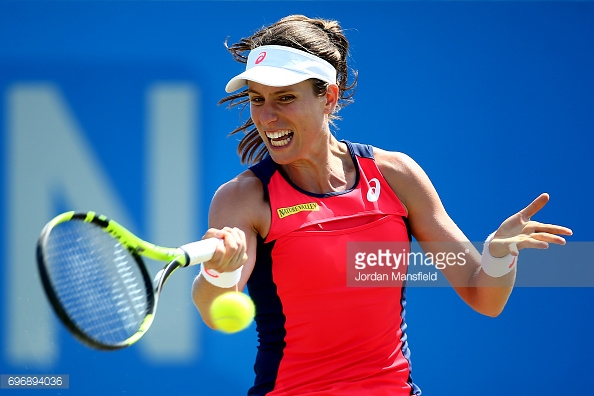 I think I am looking to constantly improve and evolve as a player regardless of surface and the good thing is most of the things you work on do transfer from surface to surface aswell but I would like to think I have improved in all areas of my game since last year this time and hopefully that is also coming through a little bit on the grass."
Line judges and umpires are 'human' aswell
Rybáriková felt many decisions went against her in today's match against Konta but the Brit says this is just part of the game. She said: "Well I think it is obviously a tricky one for us players when we do not have hawk-eye to question those calls but unfortunately when there is no hawk-eye as part of the game that just is part of our sport.
Line judges and umpires, they are human aswell and there is always human error but I think from my perspective it is most important for me to just keep focusing on myself. There is always going to be things that go for you and against you in all matches."
Konta sees Rybáriková as an 'effective' grass court player
Konta believes she has coped well physically with competing in both the singles and doubles so far in this tournament. She said: "I am doing pretty well actually. I enjoyed my doubles out there. I know it did not go the way that we wanted but it was another chance for me to be on the grass and it has been a really nice day in terms of weather so can't complain too much."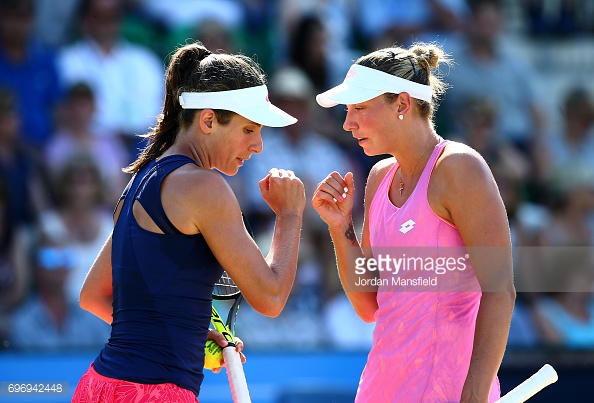 The Brit was pleased with how she coped with Rybáriková's unique playing style. She said: "I think overall she is a very effective player on the grass. The way I like to phrase it is I think she is very effective on the grass. She has come into this tournament already with a 100k win on the grass so she was coming in with quite a lot of grass court tennis and matches and confidence on the surface so I think she definitely played like that aswell. So I was happy with how I was able to adjust and just really get stuck in to the match as much as I could and I felt I competed well."
A difficult encounter ahead tomorrow
Konta stated how she takes her time in her matches but was today fortunate it was completed in two sets. She said: "I do not think there was anything really quick about it. I think the first set was actually quite equally as close. We had a lot of deuced games there aswell so I think I was not in a rush anywhere. I felt that I was going to stay out there as long as I needed to and just compete the best that I could but today I guess it was over in two."
Ahead of tomorrow's final, Konta felt it was going to be a difficult match whoever she faced. She said: "No preference, I think either of who I am going to be playing it is going to be a tough game. Both of them are playing well on the surfaces as you can see there in the semis battling out and whoever wins that is going to be coming into the final like me with some good tennis under their belts and good wins and competitive matches. So I think whoever I am going to be playing, it is going to be a tough match for me."
Increased expectation with every win
Konta is not allowing any expectation to affect her game and remains solely focused on herself. She said: "I do not really consider it. I do not really look at it like that. For me, the best I can do is whenever I go to court is do the best that I can for one. For me, I play tennis in a very process orientated way. I just look to be the best player I can be and look to do work with my team and overall enjoy my journey in the sport."