 Brits Laura Robson and Jocelyn Rae were left to rue missed opportunities as they were beaten 6-4, 4-6, 10-4 by Monique Adamczak and Storm Sanders as the match was decided on a super tie break in the Women's Tennis Association's (WTA) Doubles Final.
Ingredients of a promising partnership
Robson is most well-known for winning the Wimbledon Junior Girls' Championships at the age of just 14. She has also won a silver medal in the mixed doubles at the London 2012 Olympics alongside Andy Murray. Rae has been a favourite with the crowd so far this tournament, due to the fact she grew up just down the road in Arnold. She has certainly felt the love from the crowd so far this week. Robson and Rae sealed their place in today's final by beating Christina McHale and fellow Brit Heather Watson on a super tie break, 6-3, 3-6, 10-6 in their semi-final match yesterday. It was no doubt an impressive achievement by the duo to have reached this stage having played together for such a short period of time. It certainly bodes well for their future together as a doubles partnership.
They knew they were going to face tough opposition in the form of Adamczak and Sanders. They do have more experience together as a doubles partnership than Robson and Rae which will no doubt make a difference. They sealed their place in today's final with a super tie break win, 6-1, 3-6, 10-6 against Brit No. 1 Johanna Konta and Yanina Wickmayer of Belgium.
A tight first set lost by a costly slip up
The British duo started off this match well by going 1-0 up with a perfect service game. Rae immediately showed her quality at the net by hitting a volleyed winner. They could have broken in the next game but could not take advantage of the deciding point. This was followed up by four consecutive holds of serve from both partnerships to level the opening set at 3-3.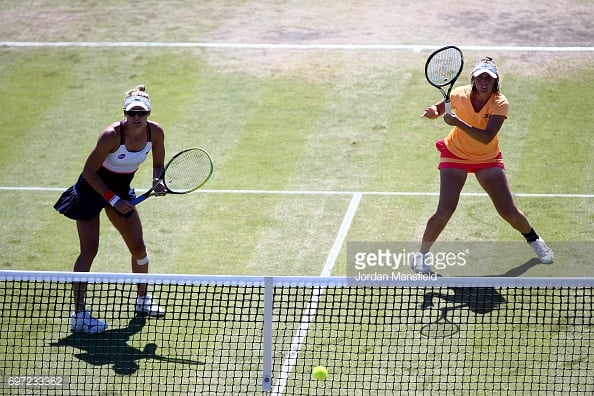 Then came the turning point in the set. Adamczak and Saunders took advantage of their first break point of three on Rae's serve to go 4-3 ahead. Robson and Rae were left ruing another missed opportunity in the following game. They found themselves with two break points but could not convert either as they eventually went 5-3 down. Despite managing to hold their next service game, they eventually lost the set as Adamczak and Saunders held once more to take the opening set 6-4.
Brits fight back with backing of crowd
The second set started off in the worst possible fashion for the two Brits. The Australian duo were able to break Rae's serve again like in the first set and then hold to go 2-0 up. Robson was able to get them back in it by winning the following game on her own serve. After two consecutive holds, the British pair got themselves right back into the set as they took advantage of their first break point in the sixth game to level the set up at 3-3.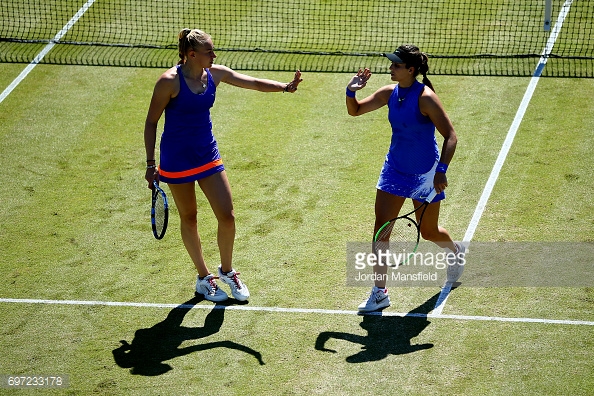 Two consecutive holds of serve followed, as it went to 4-4 with the set in the balance. Robson and Rae then went 5-4 up with a perfect service game and went within one game of forcing a super tie break. They were able to do this as they converted their first break point in the tenth game of the match to take the second set 6-4 and set up a super tie break to determine the winner.
Heartbreak for the British pair
A double fault from Rae early on in the super tie break allowed Adamczak and Sanders to take a 4-1 lead with two breaks of serve. They shortly found themselves 8-3 behind as the Australian pair really turned on the style when it mattered most. They eventually won the super tie break by a 10-4 scoreline to deny Robson and Rae their first doubles title together as a partnership.