 Brits Laura Robson and Jocelyn Rae remained in good spirits in their press conference today despite losing in the Women's Tennis Association's (WTA) Doubles Final as Monique Adamczak and Storm Sanders claimed a 6-4, 4-6, 10-4 victory as the match was decided on a super tie break on Centre Court at the AEGON Open in Nottingham earlier today.
A bitter pill to swallow
Robson felt that the pair were unlucky to have lost the match on the super tie break following the second set. She said: "I thought we started off maybe a bit slow. They played well from the beginning straight away and I think in that situation you almost try and do too much and play too perfect because you feel under pressure. So, after we relaxed a little bit and just kept telling each other to enjoy ourselves out there we managed to sneak the second set after being a break down, which was a pretty good comeback because it is not easy to break serve on grass especially the way they were serving today.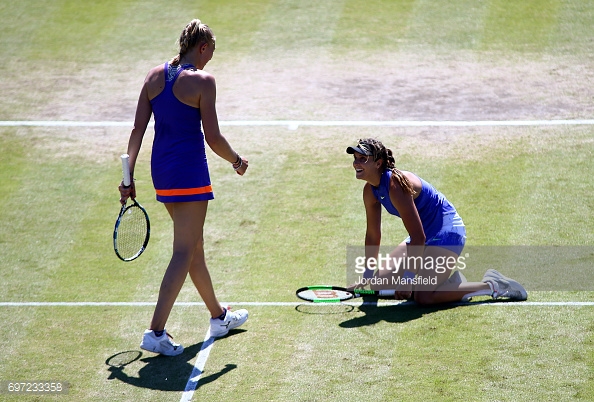 She added: "It is just a shame we lost a couple of early points in the tie break and it is quite tough to get it back at that point. I do not think we played badly at all, it is just disappointing to have lost but I have really enjoyed playing with Joss this week."
A tough format which punishes any errors
Rae admits the doubles format is tough but believes it makes the matches much more exciting. She said "It is tough the way the format for the doubles does not leave much room for error but it is good in a way. It is exciting and it just means you have never fully won the match and you have never lost a match until kind of the last point.
She added: "It is tricky and disappointing to have lost in the third set breaker but you know glad that we pushed them right to the end and four out of four would have been pretty good this week but we have had a good week and plenty of positives."
The start of a promising partnership?
Robson still feels there are many positives to take from the week despite the disappointment of losing out in today's final. She said: "This is really our second week playing together if you can event count last week's, it was only one match. I mean we are happy to be in the final, obviously disappointed to have lost but in this moment I think both of us feel we could have done a little bit more in certain situations but tomorrow we will probably just enjoy the fact that we were in the final."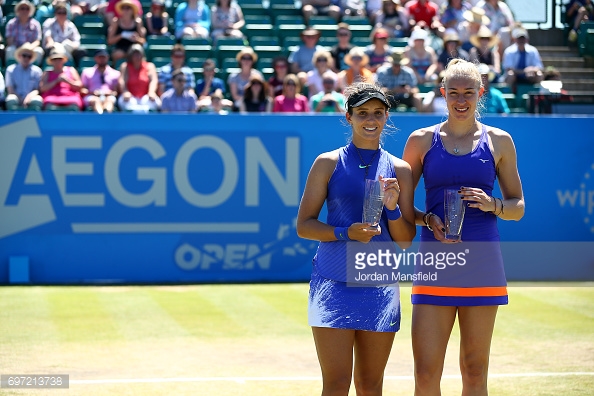 A pleasant surprise
Both Robson and Rae were left pleased with the turnout to their early doubles match in Nottingham today. Rae said: "We were saying after we were pleasantly surprised at how many people turned up to watch us on a Sunday morning, Father's Day and all that kind of stuff. I thought that was great and I think doubles is fun to watch. If you ask majority of people around the country what they tend to play at their local clubs it is actually doubles. So hopefully we have put on a good show this week and we tried our best today but it was not quite good enough."
What next for the British duo?
The pair are set to split next week at the AEGON Trophy in Ilkley but will soon join back up with each other for the rest of the grass court season. Robson said: "We are both going to Ilkley but I am only going to play singles there so Joss will have a different partner next week but then we will relink again the week after. I am just going to play singles and sort my shin out a little bit and get ready for the rest of the grass aswell."