 Geraint Thomas produced a stunning ride as he banished the demons of the Giro D'Italia by taking his first Yellow Jersey.
Dusseldorf was the host of this year's Grand Depart, and despite German cycling suffering in the previous years by the plethora of doping scandals which engulfed the sport during the 1990's and 2000's it was back this year ready to host what will be an exciting Tour.
£10 million euros is the going rate to host the start of the Tour de France and Dusseldorf is the city which has the honour this year. They were hoping for beautiful shots of the city which would help boost their tourism industry, similar to how the Tour put Yorkshire on the map. But they were greeted with wet weather which didn't show, Germany's 6th largest city at it's best.
The racing was heavily affected by the rain but it proved to be a great spectacle. Thomas took the coveted yellow jersey in surprising fashion after having said he was in bad form all week. Team Sky have enjoyed playing games in the media and this one certainly caught the everyone by surprise.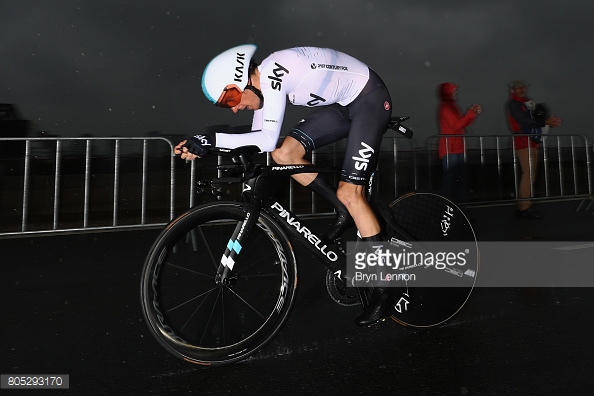 Thomas spoke to Cyclingnews after the stage: "It's an amazing feeling. I didn't believe it was going to happen, I thought, 'Martin's going to beat me, or somebody's going to beat me."
"I've had my fair share of bad luck this year. Also, back home the last month hasn't been great, all this year actually. It's amazing to get this win, and big thanks to everyone who's supported me. Big shout out to my wife, and my mum as well. We've both had a bit of a rough time recently. It's a great day," said Thomas.
Earlier in the day, we had seen various riders take turns in the leader's chair including Vasil Kiryrienka. The steely-eyed Belarussian rode a brilliantly paced effort to take the lead with a time of 16:11 over the 14km individual time trial. Tony Martin, the home favourite, wasn't able to please the waiting crowds as he only managed a time 8 seconds behind Thomas.
Going into the race many in the media including myself doubted Chris Froome's form and he certainly sent shock waves through the rest of the field.
The Team Sky leader goes into stage two with 35 seconds over his main rivals Porte, Quintana and Contador. This is particularly significant as this year's route is particularly lean of opportunities and every second is going to count.
Stage 2:
Sunday's stage is designed for the fast men and there will be many hopeful of opening their account at this year's grand boucle.
The big favourite for the stage is Marcel Kittel who rode brilliantly today to finish 9th. He's odds-on to win the race with most bookies but don't let that deter you. 12 months a go Kittel was also the clear favourite but he was upset by Mark Cavendish, who went on to take the yellow jersey. Cavendish isn't a reliable bet this year. He endured a horrendous strain of glandular fever and is unlikely to have recovered.