 Great British Swimming enjoyed a terrific day at the 2017 World Aquatics Championships in Budapest, with Adam Peaty and Ben Proud both claiming gold medals.
Peaty was expected to defend his 100metre breaststroke crown, and did just that, in a time only marginally slower than the one which saw him take Olympic gold in Rio a year ago.
Then, in a result which was maybe not predicted, Ben Proud finished fastest of the bunch to add gold in the men's 50metre butterfly final at the Duna Arena in Hungary's capital.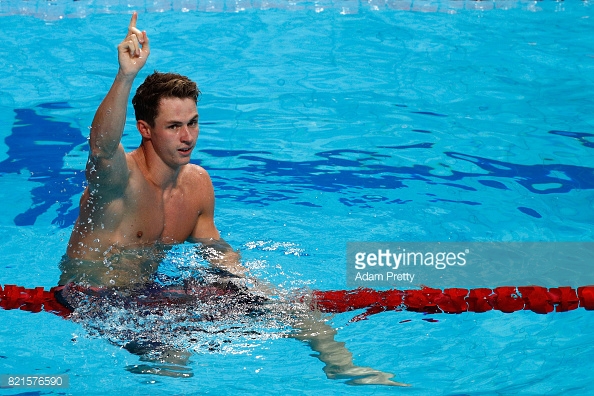 Peaty defends 100m breaststroke crown with typically dominant swim
Peaty was huge favourite for gold, and was always likely to be racing against the clock due to his dominance in the event.
The Olympic champion and World Record holder over two lengths of the pool made a strong start and reached the wall in 26.50seconds which put him on pace to break his own fastest time.
America's Kevin Cordes, who eventually finished up with the silver medal, put Peaty under pressure after the turn before the Brit powered home to win by a huge margin. The 22-year-old touched home in 57.47seconds which was a new Championship Record and it means he now holds the fastest ten times in the history of this event.
Cordes finished over a second behind in second, with Russia's Kirill Prigoda taking bronze in a time of 59.05seconds, over a second and a-half behind the dominant Peaty.
Proud claims shock 50m butterfly gold
Less than an hour after Peaty had grabbed gold, Britain had their second triumph of the evening, with Ben Proud scorching home first in the 50m butterfly final.
Having qualified fourth fastest for the final, Proud was seen as a good chance to medal and after making a strong start to the final he was among the five clear leaders at halfway.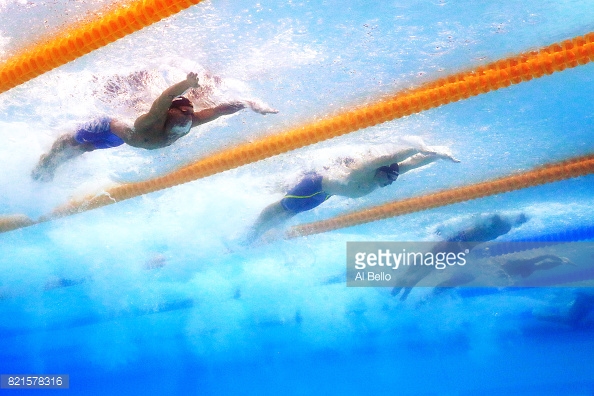 From there, he managed to move past his rivals, including pre-race favourite Caeleb Dressel (USA) who finished fourth, to touch the wall first in a time of 22.75seconds.
The Londoner beat out Brazil's Nicholas Santos by 0.04seconds to claim his first World Championship medal of any colour, with Ukraine's Andrii Govorov taking bronze just ahead of Dressel.
Hosszu and Sjöström storm to expected golds
In the two other finals during Monday's evening session, Sarah Sjöström of Sweden broke the Championship Record on her way to gold in the women's 100metre butterfly, while Katinka Hosszu thrilled the home crowd with victory in the 200m individual medley.
Sjöström followed up the gold's she had won over 100 metres in Kazan, Barcelona and Rome at previous World Championships, winning the title in a time of 55.53seconds ahead of Emma McKeon (Australia) and Kelsi Worrell (USA).
Then, in the final race of day two, the home crowd were treated to a special performance from their biggest star, Katinka Hosszu. The golden girl of Hungarian swimming led from start to finish to obliterate the field and take 200IM gold ahead of Yui Ohashi (Japan) and Madisyn Cox (USA).