 Mo Farah lined up for his final ever 10,000m race on the track, everyone had nailed the Gold medal onto his vest before the start. Alongside very good Kenya and Uganda athletes, the Brit was the crowd favourite from the entrance. When Farah's name was announced, the crowd roared, they knew this was his stadium and his last race at this distance.
​Could anyone beat the Brit?
Farah stuck to his normal plan of beginning at the back of the field. The Kenyan, Ethiopian and Ugandan athletes had a plan from the start, they were going to make the Brit work hard for this medal. Running out fast on the laps to try and put the pressure on the favourite. Farah pulled off a cheeky move, by raising his arm towards the crowd, beckoning them to make noise for him. The crowd of course responded to him, he also then let the other racers know that he was still there by moving towards the front.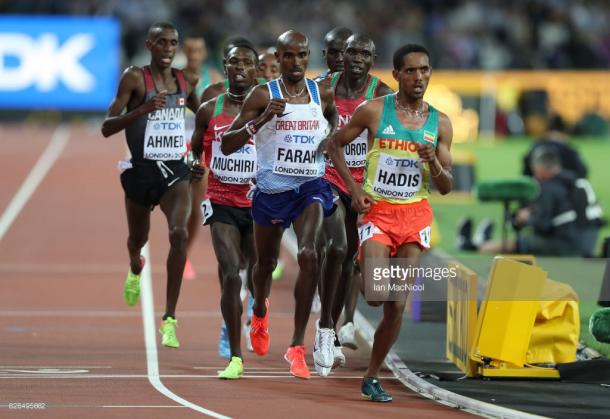 Mo's tactic
The Brit kept moving forwards in the group and staying out of trouble, letting the others know that he was there and they had not got rid of him yet. No matter what the others tried, they could not keep Farah to the back of the group, Farah was working hard, and during the middle of the race he was hurting, but he knew he could win this and wanted this.
The field were not going to capitulate and kept putting in fast laps of around 63 seconds, trying to break the Brit. Farah never changed his pace, just kept going as he knew the others were not able to keep that speed going, he was right. As the racers arrived at the two laps to go, the Brit was where he likes to be, at the front of the field.
Farah stayed at the front, although the others did try to get round him and through him. Nothing was going to stop Farah, even a little stumble off balance where his foot went off the track could not prevent Farah from gaining his last 10,000m gold. Rounding the final bend, there were four athletes in contention, this very soon became three. Farah put his foot to the floor and no one could catch him. Farah crossed the line in a World Leading time of 26:49:51 - Joshua Cheptegei's silver medal winning time was 26:49:96.
Farah can hang up his 10,000m running spikes now, knowing that he is unbeaten at this distance, no matter what the other athletes try, he has the measure of them all.