 Despite a trio of Ethiopians being the only men in the 98-strong field to clock times under two hours and five minutes, it was Kenya's Geoffrey Kirui who formulated his training programme to perfection, executing a fine race to take gold in his first competitive 26.2 miles of the year.
Kirui and Tola first to make a move
In excellent running conditions around an adaptation of the famous London circuit, no less than 30 athletes passed the halfway mark in less than one hour and six minutes. Yet seven runners had already pulled up, including Belgium's experienced Abdelhadj El Hachimi.

The pack had been running consistent paces between 15 and 16 minutes every five kilometres but it was at this point Kirui and one of the Ethiopians, Tamirat Tola, decided to up the tempo. By 20 miles, the pair had developed a 23-second advantage over Kirui's teammate Gideon Kipketer and around a minute ahead of the chasing pack which included Great Britain's Callum Hawkins. Meanwhile, Yemane Tsegay, who was expected to medal, pulled out of the contest.

Daniel Wanjiru had looked strong just behind Kipketer but he fell apart over the next three miles. Tanzania's Alphonce Simbu joined Kipketer in the hunt of the leading duo but their advantage had extended to over a minute. Behind the chasing pair, Hawkins and Daniele Meuci had stretched away from the rest of the field but were almost two minutes off the pace.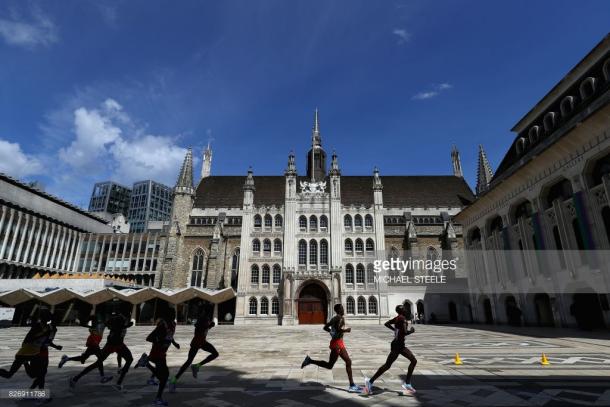 Tola falls apart as Hawkins response falls just short
It was from mile 22 where telling moves were made. With fatigue setting in, the race was coming down to who had the legs. Tola lost 50 seconds across three miles to Kirui without the Kenyan changing speed. Meanwhile, Simbu halved the gap to Tola by 30 seconds and Hawkins caught Kipketer as he dropped Meuci.

Kirui continued his momentum to cross the line in 2:08.27. He finished over a minute ahead of Tola who held on to silver just two seconds ahead of Simba. Yet it was heartbreak for Hawkins as he finished fourth with a personal best time of 2:10.17, 40 seconds ahead of Kipketer and Meuci but 26 seconds short of bronze.

25-year old Hawkins, who equalled the best finish by a British man in a marathon, described the result as "bittersweet". He explained "the last five kilometres, I kept the same distance, which was quite frustrating. Maybe I left it a bit late."
His teammates, Andrew Davies and Josh Griffiths, finished 31st in 2:17.59 and 39th in 2:20.06 respectively. The latter had captured the hearts of the British public after qualifying by virtue of being the fastest Brit in the London Marathon, despite not being registered as an elite athlete.