 Kori Carter defeated her teammate Dalilah Muhammad to take home gold in the women's 400m hurdles at the 2017 World Athletics Championships.
Carter, running from lane nine was level with Muhammad going into the home straight, but managed to beat out the Olympic champion to claim gold in 53.07 seconds.
Jamaica's Ristananna Tracey produced a personal best time of of 53.74 to claim bronze with the two-time defending champion Zuzana Hejnová down in fourth.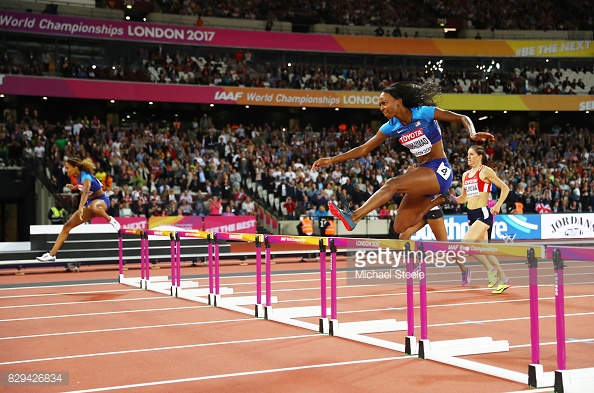 Carter hauls in Muhammad to claim gold
In a wide open race, it was the Rio champion Muhammad who produced her customary fast start, leading the race by a clear margin over the first 200 metres.
In the outside lane, Carter was the target for the other seven women, but as the race hit the home straight it was clear that she was the one to challenge Muhammad.
Carter's form held up best over both the penultimate and the final hurdle, allowing the 25-year-old to push for home and hold off the challenge of her compatriot who had to settle for silver.
The fastest runner down the home straight was the young Jamaican, Tracey. Having previously finished 13th, 12th and 30th over the past three World Championships, Tracey ran her best ever time to move past the highly experienced Hejnová to pinch bronze from the Czech athlete.
Britain's team captain Eilidh Doyle finished in eighth just behind the North American duo of Sage Watson and Cassandra Tate.
Taylor defeats Claye in fascinating triple jump head-to-head
In the only field final of the session, Christian Taylor beat off the challenge of his fellow American Will Claye to claim his third world title in the triple jump.
The final was a riveting head-to-head with Taylor having to respond to a fine series of jumps from Claye who produced five jumps between the 17.49 and 17.63 metre range.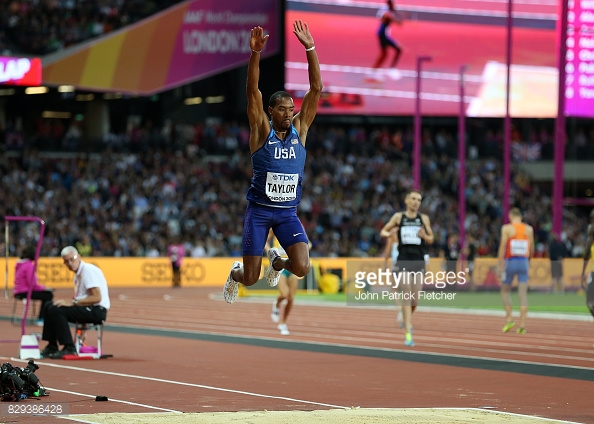 Claye's first round effort of 17.54 saw him lead in the early stages, before Taylor hit back to take a three centimetre lead in the second round.
The third round proved pivotal to the final outcome, with Claye's best of 17.63 bettered by a 17.68metre jump from Taylor which ended up handing him the gold medal.
Portugal's 33-year-old competitor Nelson Evora rolled back the years to take bronze, with his second round leap of 17.19 metres helping him edge out Cristian Napoles, Alexis Copello and Chris Bernard who all mustered efforts of 17.16metres.