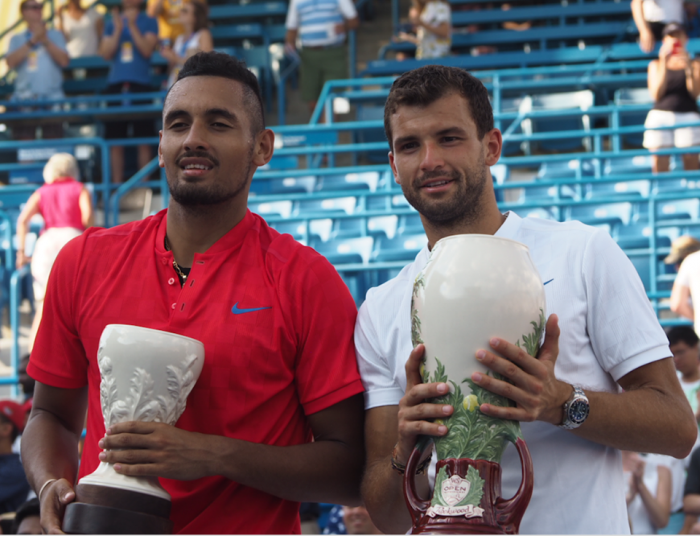 A couple of years ago Grigor Dimitrov was branded 'the next big thing' in men's tennis.
His eloquent style and single handed backhand led to immediate comparisons with the great Roger Federer, yet the staggering resemblance was more of a burden than a blessing for the talented Bulgarian.
Last year, Dimitrov slipped outside the world's top 30, after being tipped to challenge for the game's major prizes, following a victory over Andy Murray at Wimbledon in 2014.
This year, though, the eye-catching shot-maker has experienced a much-needed resurgence, earning him a first ATP Masters 1000 title in Cincinnati.
More impressively, Dimitrov, 26, did it without dropping a set after overcoming Australia's Nick Kyrgios 6-3 7-5 in Sunday's final.
First Masters 1000 final for both
For both players, it was the first time that they'd appeared in a final at this level, however it was the Bulgarian who appeared far more assured.
Time and time again, Dimitrov nullified Kyrgios' flamboyant and powerful game with his dainty slice and phenomenal athleticism from the back of the court.
In the big moments, the Bulgarian delivered on serve and was rock solid from the baseline, as he sealed the title in an hour and 25 minutes.
Kyrgios, 22, should have been full of confidence following back-to-back victories over top seed Rafael Nadal and David Ferrer.
Even so, from the early stages, the Australian seemed to be facing an uphill battle - which is perhaps unsurprising considering he was struggling with a groin injury before the event.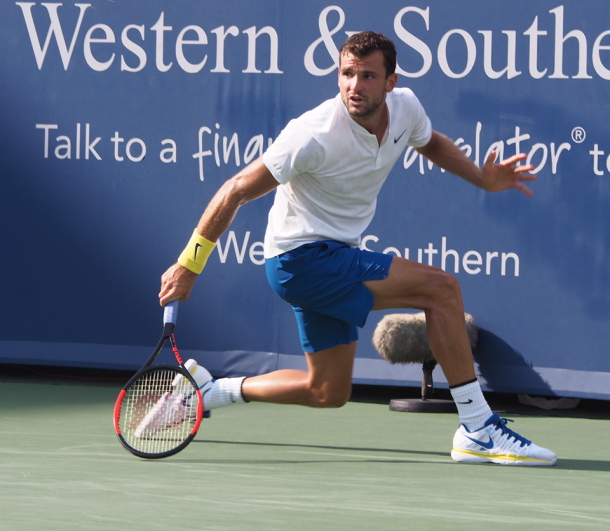 Consistency the key for Dimitrov
The pair had met just once before, two years ago on a hard court in Indian Wells.
Dimitrov won on that occasion after prevailing in a third set tie break, however it was Kyrgios who carved out the first breakpoint opportunity here.
In the fourth game, the Bulgarian coughed up two double faults to go down 30-40 and Kyrgios sensed his chance.
The Australian went on the attack with a couple of hefty groundstrokes but Dimitrov's phenomenal defence eventually drew an error.
After averting the danger, Dimitrov breached his opponent's serve in the following game before establishing a 5-2 lead.
Dimitrov's focus was unequivocal after that, as he served out the opening set to 0.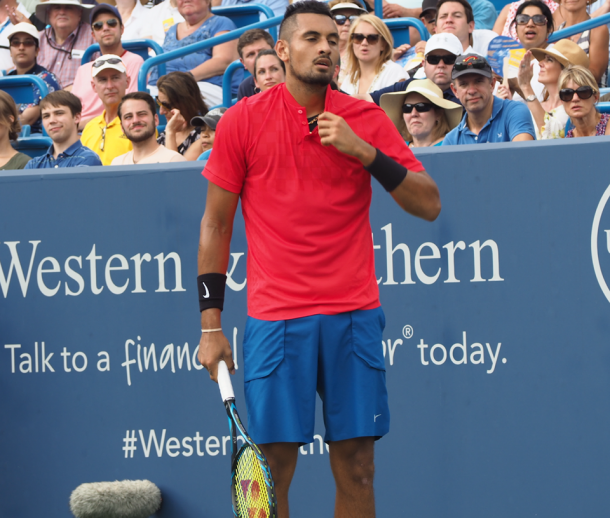 Late break proves decisive
The second set started in a similar fashion, with Dimitrov playing the percentages and extracting errors from his erratic opponent.
Kyrgios was holding onto his serve comfortably, though, even if his return game wasn't making sufficient inroads.
The decisive breakthrough came at 5-5 when Kyrgios sprayed two loose forehands beyond the baseline, allowing Dimitrov to serve for the match.
He made no mistake, as he wrapped up the contest and his first Masters 1000 title with aplomb.