Magdaléna Rybáriková, one of the favourites for the title of the Women's Tennis Association's (WTA) tournament in Nottingham, was knocked out in the second round by Mona Barthel by a 3-6, 6-1, 5-7 scoreline.
It was one of the biggest shocks of Wednesday's action, due to the fact that Rybáriková is ranked No. 17 in the world at the moment and due to the fact that grass is one of her favourite surfaces to play on.
Was an upset always on the cards?
When the second round draw was made, majority of people would have expected Rybáriková to win this match and secure her place in the semi-finals of the competition. The 29-year-old has really impressed over recent times. She reached the semi-finals of Wimbledon last year which is arguably one of the highlights of her career so far. She would have been hoping that she could build up some momentum in this tournament to try and help her match that performance again this year.
However, this was never going to be an easy match. Barthel is currently ranked significantly lower than Rybáriková at No. 66 in the world. Despite this, she is still clearly a very talented player shown by the fact that she has four singles and two doubles titles on the WTA Tour. The 27-year-old German beat Katie Swan 7-6, 7-5 in the previous round and would have come into this match full of confidence.
Rybáriková makes sloppy start
Despite the fact she started off the match with a double fault, Barthel was more than holding her own against Rybáriková. Both players had opportunities to break in the opening few games but neither could take them, meaning that Barthel had the advantage with a 3-2 lead.
It was in the sixth game where the set was ultimately won. Barthel took advantage of a poor service game from Rybáriková and broke at the first opportunity to take a 4-2 lead and make herself favourite to take the set. Rybáriková did have opportunities to break straight back in the following game but was unable to do so. Her frustration was very visible on court and she requested to see her coach as she found herself with a mountain to climb.
Speaking to her coach did seem to have a slight impact on her play. She was able to hold with a perfect service game after the restart. However, this was not enough to get her back into the set as Barthel held her nerve and took the opening set 6-3.
Rybáriková fights back in style
Rybáriková came into this match as a clear favourite to win and she would have been very disappointed with her performance in the opening set. She was able to turn her frustration into something more positive in the second set as she thoroughly dominated throughout. The 29-year-old gave Barthel no time to breathe as she broke several times early on which eventually allowed her to level the match up by taking the second set 6-1 in impressive time.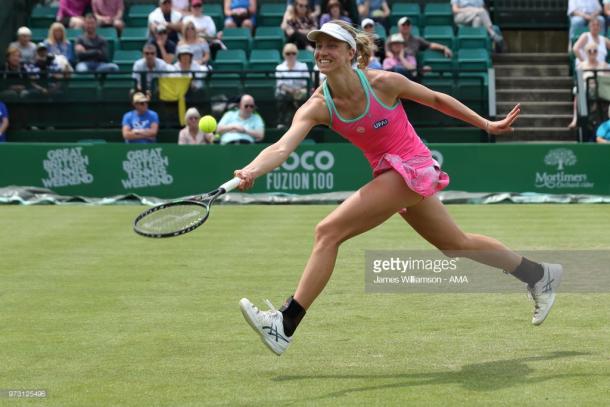 Barthel stuns Centre Court
Many people would have expected Rybáriková to go on and win the match after winning the second set with such ease. However, Barthel ensured this was not the case with a superb start to the deciding set. She raced into a 3-0 lead which left Rybáriková again very visibly frustrated on court.
Both players were holding their serves with relative ease throughout this set, but the key moment came in the seventh game. Barthel managed to hold her serve in this game to take a 5-2 lead but Rybáriková had several break points to get back into the set but was unable to take them, much to her frustration.
Despite this, Rybáriková was able to get herself back into the match. Barthel simply could not handle the pressure of serving for the match and allowed her opponent to level things up at 5-5. The match eventually went to a tie-break decider which Barthel emerged from victorious by a 7-5 scoreline, taking her third match point of the game. This saw her through to the semi-finals of the competition with a shock 2-1 victory.