Dan Evans secured his place in the Sunday's final of the Nature Valley Open in Nottingham with a 4-6, 6-2, 6-3 win over Marcel Granollers on Centre Court at the Nottingham Tennis Centre on Saturday afternoon.
A great week for Evans
It is fair to say that Evans would have been in buoyant mood coming into this match. Not only had he reached the semi-finals of the Nature Valley Open, but he had also secured himself a wildcard for the Queen's Club Championships. Due to the fact he has only recently comeback from a year-long ban, he would have been happy just to get some matches under his belt.
Coming into this match, he would have definitely wanted to try and claim a win to give him a chance of securing the title on Sunday afternoon. However, at the same time, he was probably already relatively satisfied with what he had already achieved in the tournament. This tournament has undoubtedly provided him with a perfect environment for him to focus on his tennis and get back up to speed.
As for his opponent, Granollers is a player with considerable pedigree and Evans would have been aware that he was in for a tough match. The 32-year-old Spaniard has been ranked as high as No. 19 in the world during his career, but currently finds himself well down the rankings at No. 134. He has had more success in doubles than singles, reaching the final of both the French Open and the US Open.
Granollers beat Thomas Fabbiano, Alexander Ward and Ramkumar Ramanathan on his way to this semi-final match so would have fancied his chances of beating Evans and securing a place in Sunday's final.
Granollers makes a fast start
Despite the fact that Evans began the match with an ace, he was unable to hold his opening service game as Granollers took advantage of his second break point to gain an early lead. Following the early break, both players were then able to hold their service games relatively comfortably, much to the frustration of Evans who desperately wanted to break back as soon as possible.
Granollers managed to hold the eighth game of the set to take a 5-3 lead, but his overall play was not that convincing and it was his powerful serve that was bailing him out and preventing him from being broken. This put pressure on Evans to hold his own serve, something he was able to do in the following game as he finished it off with an outrageous lob. However, it was not enough to prevent Granollers from taking the opening set 6-4 as he was able to serve the set out comfortably with a perfect service game.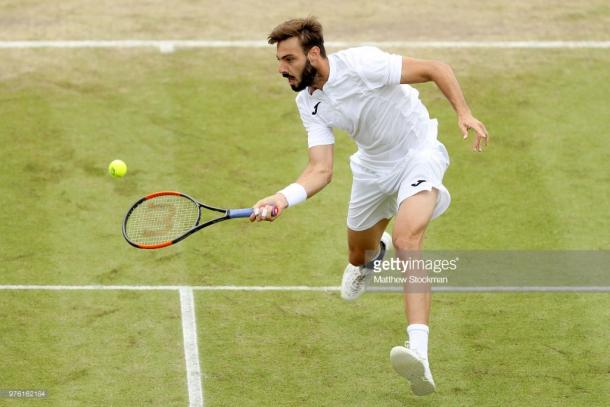 Brit bounces back in style
Despite the fact he lost the opening set, Evans maintained a positive attitude and could see a way back into the match. Both players held their opening service games in the third set. However, Granollers did put pressure on Evans in the third game but the Brit was able to save two break points, which turned out to be a huge moment in the set.
This kept the pressure on Granollers and Evans was able to eventually make it count as he broke in the sixth game to take a commanding 4-2 lead. The Centre Court crowd was right behind the 28-year-old at this point and were with him for every single point. Evans was able to hold the following game before breaking once again to take the second set 6-2 and send the match into a decider.
Evans reaches Sunday's ATP Challenger final
Evans was presented with a fantastic opportunity to get himself an early break in the third set. After holding his first service game, he had two break points in the second game but was unable to take them. This almost proved costly in the fifth game as Granollers this time put pressure on Evans' serve, but the Brit was able to hold for a 3-2 lead.
Both players continued to hold their serves relatively comfortably until the eighth game as Evans broke Granollers' serve to take a 5-3 lead. He did this in great style as he won the game following a superb rally between the two players. He was then able to hold his serve in the next game and took the second match point which came his way to win the set 6-3 and the match 2-1. He will now be looking forward to trying to claim the title in tomorrow's final.