Ashleigh Barty secured her place in Sunday's final of the Nature Valley Open in Nottingham with a 6-3, 6-4 win over Naomi Osaka on Centre Court at the Nottingham Tennis Centre on Saturday afternoon.
A tough match to predict
It was Barty who came into this match as the favourite to progress into Sunday's final. The 22-year-old Aussie is currently ranked as No. 17 in the world and came into this tournament as the No. 1 seed. However, she arguably still has plenty of room to improve her game as she has not made it further than the third round in any Grand Slam throughout her career. She has also so far won only 1 WTA title.
She managed to beat Stefanie Vögele, Duan Yingying and Katie Boutler on her way to this semi-final encounter. She would have fancied her chances of beating Osaka and giving her a great chance of securing her second WTA title on Sunday.
As for Osaka, she remains one of the hottest prospects in women's tennis right now and would have come into this match with no fear. The 20-year-old is currently in really good form and had beaten Sachia Vickery, Denisa Allertová and Mihaela Buzarnescu on her way to this semi-final. The Japanese starlet has all the attributes to become a top player in the future.
Barty gives Osaka no time to settle
As expected, it was Barty who started off this match the stronger of the two players. She began proceedings with a perfect service game before breaking Osaka's serve at the first opportunity. This saw Barty eventually take a 3-0 lead and already have the opening set in her sights.
However, to her credit, Osaka was able to respond to this by holding her following service game relatively easily before then breaking Barty's serve. She was then able to hold her serve once again in the sixth game to level the set up at 3-3. It was a fantastic response after what was a relatively poor start from the 20-year-old.
Despite this comeback, Osaka lost her way again in the latter stages of the set. Barty was able to win the next three consecutive games to take the opening set 6-3 and move her to within one set of Sunday's final. This resulted in Osaka requesting to see her coach.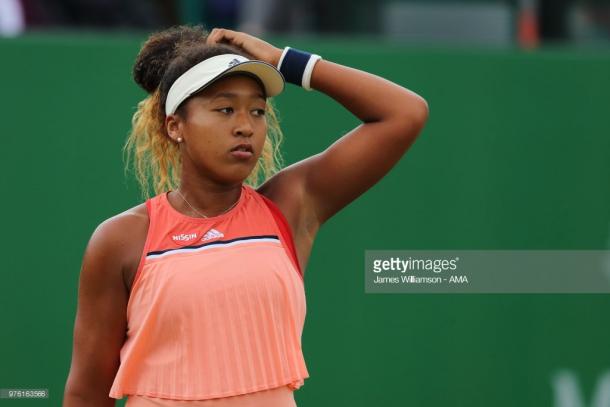 Barty too good for Osaka to deal with
It was largely the same story in the second set as Barty's quality continued to prove too much for Osaka to deal with. The Aussie broke Osaka's serve instantly at the start of the second set before holding her following two service games to find herself 3-1 up very early on. There was not a break of serve for the rest of the set which ensured Barty took the set 6-4 and the match 2-1 to secure her place in Sunday's final where she will face either Donna Vekić or Johanna Konta who play later today.
Barty: "To be in a final is always positive"
In her post-match press conference following her win, Barty insisted that making the final of a competition is always a positive, no matter how prestigious it may or may not be.
She said: "It has been a very clean week. I have served well. I am happy to be through and to be in a final is always positive, no matter where you are."
This result may have come as a surprise to some given how comfortable Osaka is on grass, but Barty revealed that she has always felt comfortable on the surface ever since she began playing on it.
She said: "I did not really play on it growing up much at all. When I began playing on grass, I instantly felt comfortable. I have probably only played one or two times before getting on the tour. I felt instantly comfortable on the grass and I have felt really good this week.
She added: "I think gradually I have got better and better. I knew I was going to have to step up a level today and I am glad that I was able to do that."
As earlier mentioned, Barty will face either Vekić or Konta in Sunday's final but the Aussie insists she will enjoy the occasion, whoever she ends up facing.
She said: "I have got no preference. They have both had cracking matches on the grass last year. I do not think that I have played Donna (Vekić) before and obviously I lost to Johanna (Konta) here last year. I think I can go in and play some free tennis."