Johanna Konta secured her place in Sunday's final of the Nature Valley Open in Nottingham with a 6-2, 6-3 win over Donna Vekić on Centre Court at the Nottingham Tennis Centre on Saturday evening.
Another classic to look forward to?
This was the standout match ahead of Saturday's semi-finals, mainly due to the classic encounters that have occurred between these two in recent times. It was Konta who came into this match as the favourite to progress into Sunday's final. The 27-year-old Brit is currently ranked at No. 22 in the world and despite the fact she has lost her way recently, she still has the potential to reach the top of the women's game.
She came into this match after a relatively comfortable opening few games in the tournament, in which she did not lose a single set. She was able to get the better of Kurumi Nara, Heather Watson and Dalila Jakupović on her way to setting up this semi-final encounter.
As for her opponent, Vekić has of course caused problems for Konta in the past. Vekić got the better of Konta in the final of this tournament last year as she won 2-6, 7-6, 7-5 in a scintillating encounter. However, Konta was able to get revenge just a couple of weeks later as she defeated Vekić in the second round of Wimbledon with a 7-6, 4-6, 10-8 victory.
The 21-year-old Croat would have been hoping that she could cause an upset once again on Centre Court, and would have been aware that the crowd would not be behind her.
Konta dominates opening set
Konta got off to the best possible start in this match as she was able to immediately break Vekić's serve. However, she was aided by a double fault from the 21-year-old which ultimately won her the opening game. Konta followed this up with a perfect service game. Despite this, Vekić was able to get herself on the scoreboard in the following game with a much-needed hold of serve.
This period of play was followed by three consecutive holds of serve, as both players got into the flow of things as they settled down on Centre Court. The key moment came in the seventh game as Konta broke Vekić's serve for a second time, eventually taking one of several break points that fell her way. She was then able to hold her serve to take the set 6-2 in impressive time, just under half an hour.
Vekić was clearly struggling throughout the set, requesting to see her coach after being broken a second time before then requesting to see a physio at the end of the set. She then went off-court for a medical time-out which coincided with play being temporarily suspended anyway due to rain.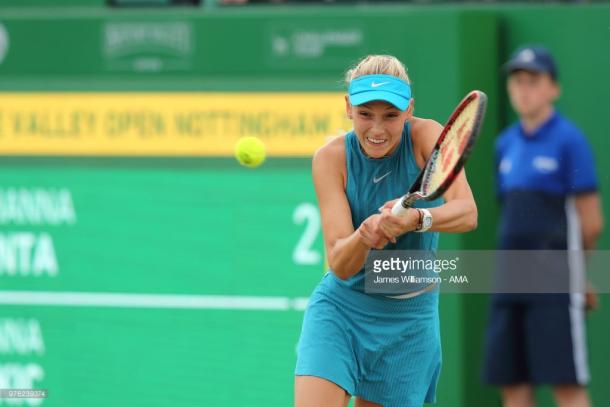 Rain delay does not hinder Konta's progress
The players did eventually return after over an hour off the court due to the rain delay. However, this did not seem to have any impact on Konta's momentum. After a hold for both players at the beginning of the second set, Konta was able to break Vekić's serve in the third game as she took advantage of her first break point. She followed this up by holding her next service game, although Vekić did fail to take two break points which was a warning sign for the Brit.
This was a warning sign that Konta failed to do anything about as in her following service game, Vekić was able to break and level the game up at 3-3. However, the big moment of the match came in the seventh game as Konta controversially broke for a second time in the set. Vekić was unhappy with a decision resulting in her calling a shot out in the middle of the point, meaning that she subsequently lost the point for speaking during play. This clearly affected her concentration as she committed a double fault in the next point and allowed Konta to take a 4-3 lead.
The Brit was able to follow this up by holding her serve, despite being issued a warning for taking too long. She responded to the umpire by saying: "I am a human being, no a robot." Konta was able to finish the match in the next game by breaking Vekić's serve again to take the set 6-3 and the match 2-0.