Alex de Minaur picked up the first title of his career as he beat Dan Evans 7-6, 7-5 to win the Nature Valley Open in Nottingham on Centre Court at the Nottingham Tennis Centre on Saturday afternoon.
Nothing to lose?
Evans came into this match as the underdog with nothing to lose following a great week of tennis as he continues his comeback from his year-long ban. The 28-year-old Brit has got a lot of minutes under his belt which is almost just as important as getting results as he needs to work his way back up to full match fitness.
He would have come into this match feeling very little pressure, with the title coming as a bonus if it was to arrive. With the Queen's Club Championships just around the corner, he may have had one eye on that. The Brit was given a wildcard for next week's tournament and would have been aware that he would have a very short turnaround between this match and his first round match in the capital.
As for his opponent, de Minaur arguably came into this match with a lot more pressure on his shoulders. The 19-year-old is one of the best up and coming talents in tennis and is already ranked No. 79 in the world with plenty of time to improve. However, he came into this match with no career titles under his belt, and has fallen short in a number of finals. This may have been in the back of his mind heading into this match.
de Minaur edges opening set
Both players made a very solid start to this match as we began with four consecutive holds, with neither player really threatening to break. The first big moment of the set came in the fifth game as Evans managed to break de Minaur's serve by taking advantage of his second break point. He was then able to follow this up with a perfect service game to put himself in control.
However, de Minaur responded to this by holding his next service game before breaking Evans' serve straight after to level the game back up at 4-4. Both players were then able to hold their next two service games which saw the set sent to a tie-break. It was de Minaur who took control of the tie-break with some early mini-breaks and he was able to eventually win it 7-4 by finishing it off with an audacious lob. This saw him take the opening set 7-6 and he subsequently gave Evans a lot of work to do.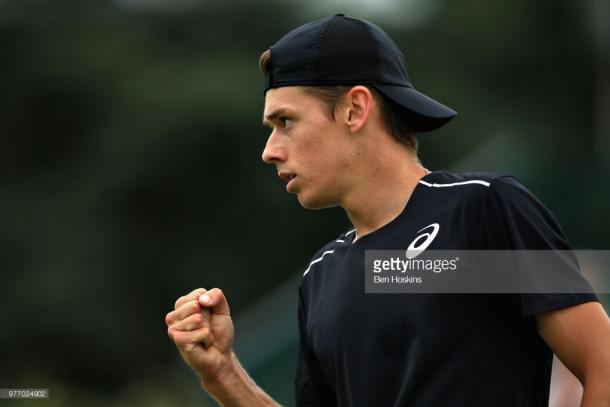 Evans unable to force a decider
The momentum was clearly with de Minaur after he took the opening set and he was able to carry this into the start of the second. He immediately broke Evans' serve before holding to take a quick 2-0 lead. He could have broken again in the third game but Evans was this time able to save a number of break points in stay in the set.
This worked in his favour as he was then able to level the set back up in the sixth game as he broke de Minaur's serve. This levelled the game up at 3-3 and gave Evans the belief that he could potentially send the match into a third set. Both players were then able to hold their next service game as they set continued to hang in the balance at 4-4.
It looked as though de Minaur had done enough to win the match in the ninth game as he broke Evans' serve for a second time in the set, albeit courtesy of a double fault from Evans. However, with the support of the crowd, Evans was able to break straight back despite the fact that de Minaur had a match point.
However, Evans was unable to back this up with a hold of serve as de Minaur broke again straight away to give him a 6-5 lead and a chance to serve for the match. This is an opportunity he was this time able to take as he eventually took the set 7-5 and the match 2-0 to secure the first title of his career.