Johanna Konta was denied in the Nature Valley Open final for a second consecutive year as Ashleigh Barty condemned the Brit to a 6-3, 3-6, 6-4 defeat on Centre Court at the Nottingham Tennis Centre on Saturday afternoon.
Barty takes opening set
The match began at a really high standard with five consecutive holds of serve. This was perhaps slightly surprising with what was at stake, but both players were really composed in their play early on. They key moment of the set came in the sixth game, as Barty was able to eventually break Konta's serve and take a 4-2 lead.
The Aussie was able to back this up by holding her next service game, much to the frustration of Konta who subsequently requested to see her coach. This did look to have had a slight impact as the Brit one her next service game comfortably. However, it was not enough to prevent Barty from taking the opening set 6-3, despite the fact that Konta did go 0-30 up on her serve.
Konta manages to respond in second set
After losing the opening set, it was vital that Konta made a solid start to the second. This is something she was able to do by holding her opening service game. However, she began to become frustrated early on in the set as she failed to take two good opportunities to break. She was 15-40 up on Barty's first service game and 0-40 up on her second but failed to break on either occasion.
This meant that there was not a break of serve in the set until the eight game. This time Konta was able to get the better of Barty's serve and take a crucial 5-3 lead. She made this break count by holding her next service game to take the second set 6-3 and send the match into a decider.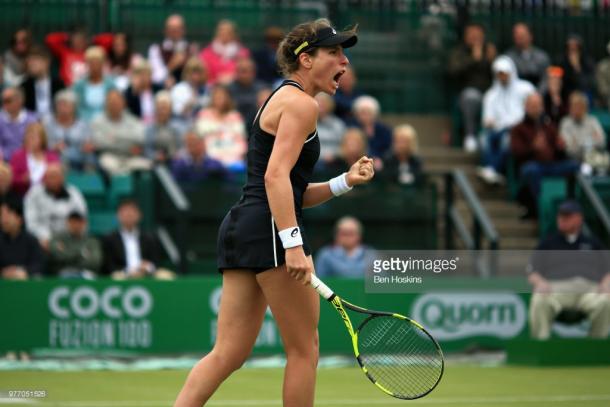 Barty claims title amid late controversy
Konta would have fancied her chances of going on to win the match in the third set. However, Barty did not let her performance in the second set affect her. She managed to break in the fourth game as she took her first break point, which left Konta visibly frustrated on court.
However, the Brit was able to bounce back in the seventh game as she broke back, to reduce the deficit to 4-3. She was then able to level the third set up at 4-4 by winning her next service game, much to the delight of the Centre Court crowd her were desperate to see her win.
Despite this, Barty managed to regain the initiative, admittedly amidst controversy. Barty just about managed to hold her serve but the winning point looked to be out, but was called good. The umpire decided not to correct the decision which left Konta fuming on court. After lengthy deliberations, Barty was able to remain focussed and broke a disgruntled Konta's serve to take the set 6-4 and the match 2-1 to secure the title.