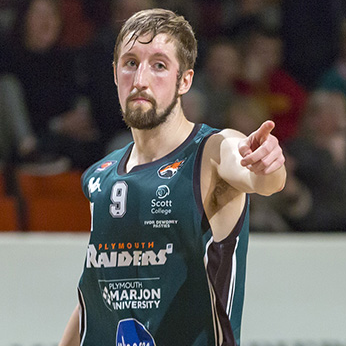 Power forward Will Neighbour has extended his contract with the Plymouth Raiders for the upcoming 2020/21 British Basketball League season.
Neighbour is coming into his third different spell with the Raiders, after resigning with the side late into the 2019/20 season, which was brought to a grinding halt due to the coronavirus pandemic.
The British forward is a fantastic addition into this Raiders squad, and will add a big threat from the three point line, and is a fantastic leader that can bring glory to Plymouth.
A Look Into Neighbour's Basketball Tour
Neighbour began his career in America, with Little Rock in the NCAA Division One, pulling together 57 appearances for the side.

During his two year spell with the American outfit, Neighbour shone, averaging 10.7 points per game throughout his first, and 16.3 points per game in his final season, which is still his most successful scoring season through his numbers.
He also provided outstanding defence in his two years in America, averaging 1.3 steals, 1.1 blocks and seven rebounds.
His two years of success in America brought lots of interest for the 6"10 power forward, and he signed a one year deal with Spanish Second Division side Oviedo.
After a year in Spain, Neighbour took his talent elsewhere, this time to the Swedish First Division to play with Lulea, before returning to England to play for the Surrey Scorchers one year later.
In Spain and Sweden, Neighbours didn't get much opportunity to show himself off on the court, averaging around ten minutes a game per season, but things quickly changed when he returned to England.
Neighbour played for Surrey for two years, and after a successful first year, earned himself a huge spike in minutes through his second year, from 17.6 to 28.4.
And Neighbour made the most of those minutes on the court, as he put up 16.1 points per game, shooting 47% from the field and 39% from three point range.
During a very successful personal year in Surrey, Neighbour also provided elsewhere on the court, with 5.5 rebounds, two assists and an incredible two steals per game.
Following his two year stint at Surrey, Neighbour went back abroad this time to play in Hungary, with first division side MAFC Budapest.

He only spent one year abroad before returning to the UK, for his first spell with the Raiders, he then spent a one year spell with the London City Royals before heading south again, to rejoin the Raiders.
So far for Plymouth, Neighbour has put up 12.2 points per game, over five rebounds and two assists, and nearly steal a game.
Plymouth The Right Move for Neighbour
Plymouth isn't just a place for the power forward to play basketball, Neighbour also calls it home, as he spent lockdown living just outside of the city.
Speaking to the Plymouth Raiders website, Neighbour said: "I'm really looking forward to coming back and playing for Plymouth. During my time at the club I have built several good loyal friends who have treated me like family.
So, I have another level of love for Plymouth and the Raiders now, this feels like home. Looks like we are going to have an incredibly talented team and I'm very excited about getting on court with everyone and competing for a championship."
Coach James on the Move
Coach Paul James couldn't be happier to see Neighbour making a return to the side, and knows just how impactful this move could be for the team.
Speaking to the Raiders website, James added: "Its great to have Will return for the coming season. Will only joined us late on last season but made a positive contribution straight away.
Will is another high-quality domestic player we've added to our squad and we expect more of the same from him this coming season."