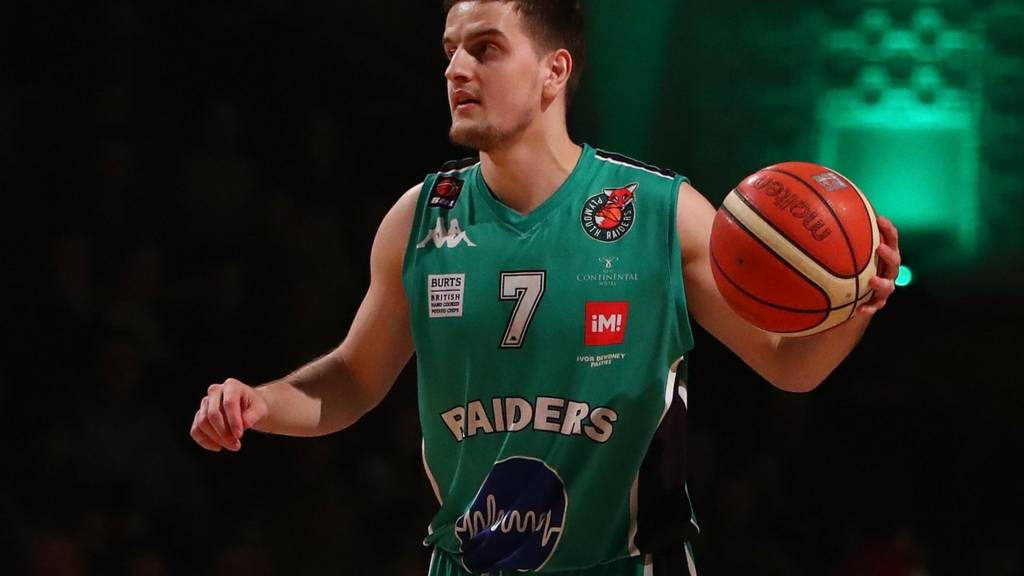 Elvisi Dusha has made a move that will see him return to the Plymouth Raiders, as he reunites himself with his former coach Paul James.
Dusha has been a British Basketball League regular since the 2013/14 season, and this will be the point guards second spell with the Raiders.
The 6'2 floor general will add some high quality chances for his teammates, as he's proved himself as a fantastic playmaker in recent years, but he will also add a big three point threat.
Dusha's Career So Far
Dusha began his BBL career with the Surrey Scorchers, and spent three years with the side, playing 82 times.
His most impressive year with Surrey came within his first year, when the British-Albanian guard was able to put up 9.7 points per game on 46% shooting.
He also showed an impressive side to his all round game this year as well, with five rebounds, four assists and 1.2 steals per game.
During his time in Surrey, Dusha's minutes gradually decreased per year, so the guard quickly moved on, and spent a year with the Reading Rockets in the National Basketball League Division 1.
A year in the National Basketball League was enough for Dusha, and he quickly made the step back into the BBL for his first stint with the Raiders where in limited minutes, he was able to put up three points and two assists.
After his year was up with the Raiders, Dusha moved to the Worcester Wolves, where he has his best playmaking season, averaging 6.7 assists, before heading north yet again to play for the Cheshire Phoenix.
The move to Cheshire proved a big move for Dusha, as the guard saw a huge improvement in his shooting percentages.
In 16 minutes per game, Dusha managed to produce 7.2 points, on 54% from the field and an incredible 55% from three point range, while also providing two assists a game.
The 2018/19 BBL season was Dusha's last full year in the BBL before returning to Plymouth this season, which he spent with the London City Royals.
The guard made 26 appearances for the side in the capital, and provided once again, with five points and 2.6 assists.
During his year with the Royals, Dusha was able to earn himself some silverware as the London City Royals defeated local rivals the London Lions in a tense overtime battle finishing 90-82.
Before the year was shut down due to the coronavirus pandemic, Dusha played six games for NBL Division 1 side Essex and Herts Leopards.
It was a very impressive six games as well, as the guard notched up 19.2 points, four rebounds, six assists and two steals in 35 minutes of action.
Dusha Excited to be Back
Dusha couldn't be happier to be back in the green of Plymouth again, and is ready to be backed by the regular Plymouth faithful.
Speaking to the Raiders website, Dusha said: "I'm excited to be a Raider again and I loved my short time here previously, and the fans and city really know how to get behind their team".
Coach James Happy to Have a Fierce Competitor Back
Coach James has previously managed Dusha before, and knows that what he will bring to the floor is exactly what the side is in need of.
James, speaking to the Raiders website, added: "We are very happy to have signed Elvisi for the 2020/21 season. Still only 26, he has a lot of experience playing in the BBL.
"In the past few seasons he has helped his teams to Finals and won the Trophy with the London City Royals in 2019.
Elvisi is a real competitor, is selfless and certainly strengthens our depth throughout the squad.