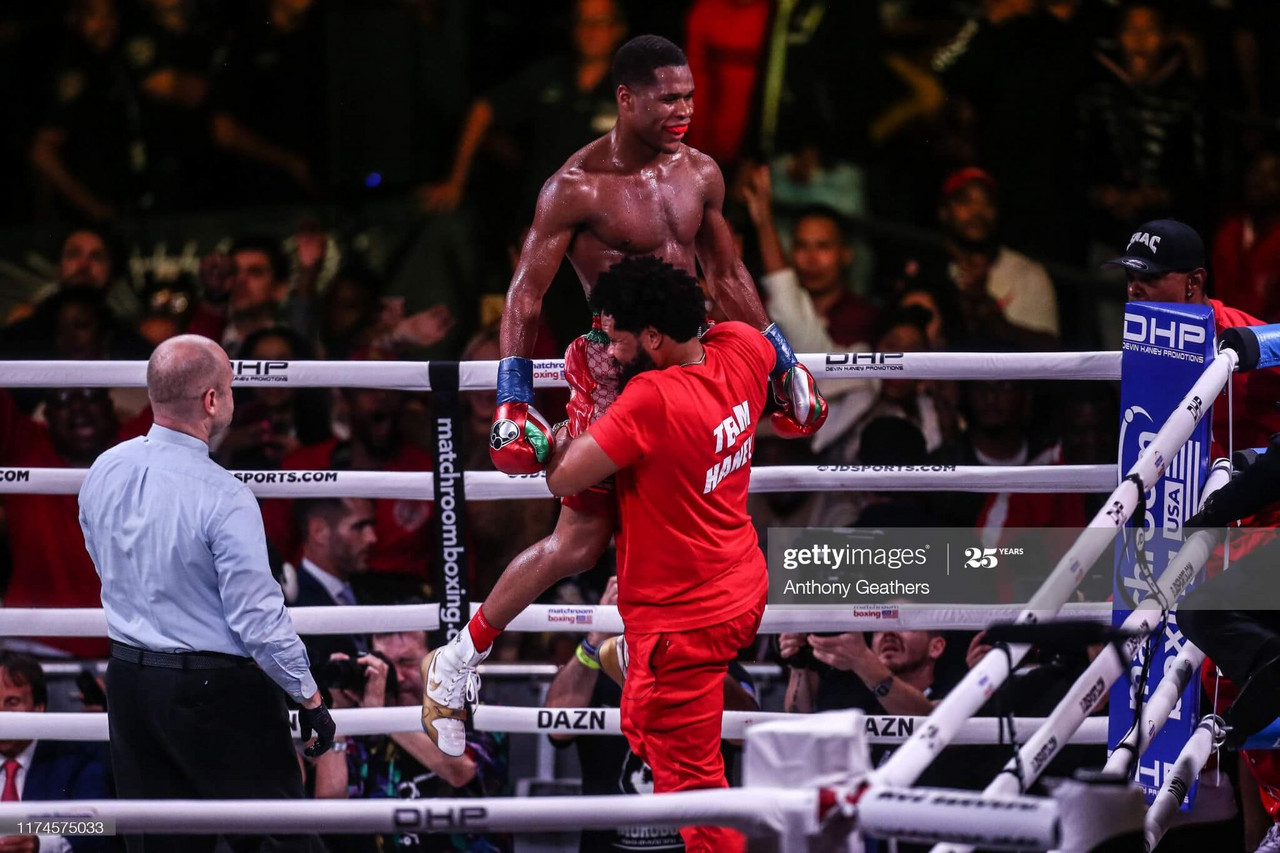 With 17 years difference between the two, the well experienced Gamboa was out classed from start to finish by the young star.
Haney holds the last remaining major belt in the division and called out the recently unified champion Teofimo Lopez after the fight in what would be a blockbuster 135-pound clash.
The bout started with the two gaging each other's ability with Haney landing more punches than Gamboa. It wasn't until the fourth round in which the young champion started to unleash fast and clean combinations with leadings hooks and powerful blows to the body.
Devin quickly started to display his wonderful shoulder roll when Yuriokis was on the attack, something quite similar to his idol Floyd Mayweather. This enabled him to snap out the right hand over the top but Gamboa's chin was rock solid throughout the fight.
The WBC champ was most successful when throwing his jab and finishing with a left hook, which the Cuban struggled to defend against all night. The biggest question of the fight was should Haney be stopping his opponent with these clean shots?
The majority of the action between the two lightweights was interrupted by repeated clinches from Gamboa. He would later be punished and docked a point in the 11th to benefit Haney even further on the scorecards.
At the final bell, two judges scored the bout with Haney winning every round. The other judge gave two rounds to Gamboa to ensure it what was a complete shut out in Haney's second title defence.
Speaking to DAZN after the action, 'The Dream' stated his intentions for the future.
He said; "There's a lot of big fights out there, I showed that I'm not going anywhere. I want to make the big fights happen, fighting someone like Gamboa was a steppingstone. I want to bring the best out of me."
"Teofimo Lopez is the one with the rest of the belts and that's the main fight that I want to make happen."
The WBA, IBF, and WBO holder Lopez recently pulled off the biggest upset of the year with a stunning victory of Vasyl Lomachenko who is highly ranked at the top of the pound for pound list.
However, Haney could next find himself fighting either Luke Campbell or Ryan Garcia.
Campbell VS. Garcia is scheduled for December 5th and will be streamed exclusively on DAZN. The bout will see the winner become mandatory challenger for Haney's WBC belt.
Haney VS. Gamboa Fight Card Results
Devin Haney def. Yuriorkis Gamboa via unanimous decision (120-107, 120-107, 118-109) to defend WBC lightweight title
Filip Hrgovic def. Rydell Booker by fifth-round TKO; Heavyweight
Zhilei Zhang def. Devin Vargas via fourth-round TKO; Heavyweight
Arthur Biyarslanov def. Juan Jose Martinez by first-round TKO; Junior welterweight
Reshat Mati def. Marcos Mojica via second-round TKO; Welterweight
Raymond Ford def. Rafael Reyes by third-round TKO; Featherweight