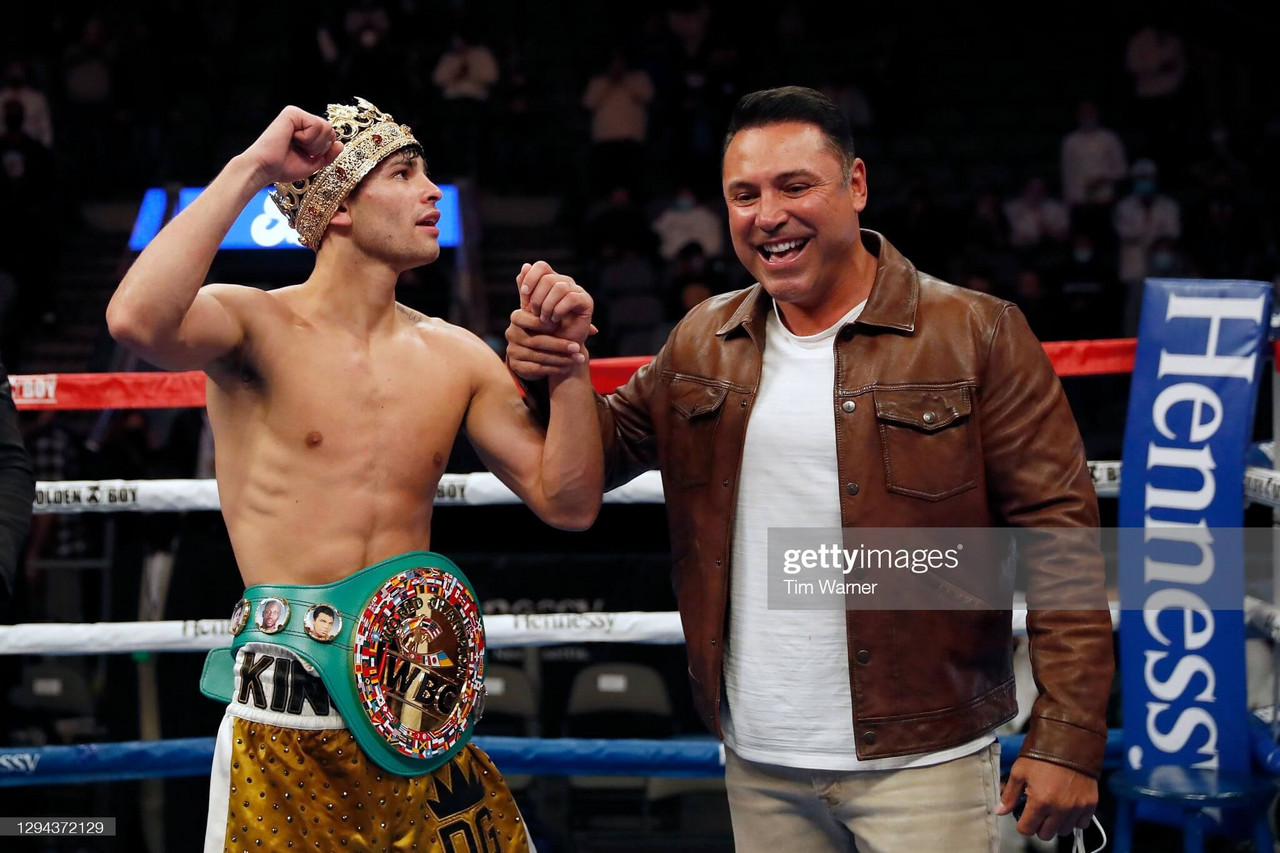 Ryan Garcia took to social media to 'announce' a fight with Manny Pacquiao, however reports say that nothing has been confirmed.
The rising star Garcia (21-0, 18 KO's) is adamant that his next fight will be with the legend Pacquiao (62-7-2, 39 KO's) but for the boxing world, it is a fight that does not make sense for either fighters.
Especially with the reports coming out that the fight will be an exhibition affair, which makes for an even more unlikely potential bout.
OK, Im told that in regards to Pacquiao-Ryan Garcia, nothing is finalized. The plan is for this bout to be an exhibition. Also, it would take place at THE ONE on Sunset Blvd.... #boxing

— Steve Kim (@SteveKim323) January 25, 2021
What makes this a mind boggling story is that it makes no sense for either fighters to fight each other. Pacquiao has been out of the ring since July 2019, when he beat Keith Thurman by split decision.
If he is to keep fighting at the top level and look to win more world titles, it doesn't make much sense for the 'Pac Man' to fight Garcia, who sits two weight classes below him.
📋 When Ryan Garcia was born on August 8th, 1998, Manny Pacquiao had…

➖ Been a pro three-and-a-half years
➖ Built up record of 11-0
➖ Suffered his first defeat
➖ Rebuilt to 23-1, on verge of title shot

👑 When Garcia was four months old, Pacquiao won his first world title.

— Michael Benson (@MichaelBensonn) January 26, 2021
Garcia is fresh off the back of a stoppage win over Luke Campbell - beating the seasoned British fighter with a brutal left hook to the body.
After the fight, he called to fight the world champions Gervonta Davis (24-0, 23 KO's) and Devin Haney (25-0, 15 KO's) with the American fighter having a real desire to fight Davis instead of Haney.
It makes sense to fight either of these guys as the Lightweight division currently has a great crop of fighters that all want to fight each other. Adding in unified champion Teofimo Lopez and former unified champions Vasily Lomachenko too.
Garcia could easily fight for a world title against Haney or Davis and the Haney fight is extremely easy to make as they both want the fight and they are both under the same promotional banner.
For once... we could agree https://t.co/PneG4vNkBG

— Devin Haney (@Realdevinhaney) January 24, 2021
Therefore, it makes no sense that Garcia would go chasing a fight with a fighter who is two weights above him.
Then consider Pacquiao's position, he's 42 and hasn't fought for well over a year and a half and probably doesn't have that long left in the sport.
Why would he go chasing exhibition bouts that would be likely to take up 3/4 months out of his career, when he should be chasing big legacy world title fights against the likes of Terence Crawford and Errol Spence Jnr.
Boxing fans want to see Garcia against Haney and Davis and the momentum from the Campbell win makes both of those fights big, huge commercial fights for the masses.
Whilst Pacquiao may not have long left, I'm sure he'd rather strive for glory and legacy in the twilight of his career rather than waste his time and efforts in a 'friendly' fight that no one wants to see.