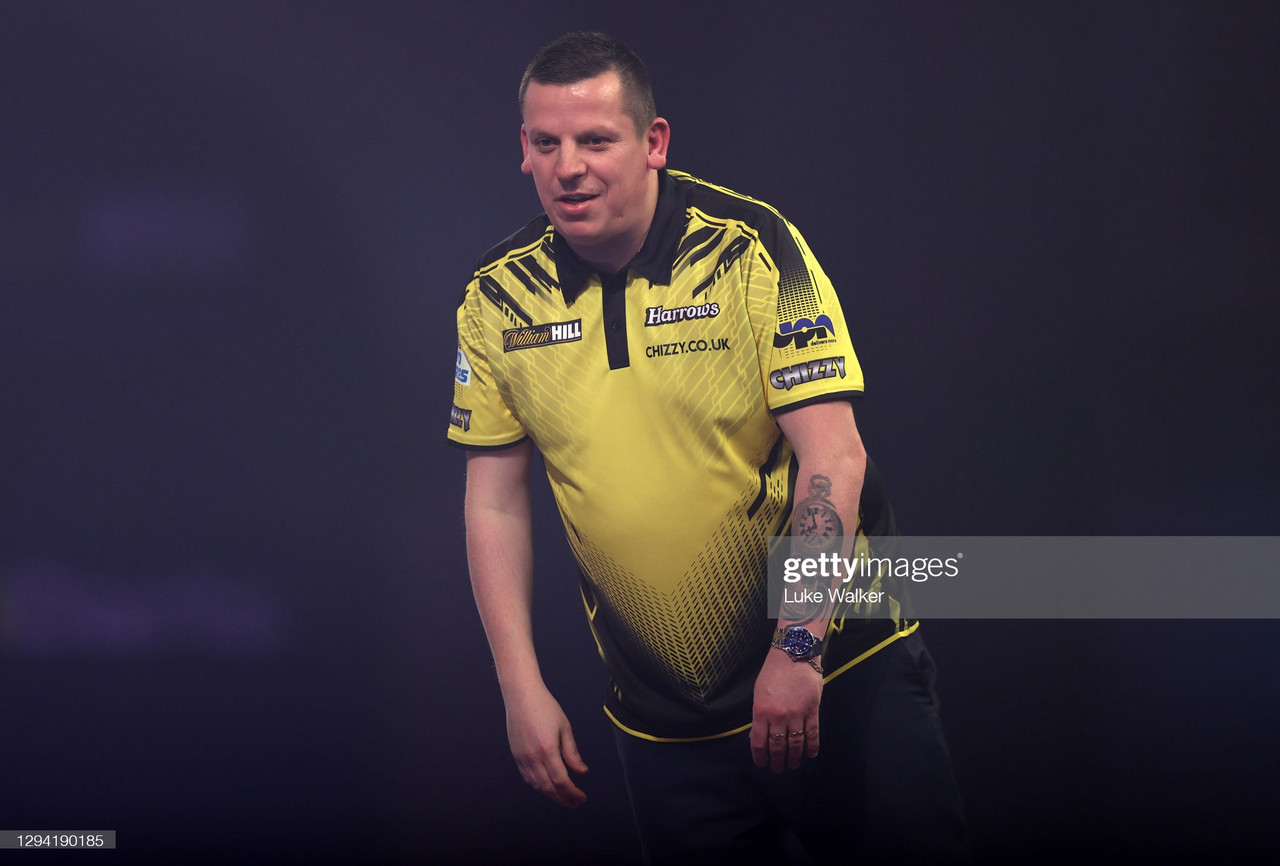 Dave Chisnall defeated Daryl Gurney in a thrilling encounter in the Ladbrokes Masters as the former semi-finalist held his nerve to win 10-9 at the Marshall Arena in Milton Keynes.
Chisnall, who reached the semi-finals of the World Championship, was pushed right to the end by Gurney, but managed to hit a decisive double in the decisive leg to get through to the quarter finals.
Nathan Aspinall also edged through a nail-biting encounter against Mensur Suljović, who missed five match darts.
Mervyn King continued his fine run of form with a convincing 10-5 win over Rob Cross, while a relentless James Wade claimed a 10-4 victory over Chris Dobey.
Chisnall advances through to the quarter finals
Chisnall showed early doors the form he had in the World Championships and raced into a three-leg lead, breaking throw in the second, but Gurney hit back to win the next three legs and level.
Gurney kept 'Chizzy' within two legs and took the game to a deciding leg. The Northern Irish thrower couldn't watch as Chisnall took to the oche and after the former Masters runner-up missed D16 and hit the D7, he checked out the 18 to progress.
Chisnall, who reached the semi-finals of the 2021 World Championship, thought he got "a bit lucky" against Gurney, but knew he just had to get over the line.
"I got a bit lucky there," Chisnall admitted. "When I missed that 36, nine darts, I thought I blew it. I kicked off alright in the last leg and thought 'just give me a shot at the double'.
"When I had that 32, I thought 'wow, I've hit 14', but when I'm at home at I'm practicing with the boys, it's one of my favourites. Lucky for me, it went in tonight."
He continued: "It was frustrating, but he took some brilliant finishes out. He took two ton-plus finishes, but I missed doubles at the time. It's frustrating, but I just had to get the job done and I did."
Aspinall punishes Suljović in deciding leg
There were two breaks of throw in the first three legs, but the two players just couldn't be separated throughout until Suljović took out 56 to go within one leg of the quarter finals.
Aspinall, who reached the semi-finals of the Masters in 2020, was able to fight back and took the game all the way after winning the next two legs.
Suljović was unable to capitalise on having the throw in the deciding leg, missing five match darts, and the Austrian thrower was punished when Aspinall hit D10.
The Asp admitted that he just couldn't miss the chance at the end and felt the pressure got to Suljović, which allowed him to capitalise and get through to the quarter finals.
"Don't mess it up," Aspinall said. "I got an opportunity. Honest to god, I didn't expect him to miss. Whether there's a crowd here or not, you're playing for a big title.
"He (Suljović) felt the pressure and he missed it. He had a bad year last year, he's sliding down the rankings. It would've been a big win for Mensur and for different reasons it was a big win for me.
"The pressure got to him there and luckily for me I stepped up and hit it first dart because I wouldn't have liked to go two or three into it. If I did miss them, I would've been kicking myself. I didn't, I hit it and I won."
King progresses in controversial match with Cross
King picked up where he left off in the previous round and coasted into a five-leg lead heading into the interval in complete control against Cross.
'Voltage' got his first leg on the board, but King's relentless nature continued as he went 8-2 up in the game.
There was controversy in the penultimate leg when Cross went wide of the oche, but King, who thought his opponent was over the line, saw the game through for a 10-5 victory.
The former Masters runner-up was questioned about the confrontation on stage and believes it has left a "sour taste" after such a fantastic performance.
"I was pretty pleased with it (performance), right up until two legs to go," King said. "It's just a shame it had to end that way. I'm one of these where if I see something is wrong, I've got to say something.
"Unfortunately, it was against one of my best mates and it wouldn't be any different if it was against someone else.
"If I see something, I have to call it and I was right in doing what I done, even though I'd left it until the leg had finished. It just leaves a sour taste in your mouth when something like that happens."
Wade ruthless in Second Round clash with Dobey
A fast-paced start to the game continued and after breaking throw for the first time in the fourth leg, Wade stretched into a 4-1 lead.
The Machine never really let up and gave Dobey any chances to get back into the game, winning four of the final six legs to move through to the quarter-finals and setting up a potential clash with former world no.1 Michael van Gerwen.
Former Masters champion Wade, who finished with a 97.82 average, admitted he was pleased with the performance against a "great darts player".
"I'm really, really happy," Wade said. "I played a great game against a great darts player and I was lucky enough to come out winning on the other side.
"It's irrelevant in the season and how we're doing and the times we're in. I'm just quite happy to move forwards."