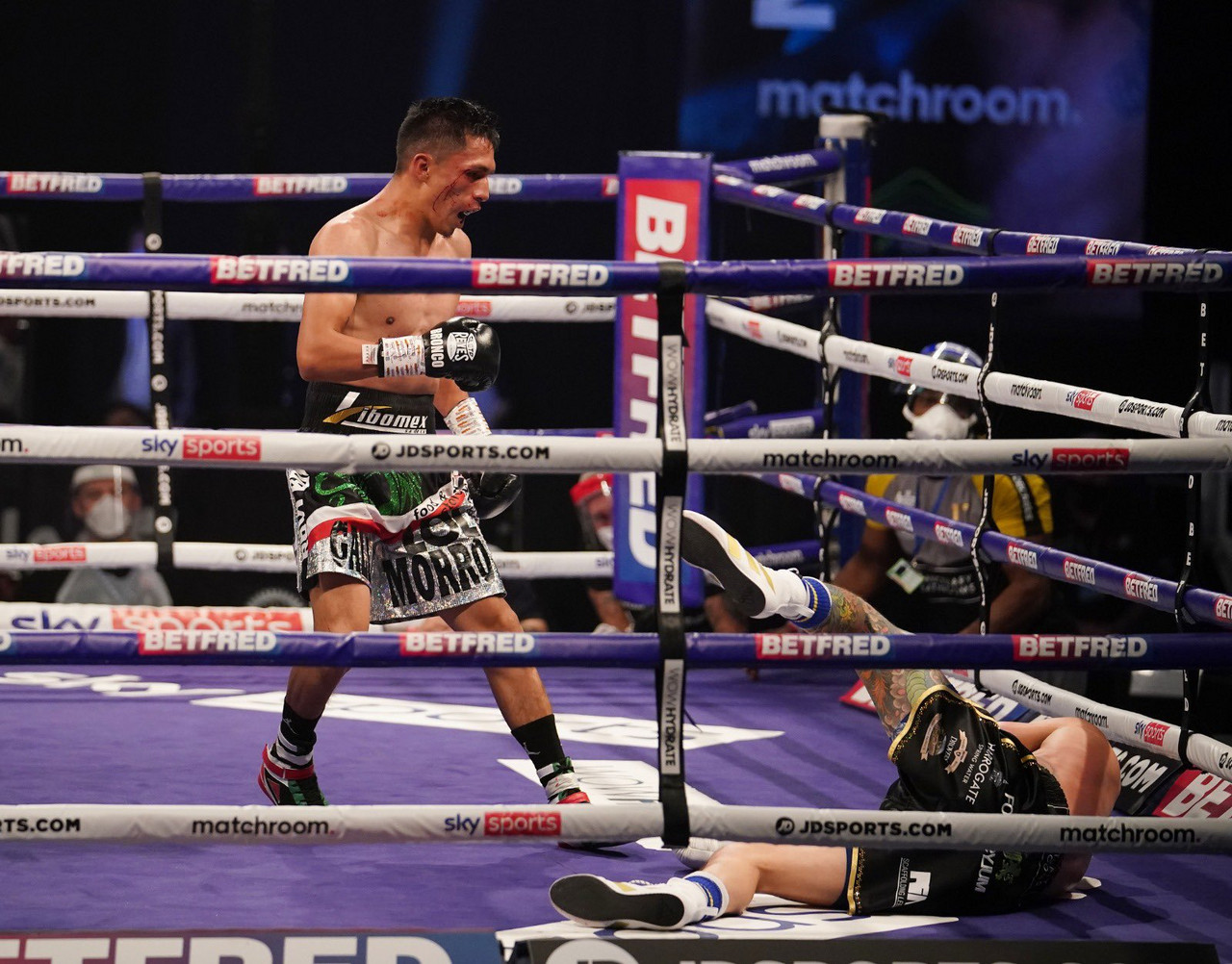 The first Matchroom show of 2021 brought with it a monumental shock for the ages as Mauricio Lara showcased some tremendous punching power to defeat the 'Leeds Warrior' Josh Warrington at Wembley Arena.
The Mexico City fighter, ranked ten with the IBF ahead of the bout and a significant underdog in the betting circle, stormed his way to victory in London and looked at ease within his performance against the Yorkshireman, who had recently relinquished his IBF title in order to chase a number of higher profile fights later in the year.
Those plans came to an abrupt halt on Saturday evening, with Lara proving he is more than capable of mixing it with the elite in the 125lbs division.
Warrington put to the sword by sensational Mexican
Not many had predicted Mauricio Lara to come away with the victory, not least in the manner in which he proceeded to secure it.
Warrington, with the usual corner including trainer and dad, Sean O'Hagan, had admittedly been out of the ring for what had felt like an eternity of a 16-month period. Nonetheless, having shown his elite world-level capabilities across the memorable winning performances over Lee Selby and Carl Frampton, a gut-wrenching loss of this magnitude felt a million miles away from reality.
Lara was seen as an adequate fight to recharge the batteries in a bid to initiate his pursuit of Featherweight stardom in the coming months. Instead, Warrington has to figure out his next steps on the back of his first career defeat.
All action 🌪 #WarringtonLara pic.twitter.com/JWumhKVZoI

— Matchroom Boxing (@MatchroomBoxing) February 13, 2021
It wasn't as if the Leeds man disrespected his opponent, far from it, especially given the reputation Warrington has earned himself through his continued respect and humble approach to his work and his craft, whilst maintaining his role as a shining light in what has undoubtedly been some exciting times for his city's sporting scene.
From the first bell, it was clear Warrington's game plan was to enforce his output and work on the inside; tactics that have worked so well to bring about his success.
Also evident was Mauricio Lara's response, and willingness to match his opponent's work. And, in truth, this approach seemed to faze Warrington, and it was Lara who made his presence known and took the upper hand.
It was turning into a scrap that the Mexican seemingly revelled in, and having landed the cleaner work, it took its toll as Warrington found himself on the canvas in the fourth. It was a heavy knockdown, and referee Howard Foster would have been well within his rights to call the fight there and then.
As the Leeds Warrior clambered to his feet, his balance seemed off, and Lara hunted the shock finish earlier than it eventually did arrive. To Warrington's relief, the bell saved him, and he managed to get back to the corner to evaluate how this Central American whirlwind had managed to really take a firm grasp against the odds.
Warrington battled on, but continued to try and fight on the inside and was consistently met by a barrage of clean Lara shots. Had Lara, who'd previously fought just once outside of his home country, possessed just a tad more experience, then his English opponent may not have lasted as long as he did given the severity of the knockdown earlier in the fight.
Hope grew in the Warrington corner that maybe he could turn the tide on the cards by staying out of range as the fight drew to it's duration. Hope that was to be short-lived, as Lara produced a stunning left hook to seal the fate and send the former IBF king sprawling.
A trademark outstanding response from the medical team on-hand ensured a potentially scary knockout situation was handled efficiently, as Warrington lay prone for a number of seconds. Nevertheless, as soon as he began his recovery and was escorted from the ring, the White Rose fighter was quick to heap praise upon the visitor who'd majorly trumped the overwhelming opinion of disregard on a bitterly cold night in the Capital.
There may well have been contributing factors as to the disappointing Warrington showing by his own standards. Although it has been a static yearly period for the Leeds Warrior, avenues and routes to the featherweight supremacy were truly in the pipeline having sacrificed the IBF title to pursue.
A fight with Chinese WBA regular champion Can Xu, or WBC champion Gary Russell Jr, seemed within reach if Lara was dealt with in routine fashion. Those showpieces still may arrive in due course, but the obstacle of a tough, gritty Lara may prove dividends in any future path that he may decide to take.
It could well be that the next outing is on hold until the return of his loyal supporters is approved; the feeling of a Warrington fight night without the vociferous, mainly Leeds United, faithful belting out 'Marching on Together' seemed somewhat unique, and whether or not it proved to be a hindrance, only Warrington himself will know.
Eddie Hearn told Sky Sports in the aftermath that there is a rematch clause, so don't be surprised to see Josh Warrington and Mauricio Lara going at it once again in 2021.
Questionable judging overshadows return of Zelfa Barrett
The night's chief support saw Manchester's Zelfa Barrett duly tested by the experienced former IBF Super Bantamweight champion, Kiko Martinez. Despite enduring the toughest test of his career so far, Barrett secured a highly debatable unanimous decision victory, with two scorecards having the outcome 118-111 in his favour; a decision that caused outrage throughout the fight community, and drew comments from Eddie Hearn himself in the post-fight interviews.
Spaniard Martinez, hailing from the Alicante region, made a strong case to have won the fight, dictating the pace throughout, forcing 'Flash' to be accurate with his work off the back foot.
Scorecards: 118-111, 118-111, 116-113... @zelfaflash #BarrettMartinez #WarringtonLara pic.twitter.com/QQ4lC9VgvB

— Matchroom Boxing (@MatchroomBoxing) February 13, 2021
Martinez stunned Barrett back to the ropes in the second round and continued to press home an aggressive, forward tempo. He landed crisp left hooks in the fifth and sixth, and it wasn't until the later stages where Barrett really started to fire back with some intelligent combinations in a bid to deter his opponent from producing the cleaner work inside.
The Mancunian certainly did enough to win the final three rounds, but it was the much-travelled former champ who convincingly thought he'd taken an impressive victory come the final bell.
He was to leave hugely disappointed, as the duo of 118-111 cards were joined by a 116-113 to hand Zelfa Barrett a highly contentious decision success.
Explosive Wood blasts his way to British title
The rest of the undercard provided a great deal of entertainment, headlined by a superb KO win for Nottingham's Leigh Wood over Reece Mould to win the British Featherweight title.
Wood floored his opponent three times before brutally wrapping up the victory in the ninth, capturing the vacant Lonsdale belt with a barrage of power punches as Mould backed up to the ropes.
Mould had been dropped seconds earlier by a swift left hook, but couldn't maintain the impressive rate of punishment dished out by Wood as the Trent fighter put the disappointment of a Golden Contract defeat to Jazza Dickens behind him.
Sheffield's Dalton Smith continued his dominating start to life in the professional ranks with a stoppage win over Ishmael Ellis inside four rounds.
Ellis was pulled out at the end of the third, largely down to a sustained assault by Smith which consisted of a number of powerful right hands to break down the Birmingham man's resistance.
Another Yorkshireman, Leeds' Hopey Price, ground out a 60-54 shutout points victory in the Super Bantamweight division over Nicaragua's Daniel Mendoza.
Price used his reach to keep Mendoza at bay, stepping in on the odd occasion to work the body of the Spain-based Central American. A scrappy fight towards the end with the referee splitting the fighters up on numerous occasions, but Price gained more valuable rounds under his belt.
The first fight of the night saw Ibrahim Nadim rack up his third professional win Jonny Phillips on points in a six-round contest.
RESULTS
Mauricio Lara def. Josh Warrington via ninth-round KO (Featherweight)
Zelfa Barrett def. Kiko Martinez via UD (Super Featherweight)
Leigh Wood def. Reece Mould via ninth-round KO (British Featherweight title)
Dalton Smith def. Ishmael Ellis via stoppage (did not show for fourth round) (Super Lightweight)
Hopey Price def. Daniel Mendoza via UD (Super Bantamweight)
Ibrahim Nadim def. Jonny Phillips