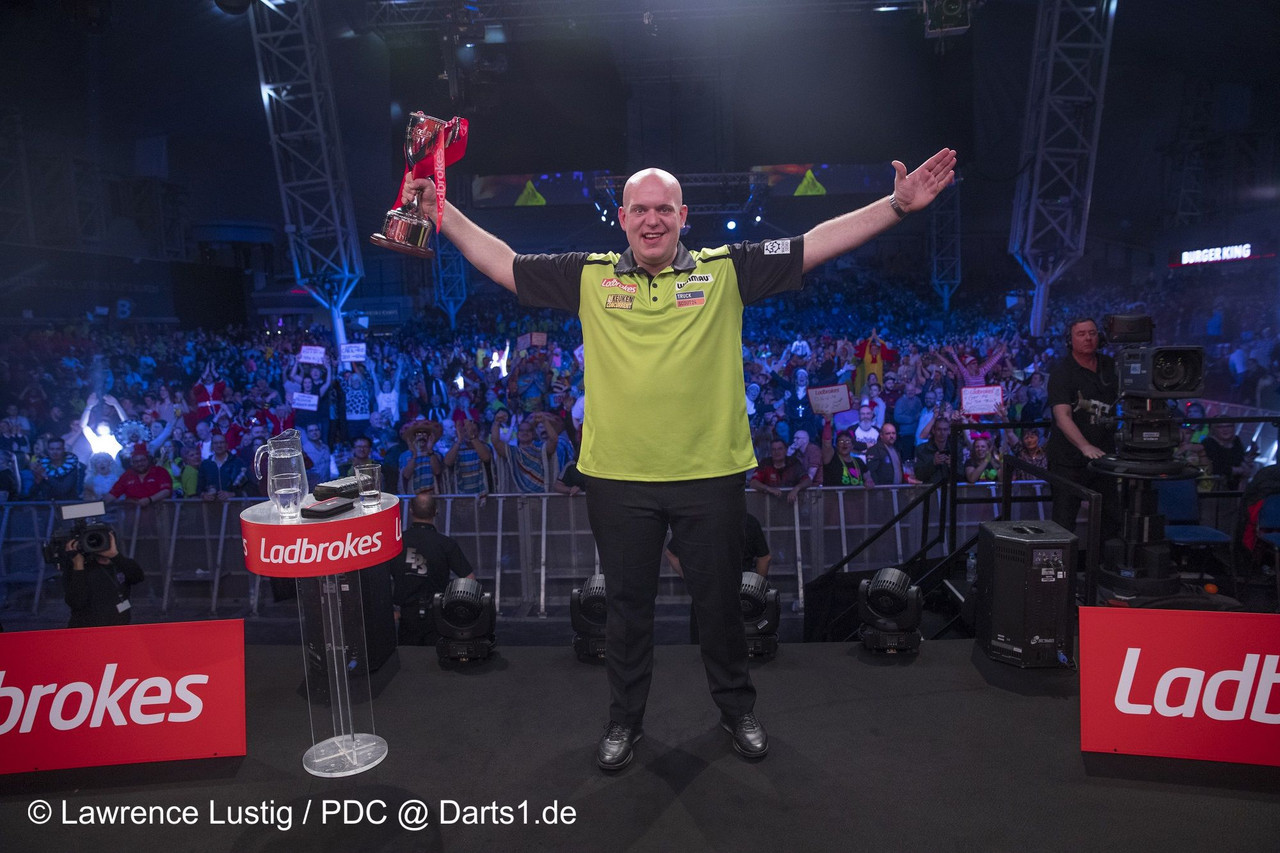 The dawn of a brand new PDC major season is upon us. The Masters and Q-School events formed a gripping start to the calendar year - events which saw Mervyn King assume his increasingly familiar role as the darting bridesmaid to Jonny Clayton.
The Welshman picked up his first individual PDC TV Major at the Masters, and the return to the PDC winners circle of five-time World Champion in Raymond van Barneveld. And who could forget that gutsy American Danny Baggish, who defied all the odds, twice, to become the first American Tour Card holder in a decade.

Also, a nod of appreciation to 'The Artist' Kevin Painter, who announced his retirement from professional darts following his unsuccessful bid to regain a Tour Card at Q-School. A man who enjoyed a stellar career, and one who bows out on his own terms without damaging his reputation in the process. Congratulations on a fine career to one of the game's greatest entertainers.

But, much like life, professional darts is a thing that stops for no man or woman, regardless of how much they gave to the sport. When one player retires and another loses their professional status, there are capable replacements aplenty. Here, I take a look at ten players to look out for throughout the 2021 UK Open

10. Florian Hempel (Germany)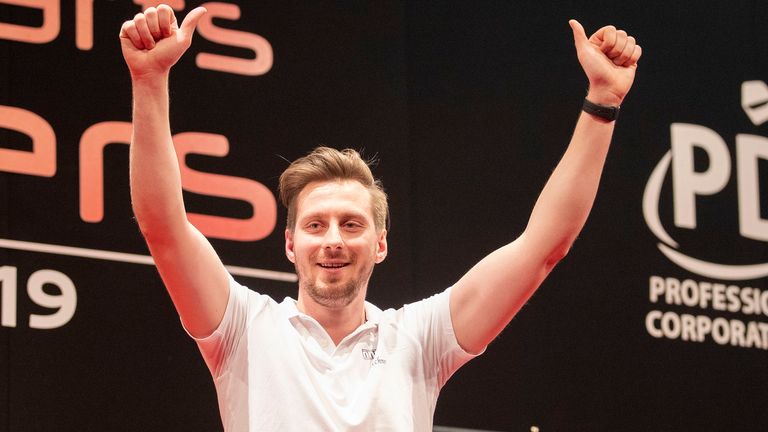 As most darts fans know, Q-School is a chaotic event that sees hundreds of would-be professionals of all skill levels from all over the globe converging on two locations in the UK and Europe to try and fulfil their dream of becoming a PDC professional. Both fields are full of incredible talent - former Major winners, experienced former professionals with more experience than most entering could dream of, and the new breed looking to make their name at the expense of everyone else. One such player is Florian Hempel.

Whether it be because of the impact of COVID-19 and the turmoil the global pandemic threw all organised sport into, or the BDO's problems consuming them from the inside, Florian arrived at Q-School 2021 having not thrown a competitive dart in over a year (the last one coming in the 2020 staging of Q-School where he failed to get past the second round on any of the four days).
However, he impressed on the second day of stage one, securing his place in the final stages with four comfortable wins before taking on his most notable opponent of the day, 2012 BDO World Champion Christian Kist. Kist ran him closer than anyone else on the day, but ultimately the German had too much for the Dutchman, defeating him 6-4.

Then, it was on the third day of the final stage where he really shone. Hempel's lowest average of the entire day came in the first round, where he averaged 85.5 in a comfortable 6-3 win. From there it was plain sailing for the 30-year-old German, as he went on to average 96.03 across his remaining five games (including a 101.1 against John Michael in the semi-final), winning each of them by the same score of 6-2. Also defeated in that five-game stretch were familiar PDC names Niels Zonneveld and Martin Schindler.

Given how little PDC experience Florian has, it was his impressive consistency. It remains to be seen how much PDC action he might get in the early stages of his Tour Card owing to the ongoing issues caused by the pandemic, but as the world moves out of it's pandemic state, Hempel is someone worth keeping an eye on, if not early in the 2021 season then certainly in the latter half of the season and moving into the second year of his card in 2022.

9. Martin Schindler (Germany)
The second entrant on this list is another German, and another to come through the European Q-School earlier this month. However, Schindler will be a much more familiar name to those who watch PDC darts. Schindler has competed in 14 PDC TV Majors so far, reaching the last 32 of the European Championship twice, and the same stage of the UK Open on three occasions. Add to that two quarter-finals in the World Cup representing his native Germany (three appearances in total) and three Development Tour titles and you have a pretty solid CV for a player who's still just 24-years-old.

Schindler only lost his Tour Card at the culmination of the of the 2020 season, and for a player so obviously talented you have to think that this is another player heavily affected by the pandemic. Martin only played the circuit in fits and starts last season, appearing in the first 8 Players Championships and four Development Tours as well as a few qualifiers between February-March, before waiting three months for his next PDC appearance - the online Home Tour event in June. His final appearances of the year came in July's Summer Series where he only made it out of the first round on two of the five days.

Schindler has had a remarkable upturn in both performances and results across the Q-School, where he entered as one of the 32 players seeded through to the final stage. A semi-final run that included wins over van Barneveld (100.3 average) and Zoran Lerchbacher set the tone on day one.
Some of what followed can only be described as sensational, namely a Q-School record average of 123.5 against Stefan Niles in the second round of Day Two, and a 9-darter in his rematch with 'RVB' (a losing effort by a score of 6-4 despite a 103.3 average) that took place in the last-sixteen of Day Four. Ultimately, while he might not have won a card outright, he did more than enough across the four-day event, topping the European Q-School Order of Merit and securing an immediate return to the PDC.

It remains to be seen how much PDC action Schindler can actually be involved with whilst restrictions remain as they are. One thing is for certain though, if the young German can take the confidence his Q-School performance should have provided, and hold onto it going forward whilst combining it with his immense talent, he could be a serious threat.

8. Stephen Bunting (England)
An established member of the PDC tour, current world no.17 Stephen Bunting is finally threatening to realise the immense amount of potential the darting world knew of in 2014 when he made the switch from the BDO to the PDC following his successful World Championship run.

A force immediately after switching codes to the PDC, Bunting made two TV quarter-finals at the European Championship and Grand Slam, as well as a best run at the Grand Prix, where he made the semi-final. 'The Bullet' completed an impressive first year by reaching the quarter-final stage of the 2015 PDC World Championship. A semi-final at the UK Open quickly followed, before an over three-year barren spell in TV events ensued. His next major TV quarter-final came in the 2018 Players Championship finals, and Bunting's career was in danger of peaking far too early.

Bunting followed 2018 with a much better 2019, where he reached three TV quarter-finals, but 2020 was more of the disappointing same. An appearance in the Premier League (his first since being selected as a full member of the 2015 event) as a contender served as a small highlight, but even that ended in a 6-6 draw with Rob Cross.

However Bunting made a remarkable return to form at the 2021 PDC World Championship. A series of eye-catching performances culminated in a 101.01 average in the quarter-finals against Krzysztof Ratajski as 'The Bullet' defeated the Pole 5-3 to secure a best-ever finish at a PDC World Championship, losing to eventual winner Gerwyn Price in the semi-final. Bunting was full of confidence throughout his run, attributing his upturn in form to improved practice, equipment and mentality.

Still only 35-years-old, if Bunting truly is in the place he says he is and that his performances suggested, 2021 could see him once again become the darting force he once was, and that makes him a player to watch out for this year.

7. Scott Mitchell (England)
Scott Mitchell is finally a PDC Tour Card holder. The 2015 BDO World Champion has eventually taken his place amongst the darting elite. A fiercely loyal representative of the BDO up until it's recent collapse, winning a myriad of trophies under that code highlighted by 2018 Gold Cup and 2015 World Championship successes.

'Scotty Dog' as he is nicknamed had more time to focus on PDC competition without BDO commitments in 2020, and made the most of the new-found circumstances, picking up his first Challenge Tour win during the second event back at the beginning of the year. The subsequent cancellation of the Challenge Tour as a result of the COVID pandemic meant that Mitchell's early success during the first four events put him in place to be a top-up player should any Tour Card holders be unable to contest an event. Four last-sixteen finishes from 12 tournaments represented a decent return for the Dorset man.

Despite his success in 2020, the first two days of Q-School action did not represent success for Mitchell as he lost in the first round on both occasions. Day three was slightly better as he averaged 97.0 & 96.3 in wins over David Pallett and Steve Earley before losing 6-5 in the third round. It all meant that Mitchell went into the fourth and final day of Q-School needing at least five wins to have any chance, and that's where he displayed his undoubted quality. He comfortably dispatched former PDC pro Alan Norris 6-1 in the first round with a 97.5 average, before going on to win his next three games with an average of 99.77 and the loss of just 5 legs. His next two wins weren't of the same quality, but they were just as important as he secured the wins he needed. The final game against American Baggish was largely irrelevant as Scotty Dog had already done enough, but his admission to not knowing as much before playing made his 96.0 average and 6-2 win even more impressive.
His experience and quality will serve him well, but already 50-years-old it might be a case of the former BDO Champion playing out the twilight of his career without tearing up quite the same amount of trees he did during his time in the amateur game. Still, he gets that opportunity. Follow him closely to find out just how good he can be.

6. Scott Waites (England)

Speaking of former BDO World Champions, 44-year-old Scott Waites arrived on the PDC circuit following last year's Q-School with a glittering trophy cabinet. A two-time BDO World Champion, a World and Finder master and Gold Cup winner with the BDO, Waites shocked the darting world when he became the only non-PDC winner in the history of the Grand Slam back in 2010. And he looked good doing it.

A decade later, and Waites earned his Tour Card with a 5-0 win against Keane Barry after failing to secure his professional status during the 2019 Q-School event. Subsequently, Waites had a fair debut season on the circuit in 2020, not managing to win an event but doing enough to secure qualification through to the first round of the 2021 PDC World Championship due to his position of 19 in the one-year Pro Tour Order of Merit, his debut in the tournament.

It was at the World Championship where Waites really announced himself, competing in two of the most memorable games of the entire tournament. The first, a first-round win over Canadian Matt Campbell saw 'Scotty 2 Hotty' register a 96.13 average in a 3-2 win to earn his first ever success on the Alexandra Palace stage, setting up a second-round tie with the sixth seed Nathan Aspinall. Another pulsating game, Waites upped his average slightly to 96.27 as he missed four match darts in a 3-2 loss to 'The Asp'.

Despite the heartbreaking loss, Waites showed that he belonged during his maiden season on the PDC circuit. The experience gained both on the oche and working the PDC circuit will be invaluable to someone like Waites, who spent so long plying his trade in the amateur game, and that's why he is one to watch this year. A Waites who is familiar and comfortable with his surroundings is a dangerous matchup for just about anybody on the circuit, and expect him to do more than enough throughout the 2021 season to secure at least a third year on the tour.
5. Mervyn King (England)
King, a man firmly entrenched in the higher echelons of the PDC rankings. A player who already has one Major TV final under his belt in 2021 after his performance at the recent Masters event, King is a player with an immense amount of facial expressions, and even more darting talent.
A World and Finder Master as well as a winner of the International Darts League during his time with the BDO, 'The King' actually spent thirteen years competing under the BDO banner. His impressive longevity highlighted by the fact that 2021 will be his fourteenth as a PDC representative. An incredible twenty-seven years spent between the two major organisations, King is playing some of the best stuff of his career.

That belief stems from the fact that despite his incredible amount of time competing in the sport, King secured two personal best finishes in two separate Majors towards the end of the 2020 season and the beginning of the 2021 rendition - reaching the final of the Players Championship back in November and then again reaching another final at the recent Masters event.
Sandwiched in the middle of those two final runs was a very credible performance at the 2021 World Championship, where he defeated Max Hopp and Jose De Sousa (a particularly impressive performance where he averaged 103.47 in a 4-0 whitewash of the Portuguese) to reach the fourth round, losing narrowly to eventual winner world number one, Price.

Whilst it's clear that 'Merv' doesn't have as long left at the top of the darting world as some of the other players, what is clear is that he has a lot more than most left to offer over the next year or two, and personally I wouldn't be surprised if it resulted in his first PDC title. He's arguably playing at a level higher than he ever has, and if a few things fall his way The King could be adding to his ransom of darting treasure with PDC silverware in 2021.

4. Danny Baggish (USA)
Baggish is a man whose last month or two on the PDC circuit could be turned into a feel-good movie. Two eye-opening performances at the World Championship followed-up by a miraculous Q-School makes him one to look out for not just the UK Open but the 2021 season.

Whilst he wasn't a complete unknown to PDC fans when he qualified for the 2021 World Championship - he had previously competed at the 2020 US Masters event and a Players Championship event held in Atlanta way back in 2008, as well as winning the televised North American Championship in 2020, a performance which secured his debut at Alexandra Palace later that year - nobody expected him to be in the event long as he was drawn against the much-fancied Damon Heta in the first round. Despite the odds being against him, Baggish produced a display good enough to overcome the Australian, before repeating the trick in the second round to defeat two-time champion Adrian Lewis 3-1.

A man of faith, Baggish credited just about everybody but himself for the performances he put in. And after revealing the tough personal battles his brother was going through, we can only imagine what it would've taken to even travel to a different continent, let alone to perform as he did. Baggish is a man who has earned everyone's respect, both as a dart player and a human being.

Something even more miraculous than his World Championship exploits was his run during the Q-School event earlier this month. Sitting on no points after the first two days of stage one, Baggish started play on the third and final day knowing that nothing other than a semi-final run would secure his path through to the final stage. Five wins for the loss of just eight legs meant that he would be amongst the 128 players competing for a tour card over the four-day final stage. Rinse and repeat, Baggish struggled over the first three, meaning that he needed a minimum of five wins and things to go his way should he become a PDC Tour Card holder.
Not to be denied, Baggish strung together six wins (including victories over experienced players Michael Barnard and Peter Hudson) to take his spot in the day 4 final. And whilst Mitchell ultimately proved too strong to deny the American an outright tour card, his performances across the day meant that he secured the final Order of Merit spot and a subsequent two-year tour card.

Although his performances probably won't be earning him major silverware, you'd struggle to find many players with as much self-belief and as much determination as Danny and that could be incredibly important in the big moments. Expect some incredibly huge scalps over the next two years. Look out for The Gambler at the 2021 UK Open.

3. Gerwyn Price (Wales)
For the first time in seven years, the PDC circuit begins with a brand new World No.1. And furthermore, he's the newest name on the Sid Waddell trophy. Price's PDC story reached it's conclusion back in January, as the former rugby player secured his fifth and the biggest Major the PDC has to offer, the World Championship.

Seemingly made of granite on some occasions, and displaying some of the most impressive scoring power the PDC has ever seen, Price is an absolute darting force. His self-belief and personal standards have pushed him to heights that not many would have believed possible when he entered Q-School just six years ago with no professional darts experience. Since then, it's been a meteoric rise. A World Cup winner, Price also has 3 European Tour and 9 Players Championship events to his name. He's also a back-to-back winner of the Grand Slam, as well as winning both the Grand Prix and World Series Finals events on one occasion each.
He's probably the best darts player on the planet right now, and that's why Price is a player to watch

2. Raymond van Barneveld (Netherlands)
Barney is back. He wasn't exactly gone for long, but he's back nonetheless and the PDC circuit is better for it. Whilst it's sure that people don't need to telling that RvB is a five-time World Champion, a Grand Slam, Premier League and two-time UK Open winner, but that's just a snapshot of just how good he's been over the years.

A man who has dedicated his life to the sport, winning trophy after trophy and creating an infinite amount of memories for darts fans the world over, it seemed like the weight of retirement weighed heavy on him during his final run, and performances suffered as a result. His premature retirement following the conclusion of his Premier League run a particularly sad moment.

What wasn't quite as sad was Barney's performance at Q-School this year. Multiple hundred-plus averages and a comfortable win outright on the third day of stage 1 to secure his path through to the final stage were early highlights. And whilst he didn't manage to win an outright tour card, he did more than enough across the four-day event as he secured third spot on the overall 'order of merit' to earn back the tour card that he relinquished at the end of the 2019 season. His battles with Schindler over the final stage one of the stories of Q-School.

Just hoping he doesn't announce his second retirement ahead of time and put that level of unnecessary pressure on himself, because someone who has given the sport so much deserves to bow out on an incredible high.

1. Michael van Gerwen (Netherlands)

Van Gerwen is the number one player to watch throughout the UK Open as he looks to battle back for his World Number One spot. MvG's aura of invincibility has diminished somewhat over the last eighteen months, to such an extent that no longer is he World Champion, or the number-one ranked player in professional darts. A rank he's maintained for seven years.

It appears obvious to anybody who watches the game that he is struggling to reach the consistent levels of performance he has become synonymous for. Whether that's down to the change in manufacturer or the changes in his personal life, it certainly makes the top end of the PDC a much more diverse and unpredictable thing to try and second-guess.

MvG doesn't like sharing the spoils. He likes to dominate, he likes being the best in the world, and right now he's not that. He's not the World Champion, and he's not the no.1 ranked player overall. He's just, another darts player and he'll hate that. I think 2021 could see MvG putting in the effort and the performances that see him elevate to a higher level than we've seen from him before as he looks to reclaim the ranking he made his own for so long. A wounded animal is a dangerous animal, and that's why van Gerwen is the number one player to watch throughout the upcoming tournaments and 2021 season.