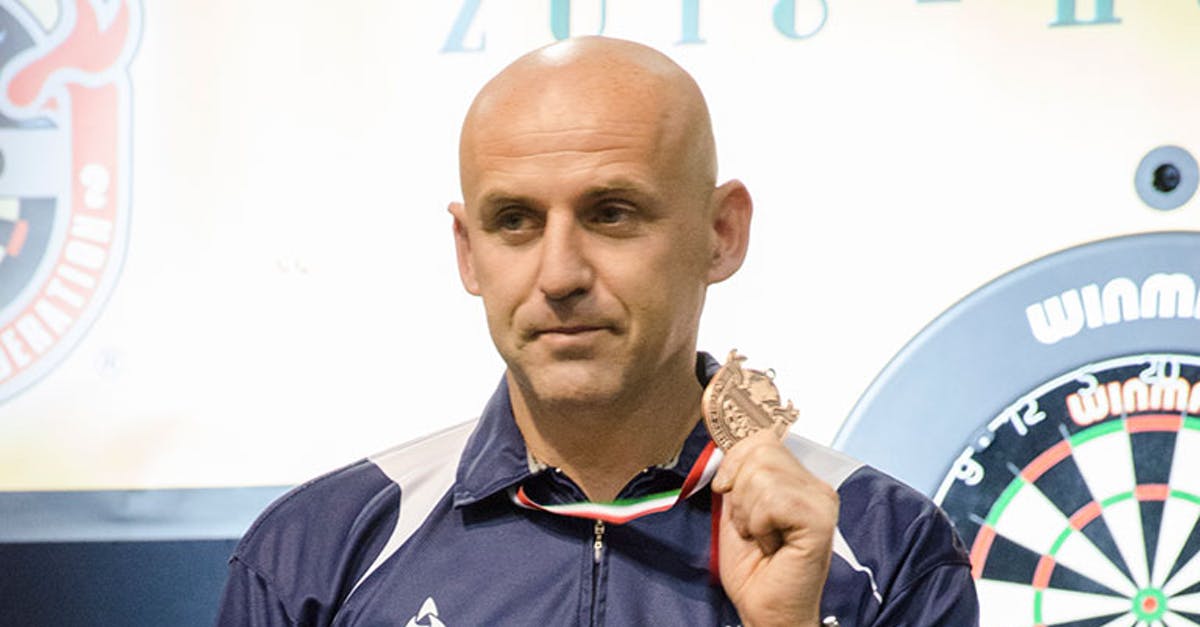 It is one of the stand-out matches of the opening rounds of the UK Open. Scottish fireman Alan Soutar will make his tournament debut on the main stage of the Marshall Arena against Raymond van Barneveld, who is making his highly-anticipated televised return.
Soutar is a former BDO/WDF winner, a former Lakeside qualifier and a proud Scot with over 50 caps for his country. Traveling to Q-School for the first time, he admitted he felt like the world was on his shoulders due to his previous success back home.
Soutar's debut at the PDC Q School also meant dealing with bubble life for the first time, due to the ongoing coronavirus pandemic. While some hate this scenario, he believes it helps with focusing on the task at hand.
"It was very different," he explained to dartsnews.com. "I've been away a lot playing darts and I've experienced darts for the last 30 years. Being isolated in your room, the Covid testing situation – even after qualifying for 1B, you still had to have another test. It lets you concentrate on darts and practice."
A Tour Card victor in his first effort at Q School in February, veteran amateur Soutar told PDC.TV the time is right to test himself in the professional ranks.
"Darts is everything to me. I've got a job, but I also run a darts academy and am heavily involved with running amateur darts in Scotland," explained Soutar, who will work a night shift on Wednesday before travelling to Milton Keynes.
"But the Covid situation has forced my hand and given me the chance to concentrate on myself and think 'it's time to have a go' [in the PDC]. "I've been backed by my management team to do it and I want to make people proud.
"I'm a passionate Scotsman, I love playing for my country, but I've got 50 caps which is a nice number to finish on and have a go at the PDC. "I've never looked at doing Q School before. Gary Anderson offered to back me a few years ago, but I turned him down because of my job."
Despite losing to Raymond Van Barneveld on the Dutchman's way to winning Players Championship 3, Soutar made an eye-catching opening to life on the ProTour at Super Series 1 in Milton Keynes last week, earning £4,750 across his first four days as a pro.
The Scot defeated former world champion Peter Wright with the first of his back-to-back 105+ averages, and also took the scalps of Dave Chisnall, Nathan Aspinall and Adrian Lewis.
"I've been playing darts for a long time, so I know the standard required," Soutar explained. "I don't have any targets, but I've had a dream start. I just want to see where it takes me. I know a lot of players in the UK Open won't want to draw me."
Starting off in darts and playing for Scotland
Regardless of being recognised to those in the BDO/WDF scene and on a national level, Soutar was a probable stranger to those only watching PDC. He discussed his start in the game.
He said: "I've played darts for a long time. My grandparents owned a pub in my local town, so I've always been around the boozer playing darts. I've played a lot of league, Super League and county darts over a long period of time.
"There's an awful lot of county players that are at a very high level that maybe just don't have the inclination to go or the backing to go.
"Covid was the big thing for me that made me go to Q-School, apart from the backing of Big 5 management."
Talking of the national side of the game and representing his country, he described the feeling which is like no other.
Soutar added: "There's nothing like it. I've played at Lakeside a few times and won WDF ranked events - but to walk out for your country, it's not just playing darts for yourself, you know everyone into darts is watching willing to win. It's just the passion and what you feel when you represent your country is amazing."
Previous offer of help from Anderson to join the tour
It was touched upon during his interview with Dan Dawson on the daily updates on Q-School about an approach given by Gary Anderson a few years back to play the tour.
"Gary was actually in my hometown of Arbroath for an exhibition. At the end of it, he got me on the stage," he declared.
"We've been aware of each other for quite a few years and he offered me the backing on the stage in front of the whole town. He put me on the spot a bit and said think about it and let me know. Obviously, I let him know saying no. I'm a full-time firefighter so I work shifts. I get time off but they're not friendly for weekends.
"It's not the kind of job you can just come and go so that was the main reason I turned him down. If I'd been unemployed or maybe in a job that wasn't paying as much, I would have probably thought about it back then.
"I think I've learnt a lot more, so I'm probably better set up now for a crack at the PDC proper."
Balancing full time work with the PDC dream
Still working full time though, Soutar confessed it has already been challenging to find the time to maintain his day job and still play every event – even before he toes the oche on Friday.
He said: "I think the blocks of tournaments are better than two weekends. But I've just had to get seven swaps for March.
"We will have to see; I've been back at work in between coming back from Bolton and going to the UK Open so then I have to sit down with my gaffers at work and see where we go."
"It doesn't lend itself to you keeping your job. I can't give in my job because I haven't earned a single penny as a PDC player, so we need to see how we do."
Ambitions going into debut season
So, what are his aspirations going into his debut season and even his opening events?
The overall goal for Soutar is to keep his card, but going short term his first televised tournament, the potential repercussions for the UK Open are on his mind.
"The whole point of it is to keep the card," the Scotsman said. "Paul (Brown, his manager) speaks to me all the time, the conversations we've had, he's so confident I can get in there and get involved.
"He's spoke about getting money on the board can jump you out of the first round of tournaments so that's maybe even a target. We will see how these three days go; you might get beat first round then that's it."
Soutar's highly anticipated match against 'Barney' is one of nine matches scheduled to take place on the main stage at the Marshall Arena in Friday afternoon's opening session.
Main Stage matches will be broadcast live on ITV4 for UK viewers, and through the PDC's international broadcast partners, including DAZN and RTL7, and on PDCTV for Rest of the World Subscribers.