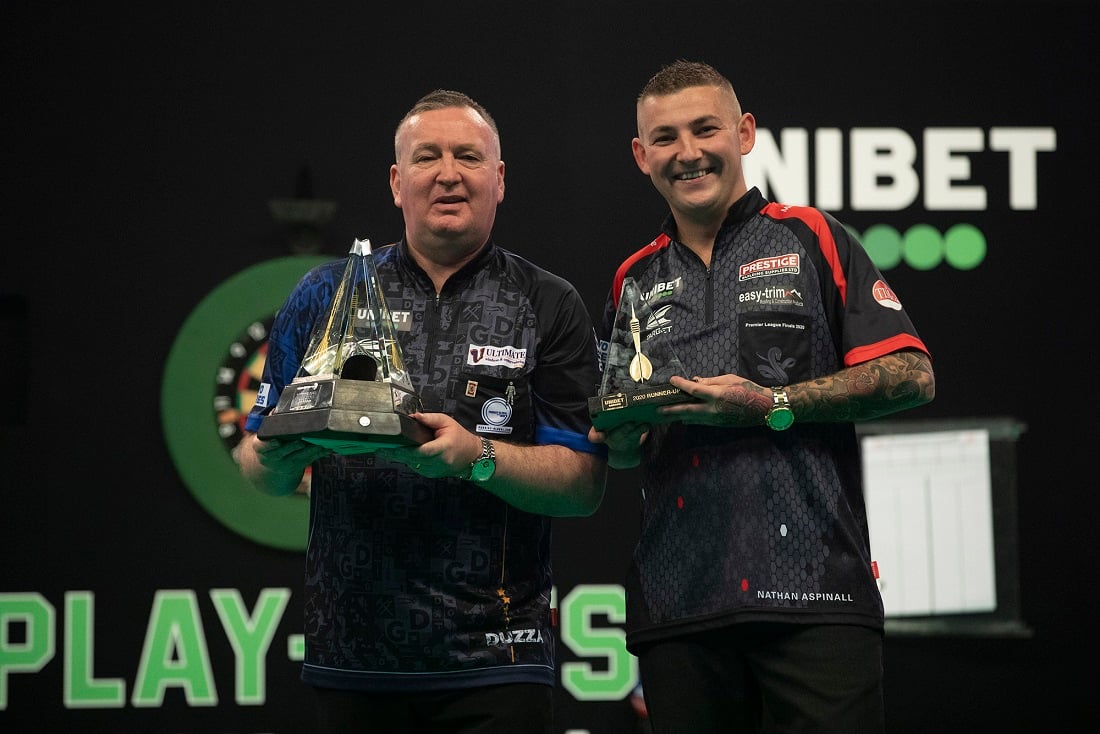 The PDC have announced the fixture list for the first nine nights of the Premier League, and the opening night sees defending champion Glen Durrant take on Nathan Aspinall.
The new campaign had been due to begin at Cardiff's Motorpoint Arena on February 4 but with Covid-19 restrictions, the first nine events will take place in two blocks during April - at the end of those nine nights the bottom two players in the standings will be relegated.
No date - or venue - has been confirmed for the second phase of the competition, with the PDC expected to announce plans for the seven-night second phase and the Play-Offs in the coming weeks.
The round robin campaign will commence on Monday April 5 with a repeat of last year's final between defending champion Durrant and Aspinall on the agenda.
The opening night will also feature a rematch of the January's World Championship final between Gerwyn Price and Gary Anderson.
Five-time Premier League Champion Michael van Gerwen opens against 2020 World Matchplay champion, Dimitri van den Bergh who is making his debut in what will probably be one if not the highlight of his career.
Former Premier League finalists Peter Wright and Rob Cross will face another two debutants in Jonny Clayton and Jose de Sousa respectively as the 2021 Masters and 2020 Grand Slam of Darts winners begin their campaigns.
On Night Two, van Gerwen and Wright face off in the headline tie, with former World Cup teammates Wright and Anderson collide on Night Three.
Night Four will see the current top two in the world in Van Gerwen and Price face off, while Price and Durrant will face off in a World vs Premier League champion battle.
Action will then resume on Monday April 19, which features Durrant taking on Van Gerwen in a meeting of the only two players to have topped the table in the line-up.
Night Seven sees Wright take on Price while Night Eight includes a repeat of the 2020 World Matchplay final between Van den Bergh and Anderson as well as World Cup partners colliding in Price and Clayton.
Judgement Night sees the players competing in their ninth league match following with the bottom two being eliminate with ties including Price against Van den Bergh, Aspinall playing Anderson, De Sousa facing Wright, Durrant taking on Cross and Clayton facing Van Gerwen.
Fixtures - 2021 Premier League Darts
Night One - Monday April 5
Nathan Aspinall v Glen Durrant
Rob Cross v Jose de Sousa
Peter Wright v Jonny Clayton
Gerwyn Price v Gary Anderson
Michael van Gerwen v Dimitri Van den Bergh
Night Two - Tuesday April 6
Gary Anderson v Jose de Sousa
Jonny Clayton v Glen Durrant
Dimitri Van den Bergh v Nathan Aspinall
Michael van Gerwen v Peter Wright
Gerwyn Price v Rob Cross
Night Three - Wednesday April 7
Rob Cross v Michael van Gerwen
Glen Durrant v Dimitri Van den Bergh
Peter Wright v Gary Anderson
Nathan Aspinall v Gerwyn Price
Jose de Sousa v Jonny Clayton
Night Four - Thursday April 8
Dimitri Van den Bergh v Peter Wright
Jonny Clayton v Rob Cross
Jose de Sousa v Nathan Aspinall
Gerwyn Price v Michael van Gerwen
Gary Anderson v Glen Durrant
Night Five - Friday April 9
Gary Anderson v Jonny Clayton
Peter Wright v Rob Cross
Michael van Gerwen v Nathan Aspinall
Gerwyn Price v Glen Durrant
Dimitri Van den Bergh v Jose de Sousa
Night Six - Monday April 19
Rob Cross v Gary Anderson
Jose de Sousa v Gerwyn Price
Jonny Clayton v Dimitri Van den Bergh
Glen Durrant v Michael van Gerwen
Nathan Aspinall v Peter Wright
Night Seven - Tuesday April 20
Glen Durrant v Jose de Sousa
Rob Cross v Dimitri Van den Bergh
Nathan Aspinall v Jonny Clayton
Peter Wright v Gerwyn Price
Michael van Gerwen v Gary Anderson
Night Eight - Wednesday April 21
Rob Cross v Nathan Aspinall
Gary Anderson v Dimitri Van den Bergh
Michael van Gerwen v Jose de Sousa
Gerwyn Price v Jonny Clayton
Peter Wright v Glen Durrant
Judgement Night - Thursday April 22
Jonny Clayton v Michael van Gerwen
Glen Durrant v Rob Cross
Jose de Sousa v Peter Wright
Nathan Aspinall v Gary Anderson
Dimitri Van den Bergh v Gerwyn Price