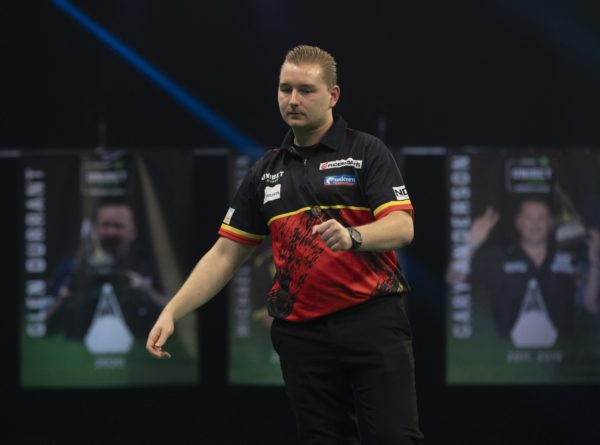 Dimitri Van den Bergh picked up his maiden Players Championship title with a superb 8-7 defeat of Dirk van Duijvenbode as PDC Super Series 3 came to a close in Niedernhausen, Germany on Tuesday.
The World Matchplay Champion and two-time World Youth Champion has previously lost out twice in ProTour finals, but scooped the £10,000 top prize in Players Championship 12.
The success came in dramatic fashion, as Van Duijvenbode followed up Monday's maiden senior title with a gutsy display 24 hours later and pushed the Belgian all the way in the final.
Van Duiijvenbode, who won the tournament yesterday, was within a leg of going to world number 23. However, for Van den Bergh, it sees him finally pick up his first senior title on Pro Tour after years of trying.
Van den Bergh's route to the final
The Unibet Premier League joint-leader defeated John Brown, Ian White, and Alan Soutar to win his board, before seeing off Ryan Searle in the last 16 with multiple averages along the way between 101.5 and 108.8.
He then had to edge out Scott Mitchell 6-5 in the quarter-finals, and ran out a 7-2 winner in the semi-finals against Danny Noppert before seeing off another Dutchman in the decider.
Duijvenbode reaches second successive final
Van Duijvenbode was bidding to join the elite list of players to win back-to-back ProTour titles, He also defeated Danny Baggish, and Peter Jacques to get through his board before defeating Mike De Decker in the last 16.
Two ton-plus averages saw him whitewash both Simon Whitlock and Robert Thornton, to earn him the other spot in his second successive ProTour final.
Van den Bergh went 3-0 and 7-5 later up as he looked to write the wrongs of two previous Players Championship final defeats, but Van Duijvenbode forced a decider.
'The Dreammaker' though who has been in dazzling form as of late both on the floor and on stage in the Premier League delivered when it counted to add a first to his collection.
Van den Bergh doubled his lead early doors with a 74 checkout to break as he punished a slow start from the Dutchman.
An 89 checkout on double five saw Van den Bergh establish a 3-0 lead. Both players produced 180's but it was Van Duijvenbode who produced a 47 check out after both players missed 160+ checkouts on the bull.
The trebles started to dry up for Van den Bergh but after Van Duijvenbode missed bull for a 132, he returned for a 92 checkout and a hold at 4-1.
A 180 and 40 saw Van Duijvenbode hold to return it to a two-leg cushion at 4-2. He launched a charge on the Belgian's throw as he looked to settle into the tie.
Van den Bergh left 85 and had a go at it after a 118 wasn't pinned by Van Duijvenbode but the former drifted into double six which allowed the Dutchman back for a break at 4-3 down.
A well-timed 180 from Van den Bergh saw him down at 81 on Van Duijvenbode's throw to break straight back. But Van Duijvenbode snatched parity after Van den Bergh messed up an opening to break straight back.
Van den Bergh reopened the gap with a clutch double eight to hold as he made it 5-4. Legs were running out but who would blink first?
Two big trebles for a 137 gave Van den Bergh a advantage on Van Duijvenbode's throw. But he missed two more at doubles and Van Duijvenbode pinned D8 with his last dart to make it 5-5.
Van den Bergh once again took the lead and secured a 116 check out on double 18 to make it 6-5.
Van Duijvenbode missed double 20 for a 72 checkout and Van den Bergh made no error with a 104 checkout to make it 7-5.
A 180 from Van den Bergh gifted a shot at 72 but he missed double 18 for the title and Van Duijvenbode returned for double seven and a break back.
He left 40 from 127 to force a last leg decider. Van den Bergh was ahead with both having a tense start but he smashed in a 180.
Van Duijvenbode replied in kind, but he was counting on Van den Bergh missing more match darts at double 12 after laying up 156.
He pinned it first time to conclude a superb clash and a first ProTour title is finally there for 'Dancing Dimi'.
Reaction to first ProTour title with PDC's Dan Dawson
"I'm proud and happy to finally get that first win on the ProTour," said Van den Bergh to PDC's Dan Dawson "It's something I didn't expect, but it happened.
"It's all about the hard work. I played so good in the beginning of the day, so strong, but the longer the day took I felt that my game was going down.
"It's one of those days that you didn't expect to win, but you are winning. I came here and I've done my best, but I also performed."
Van den Bergh on his Premier League debut
Van den Bergh will now return to the UK for the third block of Premier League nights from May 5-7, as he seeks to continue an impressive debut season.
"I'm in a good position," he said. "I never expected myself to be in the position that I am, but I'm enjoying the moment and riding the wave.
"Everybody wants to be in the Premier League, I am and I'm just loving the experience."
What else happened on day four of the PDC Super Series?
Danny Noppert's run to the semi-final sees him confirm his World Matchplay spot. He beat Luke Humphries and Daryl Gurney en route to the last four, before losing to eventual champion Van den Bergh.
Thornton a PDPA Associate Member who was given the chance to top up the field of 128 players in Niedernhausen, overcame Premier League star Nathan Aspinall and Sunday's winner Michael Smith on his way to the last four, as well as averaging 105 in a victory over Martin Schindler before eventually losing out to finalist Duijvenbode.
Daryl Gurney was a quarter-finalist for the second time in 2021. Scott Mitchell and Simon Whitlock produced runs to the quarter finals to keep themselves in the hunt for a potential Blackpool place. Ryan Searle's good run to the last 16 sees him take the last qualifying spot for Blackpool, ahead of Darius Labanauskas on countback.
Elsewhere, it was another disappointing day for Michael van Gerwen. He had his best run of the week, as he beat Gary Blades, Lukas Wenig and John Michael to get into the last 16, before losing 6-3 to Whitlock.
There were also early exits for Rob Cross, Nathan Aspinall, Jose de Sousa and Dave Chisnall.
The day also featured a fourth nine-darter in as many days, as Krzysztof Ratajski achieved perfection during his first round win over Keane Barry.
2021 Players Championship 12 - PDC Super Series 3 Day Four
Results
Quarter-Finals
Daryl Gurney (96.5) 4 | 6 (90.1) Danny Noppert
Scott Mitchell (91.8) 5 | 6 (97.1) Dimitri Van den Bergh
Michael Smith (91.1) 3 | 6 (88.3) Robert Thornton
Simon Whitlock (90.1) 0 | 6 (101.3) Dirk van Duijvenbode
Semi-Finals
Danny Noppert (78.9) 2 | 7 (89.1) Dimitri van den Bergh
Robert Thornton (92.1) 4 | 7 (98.7) Dirk van Duijvenbode
Final
Dimitri van den Bergh (95.8) 8 | 7 (92.9) Dirk van Duijvenbode