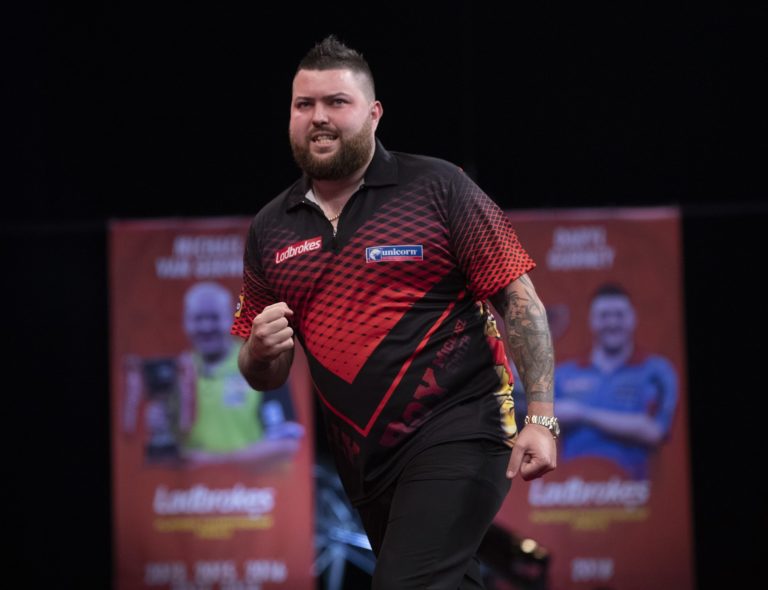 Michael Smith saw off Ross Smith in the final of day two Niedernhausen to win his first ProTour title of 2021.
Smith, who missed out on a place in the 2021 Unibet Premier League, was left frustrated at times during the final as there was "shouting" from upstairs in the arena.
Bully Boy spoke to PDC's Dan Dawson in his post-match interview: "Ross played well there but every time we were throwing, there's people upstairs and it was just shouting. It were annoying me and Ross said it as well when I checked the 90 out and it kind of got to him and it helped me out a bit.
"I was trying to keep focus and as soon as he mentioned it, I thought I've got you now. Even better I win."
Premier League Motivation
Smith averaged 114.5 as he swept aside Dimitri van den Bergh in the Last 16 and said that he had extra motivation going into the match after he was omitted from the 2021 Premier League.
"I just said no disrespect to you or Dimitri, I felt like as a player I should be in the Premier League. That's my feeling."
"No disrespect to the ten players who are in, but I felt like I should be in ahead of them and that was a point to myself that I'm still good enough."
"Being dropped from anything in life is hard to take. I've been dropped from the Premier League. It was like well, I've done nothing wrong. I think I made three major finals that year and I had one bad tournament which was the World's."
Point to prove to himself
He also spoke about switching off and not giving his opponents in the latter stages in Aaron Beeney and Ross Smith the respect they deserved and his confidence taking over.
"Again no disrespect to Aaron Beeney, if I wake up in the morning and you say right I'm going to be in the semi-finals against Aaron Beeney, I wouldn't wake up. For me this should be so easy, I don't even have to play darts and I didn't and he went 7-4 and I kind of got ahead of myself."
"Then again against Ross, I was like he's never been in a final before, he'll feel it and I felt it more than he did. Bit of experience come into it."