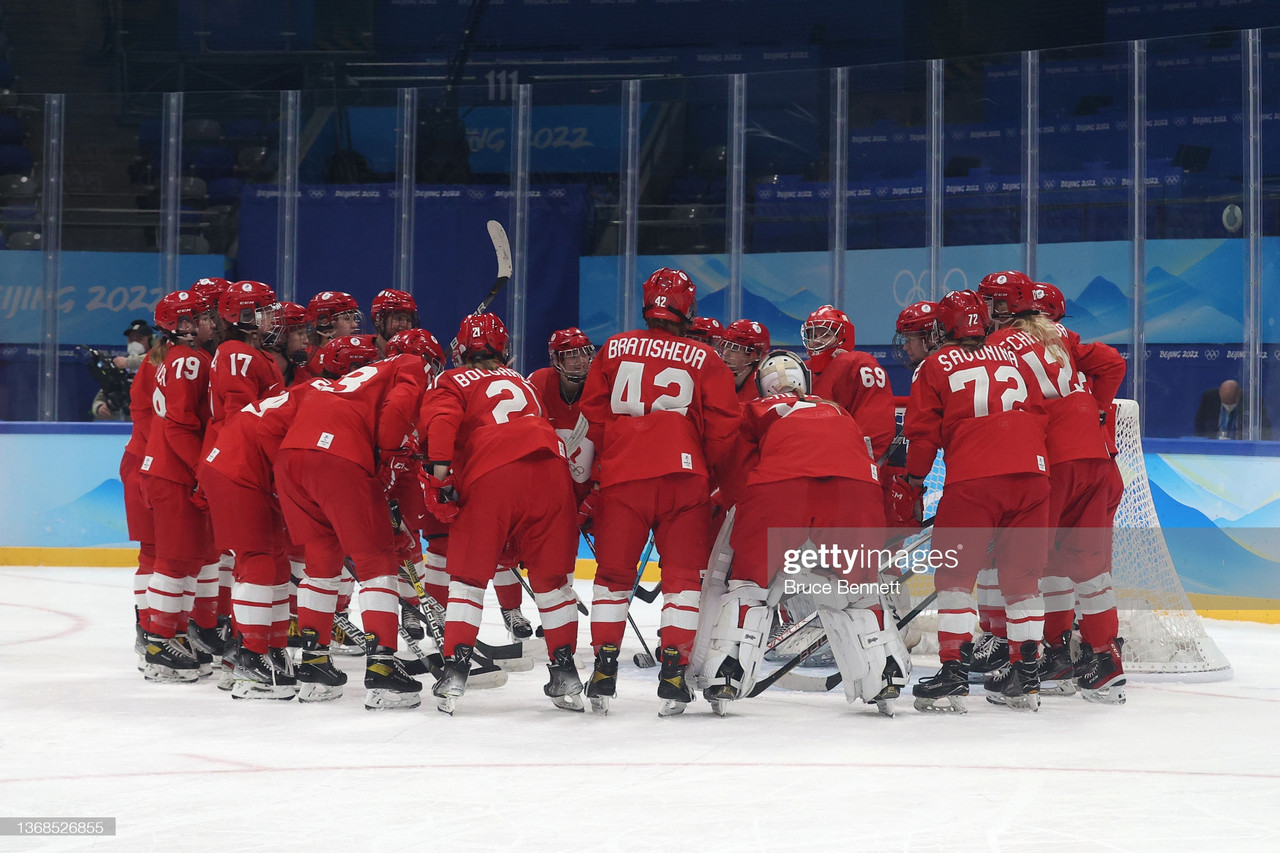 The Russian Olympic Committee got off to a fine start in women's ice hockey at the 2022 Winter Olympics, posting a 5-2 victory over Switzerland.
Polina Bolgareva netted a hat-trick for the ROC while the Swiss, blasted 12-1 by Canada in their tournament opener, fell to 0-2.
Shots were 31-30 in favor of the ROC while the Swiss dominated in the faceoff circle, winning 63 percent of their draws. The ROC was playing shorthanded as six players were in COVID-19 protocol.
Story of the game
A little mre than six minutes into the game, the ROC were on the board as Yekaterina Dobrodeyeva beat Andrea Braendli on a rebound after the Swiss goalkeeper was caught sliding around her net.
The Swiss tied things up on a power-play goal with 2:44 remaining as captain Lara Stalder skated into the right faceoff circle and beat ROC 'keeper Maria Sorokina.
Just 13 seconds later, Bolgareva put the ROC back in front as her shot deflected off of Swiss defender Nicole Vallario's leg and trickled past Braendli.
The ROC continued to attack early in the second, Alexandra Vafina nearly reeling in the bouncing puck while on a three-on-one rush.
The game was tied for a second time as a sublime saucer pass from Noemi Rhyner found Anna Mueller, who beat Sorokina in tight while shorthanded.
From there, the ROC took over. Anna Shibanova one-timed a shot from the point past Braendli to make it 3-2.
The lead was stretched to two goals when Bolgareva took a cross-ice pass from Fanuza Kadirova, fought off a backcheck by Nicole Bullo and slid the puck past Braendli's legs.
Her hat-trick was complete when Vafina sent a headman pass and she beat Braendli five-hole.
Sorokina kept the margin at three when she stopped Stalder on a breakaway attempt with her right pad.
ROC postgame comments
Bolgareva credited her teammates with her big night, saying "I was just lucky. I'm really happy. I haven't scored a hat trick very often but I did it before.
"It was a hard game for us because we didn't have practice a lot of times. I'm really happy. It's my first Olympics. My teammates did it all for me. They gave me perfect passes."
Switzerland postgame comments
Coach Colin Muller, whose team has given up 17 goals in two games in Beijing, was understandably upset at the errors his team made.
"They didn't beat us, we beat ourselves. We shot ourselves in the foot. We made them stronger with our own mistakes. We didn't get the pucks deep. They had good breakaways and capitalized on their chances.
"Andrea kept us in the game and gave us a chance to win."