The second half of the draw kicked off on Saturday, as the race to qualify for the Players Championship sprung up a few surprises in Poland.
Ryan Causton is the find of the tournament
Barry Hawkins opened the scoring with a comfortable 4-0 victory in his first round match against Yu Delu, showing the snooker he has played all season to be leading the European Tour as the competition reaches its climax. Snooker Shootout winner Robin Hull, Stuart Carrington and Ross Muir also progressed with the same scoreline, as did amateur Elliot Slessor, who stunned Liang Wenbo.
The surprises did not end there, as fellow amateur Ryan Causton defeated Michael Leslie and Fraser Patrick, and saw of world number two Stuart Bingham, who could well now miss the top 24 cut for the Players Championship. Possibly the tastiest looking tie of the first round ended up with Ding Junhui beating Mark Williams 4-1.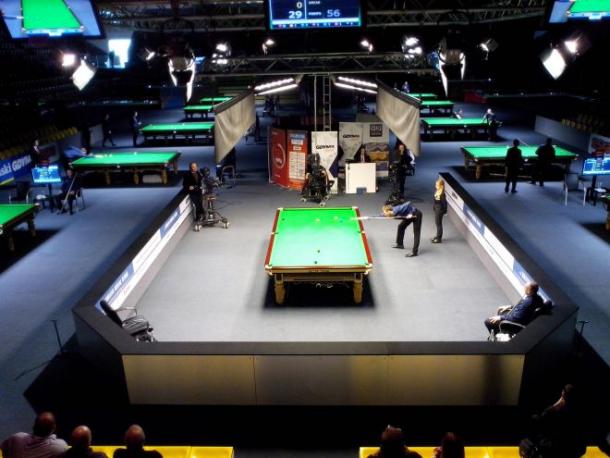 A very English affair
The second round saw Ross Muir continue his excellent surprise form, as he progressed still without dropping a frame with a whitewash over Fraser Patrick. Ding Junhui beat Gareth Allen by the same scoreline, as did Liam Highfield who shocked Stuart Carrington. Barry Hawkins was forced to win a deciding frame against Jimmy Robertson, whilst Ryan Causton caused another upset with a 4-3 victory over fifth ranked Ryan Day.
The trend of surprise results continued into Round 3 late in the day, as Causton defeated David Gilbert and Highfield came back from 3-0 behind to beat Hull. Ross Muir's progress was halted by Zhou Yuelong, whilst Malaysia's Thor Chaun Leong surprised Ding Junhui with a 4-1 victory. Barry Hawkins continued on his way towards the European Tour title and he was joined in the last 16 on Sunday by fellow Englishmen Martin Gould, Ben Woollaston and Kyren Wilson. Round 4 is made up of 13 players from England and looks like this:
Mark King v Rory McLeod
Tom Ford v Andrew Higginson
Mark Selby v Sam Baird
Marco Fu v Mitchell Mann
Liam Highfield v Martin Gould
Ryan Causton v Ben Woollaston
Kyren Wilson v Thor Chaun Leong
Barry Hawkins v Zhou Yuelong