The World Grand Prix began on Tuesday in Llandudno, Wales, as snooker's finest players set on their way to take Judd Trump's title.
Big Ben fails to chime in a Ding dong battle with Junhui
World number eight Barry Hawkins was handed a difficult draw against Joe Perry, and his poor run of form over the past two months continued.
Since being on the wrong end of a 10-1 hammering in the Masters Final by Ronnie O'Sullivan, Hawkins has now failed to make it past the quarter-final stage in five events as Perry dished out a comfortable 4-0 defeat. Perry completed the victory with a 133 break in the final frame, scoring more points than Hawkins did in all four frames put together.
In stark contrast, Martin Gould is in fine form after winning the German Masters and reaching the final of the Gdynia Open. Like Perry, Gould produced a comfortable whitewash over Tian Pengfei, racking up half century breaks in all four frames.
Peter Ebdon and Neil Roberston were involved in a much tighter game, with both players taking the lead on two occasions each but only managing to score one half century break apiece. As an inconsistent 2016 continued for Robertson, as Ebdon took the deciding frame wih a 69 break.
Ben Woollaston found himself 3-2 up against Ding Junhui after breaks of 64 and 75 in the second and third frames. Yet the Englishman's lack of big match experience showed as a couple of errors in the sixth and seventh frames allowed Ding Junhui back in the game, as he scraped through a tight encounter to set up a last 16 tie with Ebdon.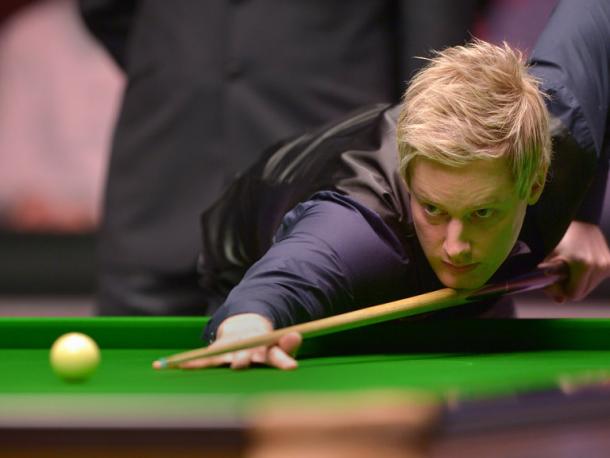 Michael is able to Holt O'Sullivan
John Higgins has not beaten a top 10 opponent for over four months, but began his quest for the title with a rapid whitewash of compatriot Stephen Maguire. He followed the feat of Gould with four consecutive victories, a 92 in the first frame the pick of the collection.
Higgins will face Ryan Day in the second round, who had to work hard to defeat Matthew Selt 4-1. Less than 27 points separated all five frames as Selt took the lead, only for Day to finish the fifth frame in style with a break of 80.
Michael Holt had never played O'Sullivan until they met on Tuesday evening, and would not have held too much hope after losing his last seven consecutive matches. Yet Holt won the opening three frames after a confident approach, including an 88 break in the first and an impressive 119 in the third, against the man who was runner-up last year and qualified after winning the Welsh Open.
Yet O'Sullivan knows how to make a comeback, as he did to win that event and The Masters in December. The Rocket began his resurgence with a break of 82 in the fourth frame, before taking two bites at the cherry to win the fifth and then levelling in the sixth. All money would have been on O'Sullivan to take the deciding frame, but Holt held his nerve after winning a safety battle to seal an incredible victory in one of the shocks of the season.
An intriguing second day will see Trump begin the defence of his title and world number one Mark Selby begin his campaign, as eight matches take place to complete the first round.