Mark Allen won the seventh major ranking tournament of the year, despite losing two sessions 3-1 in an incredible Players Championship Final against Ricky Walden.
Walden takes charge before Allen fights back
World number 11 Walden came out flying in the opening stages as he took an early advantage in the first session of the afternoon. Despite losing the opening frame 74-0, Walden hit back reeling off the next three frames, including two 85 breaks, dropping just eight points in the process.
Unfortunately for Walden, the mid-session interval came at the wrong time, as Allen regrouped and returned to the table a different player.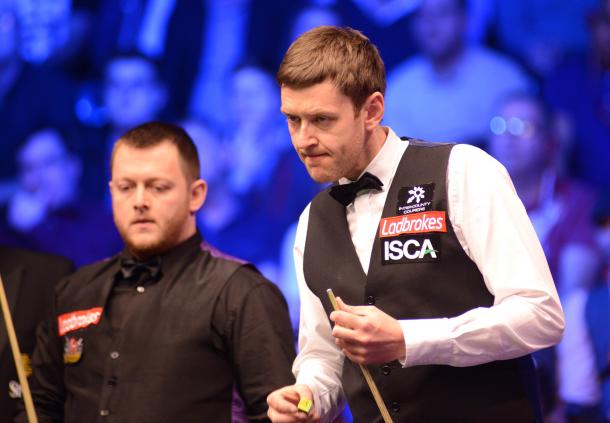 A 51 break in the fifth frame brought him back into the match, before digging in deep in the following frames allowed him to also win the next four. Walden had chances to win all of them, but Allen was able to take control of the match as he composed breaks of 80, 68 and 64 to finish the afternoon 6-3 ahead.
Walden required something special in the evening to fix the calamity that had just taken place, undoing all of his early hard work.
Walden shows grit but Allen proves to be too good on the night
The spectators at Event City could have been forgiven for thinking they were watching a replay of the first session of the day, as they took their seats for the beginning of play in the evening.
Allen edged closer to the title with a 52 break, before Walden repeated his earlier feat of claiming three consecutive frames to win the session 3-1, bringing him back into the game at 7-6 before the mid-session interval.
The Englishman dropped just one point in the eleventh and twelfth frames, composing breaks of 69 and 92, before grinding out the final frame of the session with a 59-51 success.
Despite trailing overall, the momentum was surely with Walden going into the final session of the day, yet Allen was to once again show his resilience when it mattered as he reclaimed the form he had shown during the second session.
Breaks of 62 and 67, after a gutsy fourteenth frame, were enough to see Allen over the line as he won the biggest tournament of his career with three consecutive frames when it mattered most.
An incredibly unpredictable tournament had finished with a worthy final, although both players were unable to register a century break. Allen became the seventh different player to win a major ranking competition this season, with the China Open next on the schedule, followed by the World Championship from the Crucible Theatre in Sheffield which begins on Saturday, 16th April.