South Korea won team gold in the men's Archery competition on day one of the Olympic Games in Rio.
A stunning 6-0 victory in the final over the United States meant that the trio of Kim Woojin, Lee Seungyun and Ku Bonchan each become Olympic champions during their debuts at the 'Greatest show on Earth'.
Ranked numbers one and two in the world, it was not a surprise to see Korea and the United States contest for gold and silver, yet the bronze medal winners came very much out of the blue.
As the 19th ranked team in the world, Australia picked up their first ever medal in Olympic team archery, with the team of Alec Potts, Ryan Tyack and Taylor Worth making history for their nation after beating China 6-2 in the bronze medal match.
Korean perfection helps them win gold
Having watched Italy win the team title in London which Korea had previously held from 2000-2008, this triumvirate of archers had been tasked with regaining the title, and they did just that.
The Korean's started like a house on fire, claiming the first set thanks to six perfect arrows, as they became the first team to score 60 in a set all day.
With the pressure then on in the second set, three perfect arrows helped them to a 58-57 win, putting them 4-0 up and within a point of gold.
Gold, and a first ever victory over the United States in this event for South Korea, was confirmed in set three with a 59-56 triumph, meaning they had missed the centre ten with just three of their 18 arrows during the final.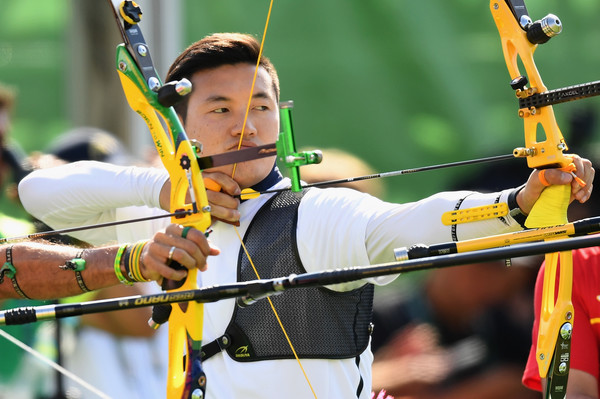 Ku Bonchan was the star of the show, scoring 60/60 with his six arrows, as Korea claimed gold having not lost a set throughout the entire competition.
Australians claim surprise bronze
Having never won a team archery medal in the history of the Olympics, Australia's bronze medal came as a big surprise on the first day of competition in Rio.
The lowest ranked side in the quarter-finals meant nothing as they saw off France in the last eight, before falling to eventual winners South Korea in the semi's.
Then, in the bronze-medal match they stormed into a 4-0 lead over the Chinese trio of Yu Xing, Xuesong Gu and Dapeng Wang, before their opponents hit back to win the third set.
With only a tie needed in the final set, 59 points out of a possible 60 proved plenty enough as the outsiders claimed a famous bronze.