An unexpected final for both men Russia's Beslan Mudranov and reigning world champion Yeldos Smetov. As Mudranov cracked a cheeky smile, Smetov grimaced as he lied on his back, stared at the roof in disbelief.
Nothing separated the two after five minutes, but Mudranov knows that when his opponent makes a mistake it is a major mistake, and he patiently waited.
Both tried as they might from every angle to get the all-important Ippon with eight seconds left on the clock, and it was toe-to-toe. But the final whistle went and no score on the board it meant it was headed into the golden score. 
In the Olympic final, what a way to win a gold medal
Mudranov needed only 44 seconds to produce the moment of brilliance, he waited for the mistake and he got it, with a leg sweep he took down Smetov and clinches the gold for the Russian Federation.
Argentina won their first medal on rival turf, but to be more accurate it's more on rival indoor mat.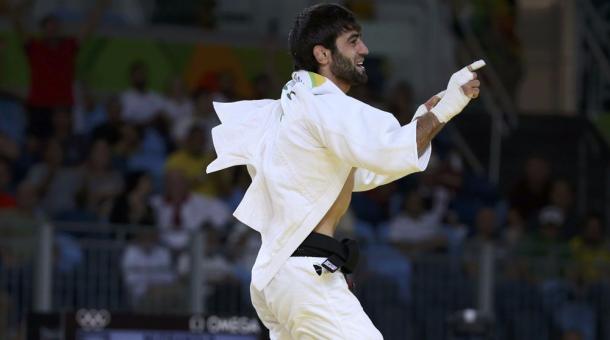 The Brazil-Argentina rivalry was at its best, as both competitors were full of confidence and meant business. But it was Argentina's Paula Pareto claimed the Olympic title.
Pareto was all attacking, then a sudden change in direction, she went for it and put Jeong Bo-yeong on her back with a waza-ari.
It was reaction and action at it's best on the mat. Both competitors came out fighting but there could only be one victor and that was Pareto as she went on the defence, to defend every second that was left. She lapped up the claim celebrating her achievement.
Heartacche all round
It was the Japanese first time Olympian Naohisa Takato that came away from the mat against Orkhan Safarov narrowly for the bronze medal.
Also another first time Uzbekistani Olympian Divorbek Urozboev, walked away from his first experience of an Olympics, with a bronze medal which he also narrowly beat Amiran Papinashvilic earlier on in the evening.
Prior to the men's bronze medal matches it was the women's 48kg were up first and it was a huge disappointment for defending Olympic athlete Sarah Menezes didn't even make it to the bronze medal match.
Ami Kondo narrowly beat Monkhbatyn Urantsetseg by one point to gain herself the bronze medal. However it was the complete opposite in the other match who were in contention for third place, Galbadrakhyn Otgontsetseg beat Dayaris Mestre with a high score of an Ippon to walk away from the mat in smiles with a bronze medal.