Kosuke Hagino of Japan takes home the first gold in the pool at Rio 2016 with a dominant performance in the 400 IM. The Japanese ended the American stranglehold on this event with a dominant swim as USA's Chase Kalisz finished second while Hagino's countryman, Daiya Seto, finished with the bronze.
Japan Out Fast
As soon as the signal for the start began, Thomas Fraser-Holmes of Australia got out to a quick start in the butterfly, but Daiya Seto and Kosuke Hagino were the first two at the turn with the Australian not too far behind. The gap was closed from the field from the other three swimmers, but once again, it was the two Japanese swimmers and the Australian in the top three headed into the backstroke.
Japanese Dominance Continues
Top qualifier, American Chase Kalisz struggled from the start and was quite a fair ways back as Hagino made the move to pass Seto in the first 50 of the back with the Fraser-Holmes falling quite far behind going a couple seconds back. This was all new for the American in his first Olympics and was not used to being behind after being the top qualifier for the final. The strokes of the two Japanese swimmers were just so smooth as you could not see extra splashing and no head movement at all while their arms rotated back beautifully.
Hagino's lead extended into nearly a second and a half over Seto who was losing pace. Kalisz was third at the wall nearly three seconds back headed into the breaststroke.
Kalisz Cuts The Deficit
Hagino swims a beautiful breaststroke, but the final 200 is where Kalisz swims much better. Seto and the American cut the deficit over the 21-year-old with the American just over a second and a half behind and Seto just over a second behind. The first-time Olympian began to make his move on the two Japanese men, passing Seto just before the final turn into the freestyle, touching in second place with 100 to go .74 seconds behind.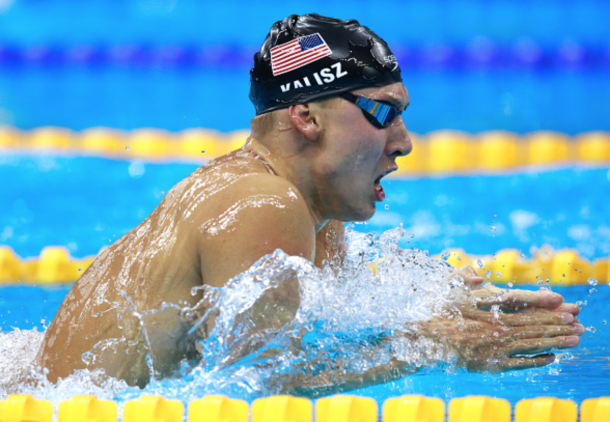 Hagino Takes Gold
Hagino had the advantage of breathing to his right, away from his two competitors, while both men had the pleasure of eyeing the leader every time they turned their head to breathe. At the turn, the lead was just over half a second for the 21-year-old who now had to breathe towards Kalisz.
Hagino began to add to his lead, but Kalisz would not go down without a fight. Seto was out of the picture for gold as it became a two swimmer race. Despite a spirited effort, the American could not complete the remarkable comeback as Hagino took gold and Kalisz the silver while Seto settled for bronze.