Winning is always an exceptional feeling and a unique sensation. Yet, probably no one has ever joyed (and cried) after winning a particular game, just as Majlinda Kemendi did yesterday, after grabbing gold in the -52kg class.
Kosovo's representative saw off Italian judoist, Odette Giuffrida in the final to ring the Kosovo anthem for the first time at an Olympic event. Her victory triggered many Kosovo's personality figures in tweeting their joy at these scenes, in particular President Hachim Taschi and Prime Minister Isa Mustafa.
Her victory was something extraordinary
The Kosovo flag bearer was guaranteed a silver medal after beating Misato Nakamura of Japan in the semi-finals. However, Kelmendi proved to be a stubborn person and demonstrated that she wanted to write history not by satisfying herself with a silver medal, but to grasp the gold medal with both hands and put Kosovo on the map of the Olympic Games once and for all.
In her contest against the Italian, Kelmendi managed to secure an early point although afterwards she conceded a penalty as she was judged to be too much defensive. In the final moments of the tie, Kelmendi prevailed over Giuffrida to take gold and stand on the highest spot of the podium.
Who is Majlinda Kemendi?
Kelmendi is not a new face at the Olympic Games, despite representing Kosovo for the first time. She was present four years ago in London, but in a different situations.
Prior to London 2012, she was preparing herself to represent Kosovo as best as she could, and in fact she was going to be the flag bearer just like this year. However, Kosovo were denied their participation and instead she had to represent another country.
Offers did not lack, as Azerbaijan were prompt to offer her a passport but she opted to represent Albania.
Kemendi was already a Judo prodigy at a young age, as she continously sat on podiums in the youth categories. One of the moments which probably put her on the international stage was when she became World Champion at the Juniores Championship in 2009. Yet, the bigger picture of this scenario was yet to arrive. When she was awarded the gold medal, everyone was assuming that she would sing the Albanian anthem, as she used to do in previous competitions. However, to the surprise of the spectators, the PA put on Kosovo's anthem, since Kosovo were declared an independent state just a year before.
From then on, she always represented her beloved Kosovo and Kemendi prolongued her winning streaks by adding the World Championships in 2013, exactly in Rio, twice the European Championships and now the Olympic gold medal. In between, she was also nominated as the best Judoist in the world.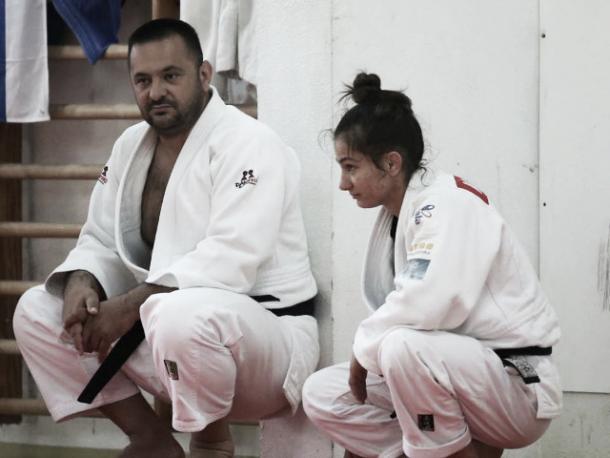 Who convinced Kemendi in choosing Kosovo?
Dirton ''Toni'' Kuka was instrumental in convincing Kemendi to represent Kosovo. Kuka was a renowned Judoist between the late 1980's and early 1990's where he used to represent Yugoslavia. Yet, in 1992 he was denied the participation at Barcelona 1992, following a blanket ban on all the Kosovo's athletes representing Yugoslavia.
Kuka and Kemendi form a successful couple in the world of Judo but their mission does not restrict itself at the Judo hall. They are also striving to give the Kosovo people something to be proud of and to be a source of inspiration for all the citizens of a nation, who despite proclaiming itself as an independent nation, it is still in the middle of many European and worldwide controversial debates.