GB's Lizzie Armitstead said she was 'proud' despite falling outside the medal places on Sunday as Anna Van Der Breggen won Olympic Gold after Annemiek Van Vleuten suffered a horrific crash.
Other than Adam Peaty winning Gold in the 100m breaststroke in the early hours of Monday morning, the cycling events really took centre stage over the weekend as we saw some terrific racing.
But unfortunately GB fell outside of the medals on both occassions as Geraint Thomas crashed on the dangerous descent of the Vista Chinesa circuit on Saturday, and on Sunday Armitstead finished fifth in what was an absorbing race.
Armitstead came into the race in the eye of a drug storm; news broke the week before the Olympics saying that the World Champion had missed three anti-doping tests in the space of a year, but was cleared to ride by the Court of Arbitration (CAS) shortly before the Games were to begin.
But after facing constant questioning, Armitstead showed steely determination as she tried to not let off the bike distractions effect her.
Despite the course not suiting the 27-year-old's capabilities she was still close to a medal, after finishing just 20 seconds behind the eventual winner Van der Breggen.
Armitstead's climbing legs 'were simply not good enough' as Armitstead leaves behind a stressful Rio Games
Despite Van der Breggen winning, the race was marred by a horrific looking crash for Van Vleuten. At the time of the crash, the 33-year-old Dutch rider was leading and was well clear of America's Mara Abbott.
But on the treacherous descent, her back wheel came out and what happened next was a crash that had serious implications for Van Vleuten as she suffered concussion and three fractures to her spine.
But for Armitstead she knew it was going to be tough, and speaking after the race she said: "I stuck to my tactic. I needed to limit my losses on the climb and that's exactly what I did."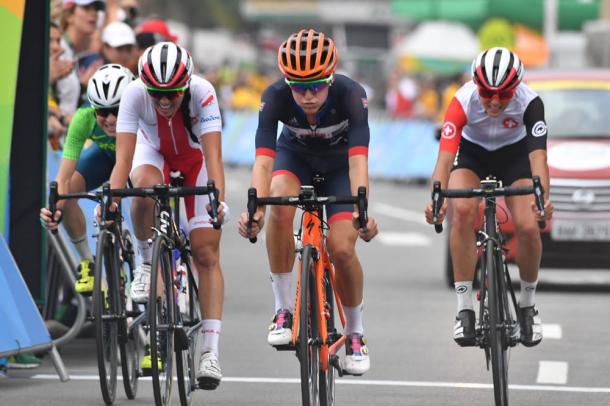 There are certainly better climbers in the women's peloton, and that played out yesterday as Armitstead looked to be completely out of contention at one point, but she hung in and produced a nice display of climbing on the final circuit.
"I couldn't have climbed any faster. I'm happy with the tactic I had, I just simply wasn't good enough at climbing, so I can be proud of the effort I did," said the 27-year-old World Champion.
For Armitstead she might be glad this Olympic Games is over; the media attention she received was something she looked to struggle with prior to the race; but just by being World Champion and missing drug tests, it is something she should have anticipated.
"Yes, of course I should be here. I feel good. It was a victory to be here for me. It's been a very difficult couple of weeks," admitted Armitstead.