For a second straight Olympics, the Americans put in a strong qualifier but a sense of déjà vu hit the U.S as they faded away during the team final as Japan won gold.
The team of Kohei Uchimura, Ryohei Kato, Yusuke Tanaka, Kenzo Shirai and Koji Yamamuro finished top of the pile with a final score of 274.094, giving Uchimura a full-set of championship medals. 
The US men were paired with China in the first rotation, and got off to a rough start after early errors on the floor and the pommel horse and they couldn't recover in time to catch the rest of the field to finish fifth with an overall score of 268.56.
No coming back
Halfway through the competition, the Americans found themselves in seventh place, yet were only two points from medal contention and had chances to claw themselves back.
They soon found their stride, as Sam Mikulak, Jake Dalton and Alex Naddour put in stellar performances, with Mikulak, Chris Brooks, and Danell Leyva carryied the momentum onto the parallel bars.
Needing a perfect performance on the horizontal bar for an outside chance to medal, Leyva slipped from the bar in the middle of his routine, putting an end to the American dream to medal.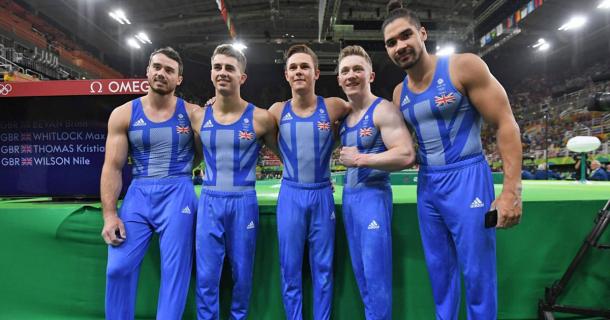 The U.S. men were looking for their first team medal since 2008. Four years ago in London, they qualified top, but failed to repeat the performance to finish in last place.
They were not the only one's to walk away from the arena in disappointment, as Great Britain's men narrowly missed out on bronze.
The need to put everything on the line didn't pay off
Max Whitlock, Kristian Thomas, Nile Wilson, Brinn Bevan and Louis Smith finished fourth with 269.725 points.
Team GB could have secured the bronze on their final rotation but Smith fell off the pommel, which secured China the bronze with 271.122 points.
It was a late surge from Japan that ensured they won their second gold medal of the Rio games with a score of 274.095, with Russia in second on 271.453 points.
The Brits put in such a strong performance, even impressing on the rings which is their known weakest apparatus, however, that fall from Smith dashed their hopes to win a second medal in the event following the bronze success at London.  
Japan put in a consistent performance to secure their first Olympic gold medal in this competition since 2004, while Russia secured their first team medal since 2000.