America's Lilia King claimed victory in the women's 100metre breaststroke, seeing off her rival Yulia Efimova in a hotly-anticipated matchup.
The controversial Efimova faced a chorus of boos from the Rio crowd as she headed to the blocks, but the only sound to be heard at the end of the race was loud cheers after the Russian was pushed into second place.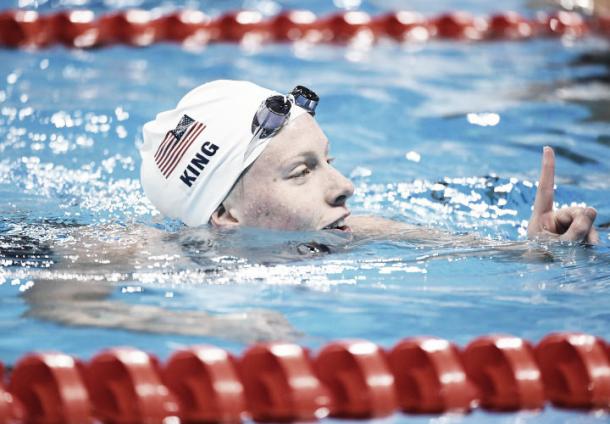 King clearly has a passionate dislike for the twice-banned Efimova, and down the back-straight the 19-year-old just wouldn't be beaten, celebrating joyously after claiming gold.
Good prospers over evil as King holds off Efimova charge
Having had a strong start alongside 2012 champion Ruta Meilutyte, King led over the first 50 metres, and turned for the home with a decent lead from fellow American Catherine Meili.
Rising with her lead intact, King looked in good position, yet Efimova was in striking distance and proved in the semi-final that her final 50 is as strong as ever.
In the distinctive pink outfit Efimova closed the gap with 20 metres to go, and just as it looked as though she would catch King, the American found something extra to hold off the charge and claim gold.
Her final time of 1.04.93 was a new Olympic Record, with Efimova over half-a-second down in second ahead of Meili who grabbed bronze.
American's enjoy further success in the pool with Murphy taking backstroke gold
In the race prior to King's gold, the United States claimed another victory with Ryan Murphy winning the 100m backstroke title.
With Australia's Mitch Larkin faltering to finish fourth, it was left to Murphy to strike gold in a new Olympic Record time of 51.97seconds.
Jiayu Xu of China finished second, in the middle of an American medal sandwich after David Plummer won bronze, finishing 0.03 seconds clear of Larkin.