Team GB could enjoy its' most successful night in British Olympic Swimming history in the early hours of Wednesday, with golden hopes on Day 4 at Rio 2016.
After Siobhan-Marie O'Connor qualified fastest in the women's 200m individual medley last night, the men's 4x200 freestyle relay team followed suit in clocking the fastest time in their heat - ahead of Team USA.
With O'Connor's final taking place at 3.29am UK time and the relay final straight after at 3.38am, GB's glorious evening of Sunday - where Adam Peaty and Jazz Carlin won gold and silver respectively - could be equalled or eclipsed.
Can O'Connor topple the Iron Lady?
Commonwealth champion O'Connor finished a second ahead of her main rival Katinka Hosszú of Hungary in Monday's semi-finals. Hosszu, having already a won the 400m IM and 100 backstroke crowns, was regarded as the strong favourite before the games, but with more competitions to come and already three days of racing behind her, could the Hungarian be competion weary? If so, the Briton could give 'The Iron Lady' a real run for her money.
Hosszú clearly agrees, after pulling out of the 200m butterfly heats earlier on Tuesday. The Hungarian's backstroke is superior to 'The Bath Bullet' but if the 20 year-old can stay in touch, her breaststroke and freestyle is the strongest suit.
Threatening to spoil the party however will be defending champion Shiwen Ye of China and American Maya Dirado.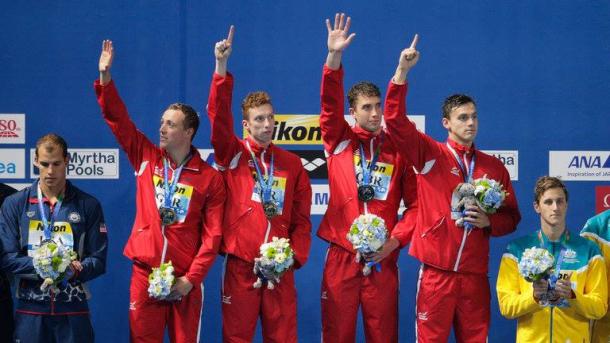 Men's relay qualify for final fastest
As defending world champions from Kazan last August, GB's quartet had high but realistic hopes of following up with an Olympic medal. Now however their sights may have became a distinct reality.
In their heat, Britain had only two of their gold-medal winning team. Dan Wallace and Robbie Renwick took their place in the race, however James Guy was rested after his exertions of the past three days. In came Duncan Scott, who earlier broke the British record in the 100m free heats and 200m free semi-finalist Stephen Milne.
After watching the US put down a marker with Ryan Lochte on the anchor leg, GB were keen make their own statement. After a reserved opening 400m, Wallace was given the hand-over in a difficult spot. The Scot however powered ahead of Japan and Australia to give a slight lead to fourth man Scott.
Scott impressed and increased the lead over the field to ease qualication worries and finish first ahead of Russia.
In the world's, GB finished ahead of USA, with the Australians third, A repeat is not impossible. The battle for gold will be likely between Britain and the Americans and with both teams able to strengthen their teams (with Guy and Michael Phelps for the US) the final race on Day 4 of the meet should be a thriller.