Siobhan-Marie O'Connor won Team GB's third medal in the pool in the women's 200m Individual Medley at the Olympic Aquatics Stadium at Rio 2016.
The 20-year old pushed Katinka Hosszú all the way for gold but lost out as the Hungarian clocked a time of 2.06.58 in a new Olympic record, winning her third gold of the games. Maya Dirado took the bronze.
She adds to GB's medal tally in the pool after Adam Peaty's gold in the 100m breaststroke and Jazz Carlin's silver in the 400m freestyle.
O'Connor drawn next to Hungarian
O'Connor lined up in Lane 4 next to Hosszú. The American duo of Maya Dirado and Melanie Margalis were outside the Briton in Lanes 3 and 2, with defending champion Shiwen Ye of China in 6 and Alicia Coutts of Australia in Lane 7.
Hosszú was always set to be a tough for the Briton to crack. Dubbed 'The Iron Lady' as a two-time Olympic champion in Rio already, over the 100m backstroke and the shorter 400m IM.
The Hungarian however was acutely aware of the threat posed by the 20 year-old 'Bath Bullet' in pulling out of the 200m butterfly heats earlier on Tuesday, not to mention the Briton finishing a second fastest than her in progressing to the final and being Commonwealth champion over the distance.
Hosszú led and stayed ahead
The race was always likely to be decided over the backstroke leg of the race, with the Hungarian's gold-medal-winning power superior over the rest of the field. If the Briton kept in contact, the last 100m would be fascinating.
Roared on by husband and coach from the sidelines, Hosszú set the early pace over the first 50m breastsroke, pulling out to a lead. At the turn, the Hungarian's strongest weapon came into play. O'Connor however hung on to her coat-tails at 100m.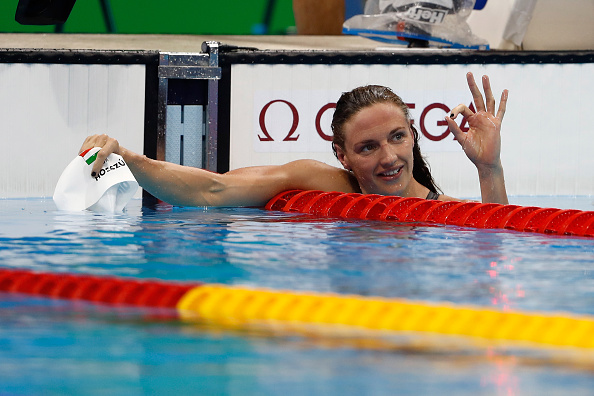 With the Brit stronger over the faster styles, Hosszú couldn't extend her advantage and began to be reeled in by the chasing pack. On the breastroke leg, O'Connor and Dirado chased the Hungarian. At the final turn, Hosszú led by 0.74 of a second.
The battle was on for gold. The Hungarian turned strongly to open the gap. O'Connor went all out to catch her foe, but with the Brit catching over the closing strokes, ran out of metres.
The 20 year-old adds Olympic silver to her world gold she won in Kazan at the World Championships last August in the Mixed Medley Relay, stunning the USA.