Britain won their first ever Olympic Diving gold-medal in the 3m synchronized springboard and Kayak Canoeist Joe Clarke won the men's Kayak k-1 as Team GB's added a second and third Olympic Golds in Brazil on a stunning day on Day 5 of Rio 2016.
GB duo of Jack Laugher and Chris Mears shocked the favourites China, putting together six exquisite dives to win gold, with the USA in silver and the Chinese in third.
23 year-old Stoke paddler ripped through the waters at Radical Park with a final run time of 88.53 to win a hugely unexpected Olympic title, beating the best in the world.
It complete's a hugely successful day thus far for GB with three bronze's also coming across events in Rio.
Laugher and Mears stun Chinese pair
The British diving duo scored a total of 454.32 to win the first gold medal in Olympic diving history for GB.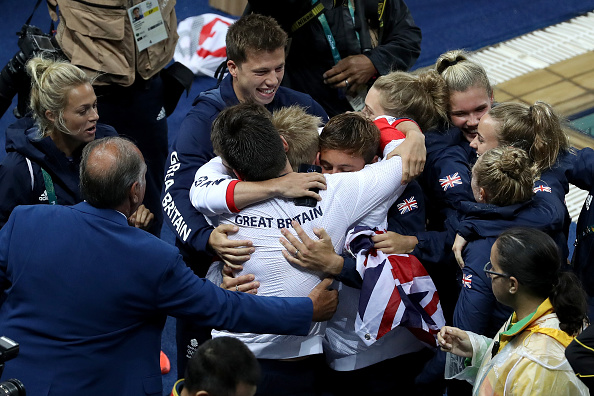 After the US duo of Michael Hixon and Sam Dorman put down a stunning final dive to leapfrog the Chinese duo of Qin Kai and Cao Yuan, Laugher and Mears kept their head to win a gold that will send seismic ripples around the diving world.
Clarke glides down Radical rapids
In the men's kayak after qualifying for the final, paddler Joe Clarke's hopes of a medal finish remained.
Ranked inside the world's top 10, the Briton however failed to qualify for last years World Championships at Lee Valley in Essex. When the list of medal bankers pre-Rio was compiled then, it's fair to say his was not on it.
Clarke had other ideas. Despite his lack of major final competition, the Brit cast aside his nerves to clock a time of 88.53, overtaking the formidable final run of German Hannes Aigner.
Brit watched on anxiously
Having recorded the fastest time and with just two to paddle, Clarke was guaranteed a bronze. It was now a waiting game. With the world champion at the top of the course however, the odds were against him.
Jiri Prskavec of the Czech Republic set off start was formidable but a clipped a gate late on the course to lose a precious two penalty seconds. Clarke was guaranteed a silver.
Slovakia's long-running history of Canoe slalom Olympic medals could yet deny the Brit. Jakub Grigar looked set to snatch glory from the Briton, but after being held up by the roaring waves, lost precious time to hand Clarke a sensational Olympic title.
It adds to a successful day for Team GB so far on Day 5, after Chris Froome won bronze on the men's time trial and in the men's double trap, Steven Scott beat compatriot Tim Kneale to finish third and Sarah Conway won her bronze-medal fight in the women's 68kg Judo, on a wet and blustery day in Rio.