An extended session of sailing saw Giles Scott take pole position in the Finn class as the best sailors in the World battled with high winds on a challenging day in Marina De Gloria.
Scott fights back
Team GB's Scott would have been disappointed with the way his opening day panned out on Tuesday but he soon made up for it with some high class sailing during Wednesday's action. Scott finished second in the third race of the competition to France's Jonathan Lobert, before taking race four to open a five point advantage overnight.
Scott's closest challengers Vasilij Zbogar and Alican Kaynar could not continue their excellent run of form from the opening two races as neither could make a dent on the top five in race three and four.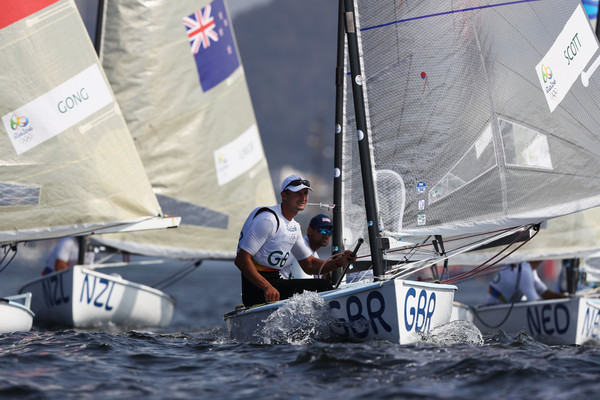 Thompson sites his sights on a medal
There was more joy for Team GB as Nick Thompson replicated Scott's form with a second and first of his own in the Laser class. Thompson had been off the pace after the first four races of the competition but today's results ensured he slotted into silver medal position, nine points behind Croatia's Tonci Stipanovic. Early pacesetter Julio Alsogaray fell into sixth place, whilst a first and fourth for Rutger van Schaardenburg put the man from Netherlands into medal contention.
The women's Laser Radial class continues to be wide open after race victories for Marit Bouwmeester and Anne-Marie Rindom. Ireland's Annalise Murphy leads the way alongside Rindom, but Bouwmeester is just two points behind and reigning Olympic champion Xu Lijia is likely to come back strong after a disappointing day.
Solid start for Mills and Clark
Sime Fantela and Igor Marenic set the early pace in the men's 470 class after finishing first and second in the opening two races. The experienced Matthew Belcher won the second race with new partner William Ryan as the Australians's opened up in silver medal position, whilst four teams follow them with 12 points.
The women's competition saw two different sets of top three finishers, with Japan's Ai Kondo Yoshida and Miho Yoshida winning race one, followed by favourites Jo Aleh and Olivia Powrie of New Zealand in race two. Six points separate the top six teams, with Heather Mills and Saskia Clark filling the final position of that mini-league after finishing fourth and seventh in their races.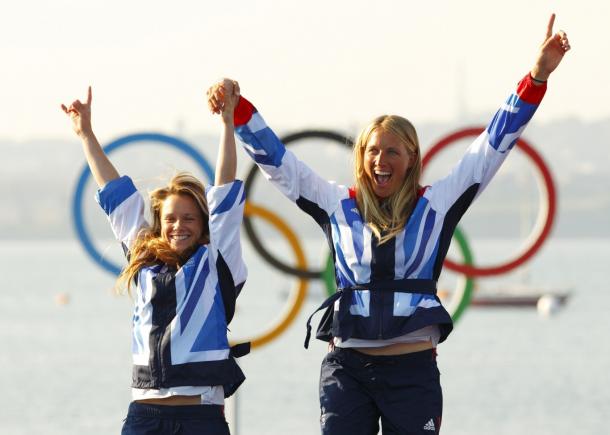 A tough day for Nacra debutants
Making its debut in the Olympic Games, the mixed Nacra competition had a mixed opening day. Severely hampered by the weather, the third scheduled race was postponed but not after a thrilling start to proceedings. With a boat capsizing and a dozen boats sailing in the smallest gap possible at one point during the race, it was eventually the Swiss pair of Nathalie Brugger and Matias Buhler who came out on top.
After a long delay the second race did not quite match the same level of entertainment, as home favourites Isabel Swan and Samuel Albrecht steadied themselves for victory. Though the early front runners are the Swiss pair and Team GB's Ben Saxton and Nicola Groves who lead the way one Ightfield points apiece.