Sally Conway was one of the big winners yesterday as she took home bronze in the -70kg Judo after defeating Austrian Bernadette Graf by a solitary yuko in what has been a superb tournament for the Edinburgh girl.
After the disappointment of London 2012 where she injured her shoulder in her second round match, she certainly made up for that as the 29-year-old performed well throughout, and on another day she might have had a different colour medal around her neck.
Prior to defeating Graf, the Bronze medallist from the 2014 Commonwealth Games was so close to defeating former three time World Judo Champion Yuri Alvear in the semi-final. But the experienced Columbian won in golden score to advance to the finals where she later lost to Japan's Haruka Tachimoto.
But for the 29-year-old Scottish her performance in the bronze medal bout was superb, she was always on the front foot looking to capitalise on any openings her Austrian counterpart left. And when the opportunity came Conway was swift to take advantage and took Graf down to the mat for a yuko.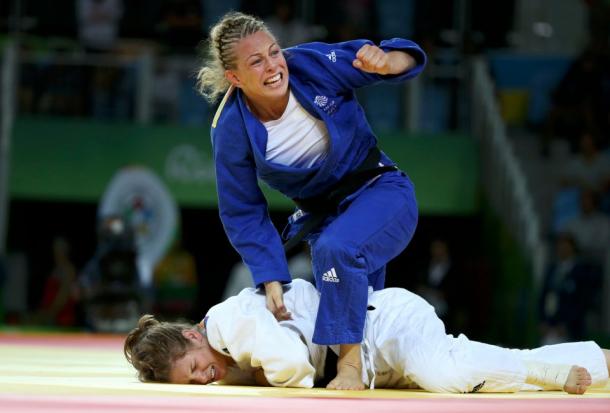 Conway said her bronze medal has been a 'dream' since London
After the disappointment of picking up a shoulder ligament injury in London 2012, Conway wanted to make amends, and she has certainly done that by taking a well deserved bronze.
The Judo events haven't been the best events for British athletes, Ashley McKenzie bowed out in the early rounds of the men's competition, as did Colin Oates. So Conway's medal is an indication that GB are capable of reaching the heights in Judo.
But speaking after her momentous victory Conway said: "This has been my dream since London; I can't put it into words."
Conway certainly wasn't one of the favourites coming into the event, but her gutsy performances carried her a long way, and when it mattered the 29-year-old rose to occasion to add another medal to GB's ever growing medal count.
"I knew if I was going to come away with a medal I would have to put in my best performances," said an ecstatic Conway in closing.