After playing a key role in the International Golf Federation's pitch to bring golf back to the Games in 2009, Padraig Harrington is determined to make the most of his Rio 2016 Olympic experience.
"A once in a lifetime opportunity" whilst those at home "are missing out"
Representing Ireland at 44 years of age, Harrington realises this could be a "once in a lifetime opportunity" for the man from Dublin. He explained "you just don't know where you are going to be in four years time" and Harrington is determined to make the most of his trip to Rio.
The two-time Open winner has already watched a different sport every evening since arriving on Monday and has tickets to ten more events for his family after the men's golf competition concludes on Sunday.
Harrington believes that the decision of a number of golf players including Irishmen Rory McIlroy, Shane Lowry and Graeme McDowell is one they may regret. He has noticed that "the players who are at home are quiet on social media and you sense that some of them would like to be here. There's no doubt they are missing out".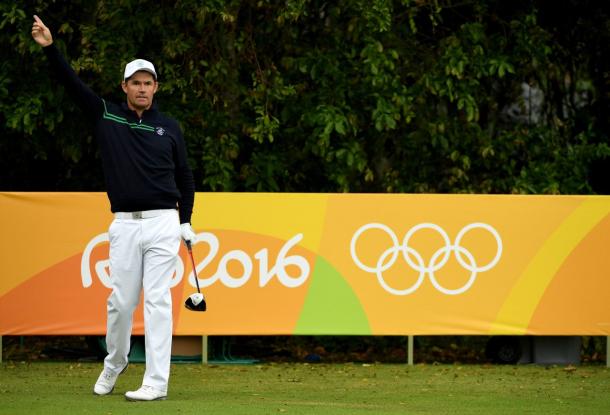 The Olympics is "an awfully big deal"
The Irishman also explained how the opportunity to represent your country at golf in the Olympics is "an awfully big deal". He mentioned how "everyone here is loving it," and that "This is an experience that will never be taken away from us, a fantastic experience".
Harrington continued to enjoy his time in Rio with a solid opening round as the action started on Thursday. A one under-par 65 kept him within contention of a medal if he can build on his game in the following rounds. Harrington bogeyed the first, before birdies on five, nine and ten gave him confidence. Dropped shots at 12 and 14 pegged him back, before Harrington recovered with a birdie on 15.