Michael Phelps destroyed the field to win the 200m Individual Medley gold he has owned since the Athens Olympics back in 2004.
In the process, Phelps won his 22nd Olympic gold and became the first man to win four consecutive golds in the same event having won the 200IM in Athens, Beijing, London and now Rio.
Phelps won with a time of 1:54.66, beating silver medalist Kosuke Hagino by almost two seconds, with China's Shun Wang claiming the bronze.
Pereira thrills home crowd to challenge Americans over first 100
With a raucous Brazilian crowd cheering for home favourite Thiago Pereira, the start was delayed for a couple of seconds, but once they got going, the leading trio emerged.
Phelps, alongside country-mate Ryan Lochte looked strong in the middle lanes, and they were joined at the head of the race by a surging Pereira who swam an excellent backstroke leg.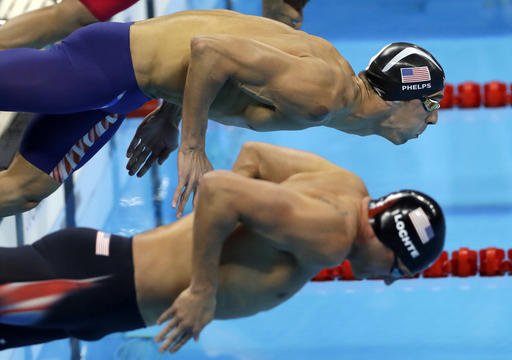 At the half-way point, just 0.01 covered the top three, and the race looked set to be decided over the breastroke and freestlye legs.
Phelps dominates second-half to claim 22nd Olympic gold
By the time Phelps had reached the wall at the end of the breastroke leg he had pulled ahead of his rivals and built a 0.41 second lead which he didn't come close to relinquish.
Lochte and Pereira both wained in the final leg, allowing Hagino and Wang to come through and claim the minor medals, but the story was all about the most decorated Olympian of all-time.
The 31-year-old powered home over the final 50, leaving the field in his wake as he broke yet more Olympic history. Adding to his 200m backstroke and two relay golds already picked up at this meet, this victory gives Phelps his fourth Olympic Games with four golds, which no other Olympian has ever achieved more than once at a Games.
Elsewhere on Thursday evening in the pool, Phelps' American teammate Ryan Murphy completed the backstroke double, winning the 200m final ahead of Mitch Larkin (Australia) and Evgeny Rylov (Russia) in a time of 1:53.62.
Japan also tasted success, with Rie Kaneto winning the Women's 200m backstroke ahead of controversial Russian Yulia Efimova, while the Women's 100m freestyle gold went to both Simone Manuel (USA) and Penny Oleksiak (Canada) who touched the wall simultaneously.