The 100m hurdles is one of four heptathlon events that Jessica Ennis-Hill has a better personal best than Team GB medal rival Katarina Johnson-Thompson. With the pair tipped to be fighting for gold alongside Canada's Brianne Thiesson-Eaton, Ennis-Hill knew she had to make this opening discipline count in her favour.
Fast starts for a handful of outsiders
Hungary's Gyorgyi Zsivoczky-Farkas and Colombia's Evelis Aguilar set personal bests in the first heat with 13.79 and 13.84 respectively, as they took the first two positions in the opening track event of Rio 2016. Yet with the competitors seeded by their best times, the following three races were predicted to produce faster runs and they did not disappoint.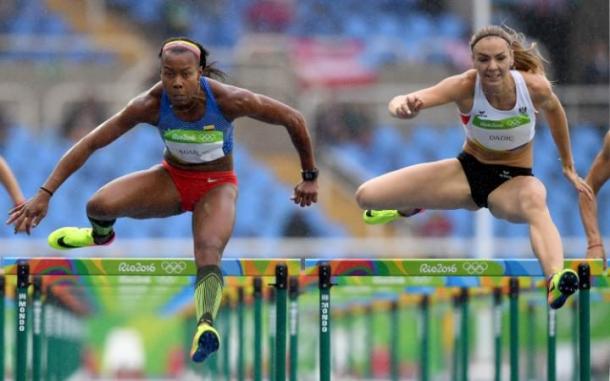 After two false starts in the second heat, Latvia's Laura Ikauniece-Admidina strolled to victory with a time of 13.33, although she is capable of much quicker times. Belgium's Nafissatou Thiam made another personal best with 13.56, just a few hundredths of a second behind Netherlands' Nadine Broerson in second place. Though it was a disastrous start for Estonia's Grit Sadeiko who pulled up after two hurdles and now has the best part of a 1000 points to make up on the rest of the field in the last six events if she decides to continue.
Ennis-Hill takes command
Katarina Johnson-Thompson was the woman to watch in heat three and she pulled her way back into second place after a tentative start in the wet conditions. KJT, as she is affectionately known, may well be disappointed with her time of 13.48, finishing the event in eleventh. Anouk Vetter finished first in 13.47 as Team Netherlands began to make their mark on the heptathlon competition.
Yet the event unsurprisingly belonged to reigning Olympic Champion Ennis-Hill. In a heat encompassing five opponents who have broken the 13 second mark, Sheffield's finest flew out of the blocks and never looked like conceding victory as she cruised over the line in 12.84. Her rival Brianne Thiesson-Eaton was only sixth in the heat with 13.18, whilst Barbados' Akela Jones and another Dutch star in Nadine Visser followed the Brit home.
Seven of the eight girls who ran in the fourth heat went faster than the rest of the field, as Germany's Carolin Schafer set a personal best in fifth at 13.12. It leaves the early standing reading as follows:
1. Jessica Ennis-Hill (GBR)- 1149 points
2. Akela Jones (Bar)- 1124
3. Nadine Visser (Ned)- 1121
4. Kendell Williams (USA)- 1118
5. Carolin Schafer (Ger)- 1106