The Men's Four won Team GB's sixth Olympic gold medal - and the second Rowing victory in minutes - of Rio 2016, as the British quartet led from start to finish held Australia at bay on the waters at Lagoa Stadium.
The heawyweight quartet of Constantine Louloudis, George Nash, Alex Gregory and Moe Sbihi continue Britain's dominance of the Olympic regatta's blue-ribband event, winning the event for the fifth- straight games, with a time of 5 minutes 58 seconds.
Just minutes earlier, Heather Stanning and Helen Glover defended their Women's Pair title with a dominant row in their final.
GB firm favourites for gold
Britain have held sway over the rest of the rowing world since Matthew Pinsent, Tim Foster, James Cracknell and Steve Redgrave - winning his fifth successive Olympic gold - held off the surging Italian boat, in Sydney 2000.
Four years later in Athens, world champions Canada were beaten by mere centimetres in one of the closest finishes in Olympic history. At the Beijing Games in 2008, the GB boat fought back from 3rd place at the 1000m mark, to surge through the overtake Australia over the last 500m for GB glory. Once again, God save the Queen was blasted out over the tannoy at Eton Dorney in London, as the the Four won on home soil.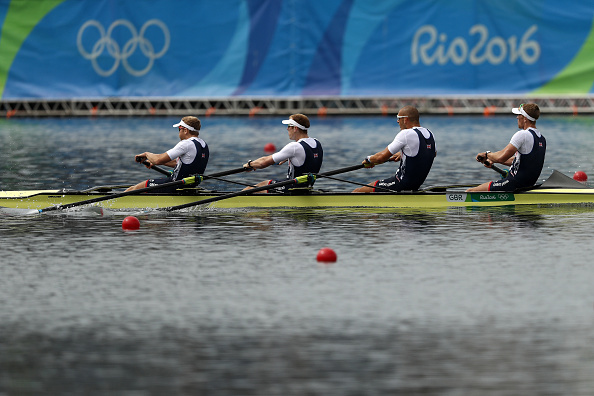 Once more for GB, Jürgen Gröbler was the mastermind for GB with the current quartet as the boats lined up at Lagoa. Unbeaten in every final over the last FOUR years, GB were the firm favourites for gold and qualified fastest into the final.
Australian's pushed GB to half-way mark
The Aussie boat were the only serious contenders to yet another GB Olympic rowing gold. Indeed, at the half way mark GB led by only just 0.22 of a second. After four years of blood, sweat and tears however GB were not to be denied.
Pushing out to half a length with 500m to go, the British four seemed in control. Australia began to up their stroke rate, only for GB to match them and pull away, winning gold, with Australia in silver and Italy in bronze. It is Alex Gregory's second Olympic gold medal after London.