Helen Glover and Heather Stanning have repeated as Olympic champions after winning gold in the Women's Pair.
The pair dominated the field to take victory in 7:18.29 ahead of New Zealand and Denmark who completed the medal podium.
That takes Great Britain's medal tally to 17 so far in Rio, with his being the team's fifth gold medal, and the first by female athletes.
British pair set the pace to build comfortable lead
Stanning and Glover pounded their way out of the blocks and set off in a typically-aggressive first 500 trying to distance themselves from the rest of the field.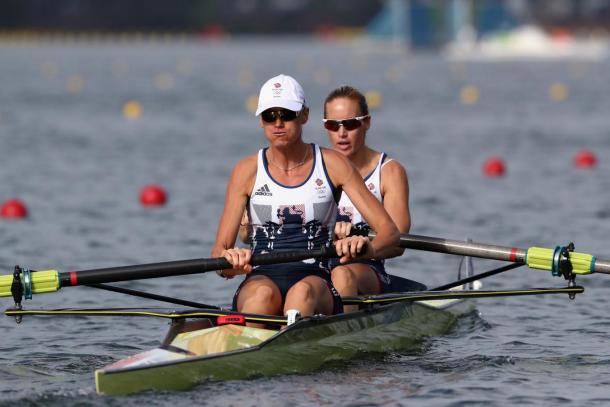 They did just that, and with the Kiwi boat seemingly going backwards at a rate of knots, Britain looked to have seen off one of their main rivals.
The five-year unbeaten run which Britain's premier boat must have given them lots of confidence going into the race, and that showed as they continued to lengthen their stroke and pushed themselves into a 3.58 second lead at half-time from the Danes.
That Danish duo of Hedvig Rasmussen and Anne Andersen was the same which pushed them close in the heats, finishing within a couple of strokes, but they proved to be much less of a challenge once medals were up for grabs.
Glover and Stanning hold off Kiwi charge to claim back-to-back gold's
Into the second half of the race, Glover in the bow seat continued to push the rate for the Brits and there was no way back for the chasing boats.
They didn't let up over the final 1,000 and despite a late surge by the New Zealand duo of Genevieve Behrent and Rebecca Brown, the gold was in the bag and Britain could celebrate their first success at the Lagoa this week.
Having become the first gold for Team GB four years ago in London, the pair had the pressure on them to repeat, but they never wained and will go down as the two of the best rowers in British history.
There was further success in the next final on the waters, with the Men's Four claiming their fifth straight gold. The team of George Nash, Constantine Louloudis, Moe Sbihi and Alex Gregory beat the Australians to the line to take Britain's overall tally to six golds in Rio, with Italy claiming the bronze in one of the blue-ribbon events on the lakes in Rio.