In the first track final of the 2016 Rio Olympics, Ethiopia's Almaz Ayana claimed gold in the women's 10,000 metres with a stunning world record time of 29:17.45.
In a race which will come under the microscope, the top 11 finishers all secured lifetime bests, with Ayana's mark 14 seconds better than the previous world record set by Wang Junxia 23 years ago in Beijing.
Ayana broke free from the lead group just after the 5,000 metre mark and never let up, pounding the Rio track on her way to gold and the quickest team ever run in the event.
Ayana lives up to favourite tag
Having shot to prominence in 2015 at the World Athletics Championships, Ayana was always likely to win gold and she did just that in a truly dominant performance.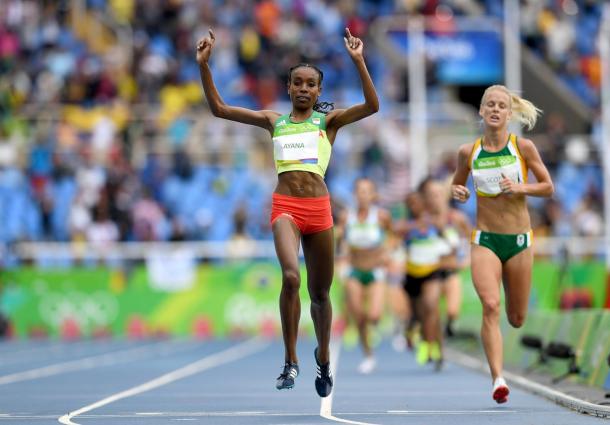 Having completed the first 5,000 in 14.46 minutes, Ayana then bettered her splits over the second half of the race, running the final 5,000 metres in just 14.31 minutes despite having to run wide on occassion to lap back-markers.
Laps of 67 seconds were the norm towards the back end of the race, and with the world record a foregone conclusion, a 70 second final-lap helped her become the first gold medallist in Athletics in Rio.
The 24-year-old's previous Personal Best was 30:07,00, and during the Diamond League season she came close to breaking the half-hour mark on a couple of occassions in equally dominant performances. This however was easily her best performance yet, and with the 5,000 metres still to come later in the week there is a chance she will add to her medal tally in Brazil.
Seven National record's fall in blistering race
Ayana was not the only athlete to set her fastest time when it mattered most.
Overall there was 18 personal best's in the race, to go along with the world, Olympic and seven National records.
Kenya's Vivian Cheriuiyot claimed silver in 29:32.53 - the third fastest time ever - with Ayana's fellow Ethiopian Tirunesh Dibaba in bronze. The three-time Olympic champion ran 29:42.56 in her fastest time ever to secure her sixth Olympic medal, with Kenya's Alice Aprot Nawowuna the fourth athlete to run sub-30minutes despite missing out on a medal.
Great Britain's now five-time Olympian, Jo Pavey finished 15th in a time of 31:33.44, just two seconds faster than the next Brit, Jess Andrews, with Beth Potter down in 34th.
There will be a multitude of intrigue as to how such a race took place, but for now we can just marvel at the brilliance of the new Olympic Champion - Almaz Ayana.