It was an entertaining afternoon of sailing which featured eight fleets and a total of 20 races that took place on the seventh day of the Rio Olympics.
Several top contenders fought to thicken their spot in the medal races that will begin on Monday, Team GB are already guaranteed a silver medal in Nick Dempsey in the windsurfing event.
Men's 49er and women's 49erFX
These two races were the only portion of the regatta that had yet to set sail, but that changed Friday afternoon as both classes ran their first two races of their opening series.
London Olympic champions, Australian duo Nathan Outteridge and Ian Jenson edged out the Kiwis Peter Burling and Blair Tuke for the top position. Both pairs returned to Olympic competition in Rio.
But in the first race, there was a recall to restart the race, which frustrated a few sailors especially after a long delay in proceedings due to weather conditions.
But once they got under way it was the Dutch duo that took the early, but after a monumental mistake saw them lose the lead on the last lap to give the New Zealand pair to take the win both their two opening races out of three.
This race saw Team GB Dylan Fletcher and Alain Sign struggled to make progress in their opening races. They finished 15th in the first race but they made claw back to finish in tenth.
The Women's 49erFX contested for the first time as an Olympic event, and after their first two races, it is the home favourite Brazil's Martine Grael and Kahena Kunze to take the lead in the overall standings.
Our British girls Sophie Ainsworth and Charlotte Dobson down in 7th with 13 points.
Men's and women's RS:X
After Thursday races come to a close it was the Spaniard Matina Alabau reminded the regatta why she is the Olympic Champion but she dropped down in the ranks to third after great races produced.
It was the Russian Stefania Elfutina that came out on top to take the top spot with 55 points while Italian Flavia Tartaglini in close second on 56.
Britain's Bryony Shaw down in 8th place on 71 points and certainly out of the medals but it was a positive race as she started in tenth place.
The men's race saw Englishman Dempsey, who won bronze in Athens and a silver medalist four years ago, he has guaranteed his second silver medal ahead of Sunday's medal race.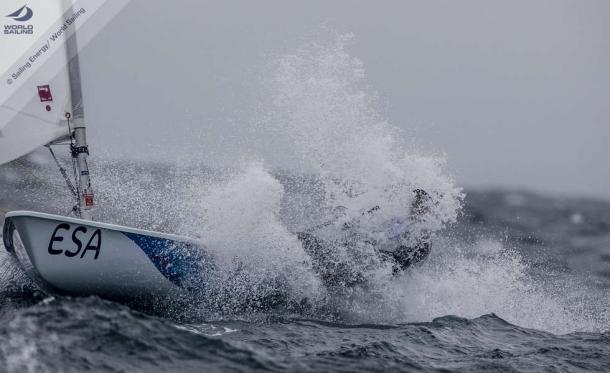 Men's and women's 470
It's their fifth set of races into both the two-person dinghy events and it was both Team GB to come out on top in their races.
Britons Saskia Clark and Hannah Mills gritted their teeth and powered their way through to finish first, but they are also first in the overall standings and are in contention of possible medals if they keep up their ability and confidence.
In the men's fifth race Team GB Chris Grub and Luke Patience won their race despite a quick change in the weather, however, it hasn't affected them mentally as they currently sit in third place.
Men's Laser and women's Laser Radial
The last race for the women's it was the Argentina Lucia Falasca that fought hard to control the boat to finish the day in first place.
However, it's Anne-Marie Rindom of Denmark who kept her cool and asserted her authority to still continue to be in the gold medal position with only ten points to her name.
But Briton's and former World Champion Alison Young is down in 9th in the over a standings on 74 points at the end of day seven.
Gold medal favourite Nick Thompson of Great Britain started the day with a real blinder as he fell down to 7th in the last race of the day as Italian Francesco Marrai took first place.
With two races to go, Thompson needs to do something special to get him back into medal contention as he dropped down to fourth place in the overall rankings after starting the day in second.