Jazz Carlin won her second silver medal of Rio 2016 in the Women's 800m final behind the USA's Katie Ledecky, who smashed her own world record to win in a time of 8.04.79.
It is Great Britain's fifth medal of the meet thus far, equalling the tally of the Los Angeles games in 1984.
In the Men's 50m freestyle final Ben Proud finished just outside of the medals in fourth.
Carlin up against it versus Ledecky
With Ledecky hunting her fourth gold of the games, Carlin was firmly up against it, in an attempt to push the American all the way.
The Briton lined up in Lane 3 next to Ledecky, with Lotte Friis - Rebecca Adlington's main foe over during her prior dominance in the event - on her other side. Second fastest qualifier Borglárka Kapás of Hungary sandwiched Ledecky and teammate Leah Smith in Lane 5, with 200m butterfly champion Mireia Belmonte in Lane 8.
On paper, it was a three-horse race a best for for the top spot on the podium. The 19 year-old American clocked a qualifying time seven seconds faster than the rest in her heat, and would surely power away from the field sooner rather than later. Realistically, the battle was for silver and bronze.
Briton adds second medal of meet
Already a silver-medallist in the 400m free, Carlin was buoyed in what has been her stronger event. Ledecky stamped her dominance on the race in the opening 100m, leading by almost two seconds at just the second turn.
At the half-way mark, Ledecky was clear and away and was racing her own world record pace alone. The race for silver however was hotting up between Carlin, Belmonte and Smith and Kapas.
With 100m to go, the race was down to the Welsh swimmer and the Hungarian, with Kapás beginning to sneak ahead. Carlin responded over the final 75m however and pipped her opponent to the wall, winning her second silver of the week.
Proud edged out in blanket finish
In what arguably is swimming's blue-ribband event, Ben Proud had an outside chance of a medal. The Briton had raced out of both his qualifying swims but was caught over the last 30m. In a blanket finish however anything was possible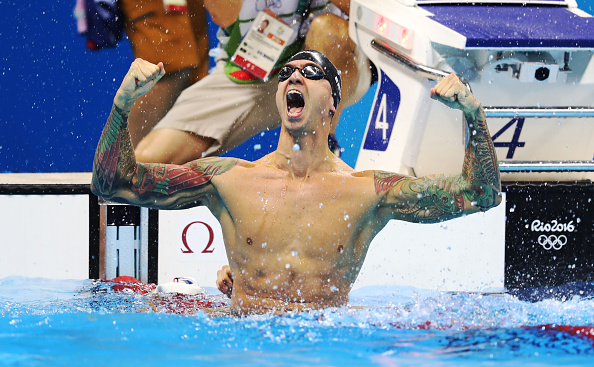 Proud again blazed out off the blocks and again led at 50m, only to overhauled by Nathan Adrian, defending champion Florent Manadou and American Anthony Ervin who at the age of 35, win his first gold since Sydney 2000 in a time of 21.40, as the Briton was nosed out of a medal.